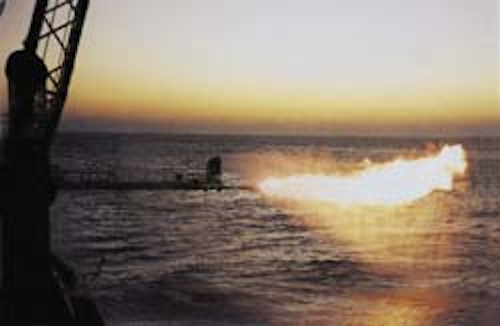 Thus the government's incentive program for international
operators and its sensitivity toward explorers' requirements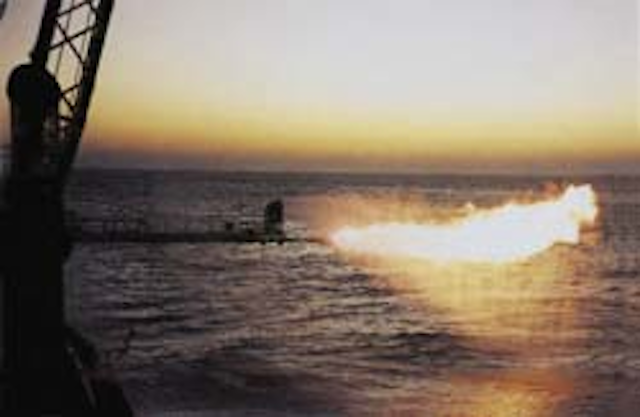 Production testing of North Gorgon-2.
Ian Frazier, Petroleum Director of Western Australia's Department of Minerals & Energy, is very enthusiastic about Western Australia's growing importance in the world as a petroleum producing region of major consequence and about the government's programs to attract and accommodate international operators and the industry that supports them.
"Exploration off Western Australia is proving to be excellent in federal waters as well as state waters. Either way, the legislation is 99% identical. West Australian legislation has a bit more opportunity to encourage explorers, to assist explorers, to facilitate resolution of issues that come to the floor during an exploration program.
"For example, under the federal regime, you're expected to complete the program that you put up as a bid to the acreage regardless of whether it turns out to have less potential than you really thought it had. In West Australia, we will be flexible and work along with the results of your exploration program such that if you've done some seismic, built a well, and the acreage is not as great as you thought it would be, rather than run away, we'll agree to moving the well commitment or varying the well program in accordance to the success or otherwise of immediately prior explorations. There's more opportunity to do that than there is in the federal offshore acreage.
"Australia is so far away. It's remote once you get here, but we're also remote from the rest of the world in trying to attract people. So, we feel that in exploration there should be a regime that' s sensitive toward the explorers' requirements, one that's got more opportunities for negotiation, more opportunities of just the very programs, and because we're not big government like the federal government, we can change our systems and our policies very very quickly.
"The offshore region is pretty attractive already, you don't have to hype it up any more. It draws the explorers, you don't really have to go out and advertise hot exploration acreage, it does it by itself. The area is remote internally, and the area is remote internationally, but oil is where you find it. There's plenty of oil out there, particularly on the Northwest Shelf, and its gas prone as well.
"We welcome the shooting of spec seismic and making it available to potential operators. All the major geophysical companies are here now, PGS Nopec, Geco-Prakla, Western, and they're all doing it. It took us quite some time to get the spec seismic industry launched. Now, we're arguing with our contemporaries in other governments and the federal government that you've got to loosen it up and give the companies a bit more confidentiality period so that they can expect a profit on a $30 million 3D survey.
"Another earlier government policy was that whatever gas you found, you had to sell to the state gas company at its price, of course. We were successful in having the government change that policy. It has been completely decontrolled now and put out to the private sector. There's a terrific market: Japan, Taiwan, Korea, maybe even China, as well as our own domestic market.
"The potential for exploration is enormous, but we're always somewhat disappointed, in that we're selling the raw materials, not processed products. Perhaps it's because we're so far away here, but maybe we should be doing a bit more downstream processing and selling a product, rather than the raw material. So pellets are a good idea, methanol is a good idea. You'll see a much bigger petrochemical development in a few years, if the financing falls in place, and I think they will.
"Not only that, the Northwest Shelf will soon be supplying energy for the mining district to the east, so that they can burn gas instead of diesel. There's already a good 1,400 km pipeline taking gas to our goldfields, so it's only a matter of time before the iron reduction industry is also fueled. Furthermore, the state governments are now trying to encourage private companies to put in gas reticulation for home consumption."
The world's best kept secret
"The prospectivity of the region is phenomenal, from edge of the shelf to the mainland. And now the area between Laminaria and the current production area is thought to also have enormous potential.
"The government's next award of exploration acreage will be a good indication of the commitments to the area by operators. If BHP or their closest competitor is successful, it's going to be a big exploration program. Probably the biggest we'll ever have in just one permit. That's an indication as to the prospectivity. Laminaria is a hot area.
"It used to be that people thought the whole area up there around Laminaria was gas-prone, so they stayed away from it, but now these huge megastructures have been found, and it's oil, so everyone's clamoring to get back in. The Japanese are coming down saying that they want to buy into production anywhere, and another company from London came in the other day and wanted to know who they could buy production to sustain their exploration program.
"Our strategy is to go out and attract explorers, show operators why Western Australia is right for them, how it's becoming a major producing area. But, there is some resistance to this program. There's a core of companies in Australia who feel, this is the world's best kept secret, let's keep it that way. They're a minority, of course, but they try to lobby the federal government.
"In Western Australia, when we call for applications for exploration permits, we gazette the entire state. Any acreage that's not the subject of an exploration permit is available. That's the opposite of what the federal government does. They have these little designer blocks and call for application on just a few of them. We're trying to encourage the federal government to take a global attitude to gazetting and get away from offering just 27 -35 blocks..
"Here in Western Australia, we know that our fields are going to be big, we've seen the data. We know, too, that it takes sizable blocks to interest operators, and a policy that opens up the offshore territory to exploration wherever they want to operate.
"Laminaria is the hot area today, but we knew it was out there long ago, it just hadn't been proven. Our prospectivity is, as I've said, phenomenal. There'll be more Laminarias coming along, at least two or three more in that area, before long. We'll always have discoveries. As the premier said, we will double our energy resources in the next ten years. Before Laminaria was discovered, a guy asked me how many big fields we were going to find out there, whether it could be a billion barrels in the next ten years? I said we probably had half of that in one big field in the northwest, and then Laminaria came along."
Moving to Perth
"BHP has restructured. Its administration is staying in Melbourne, but the rest is moving to Perth. Esso is in Melbourne, that's why BHP will continue to have a presence there, because it's got big production in the Bass Straits. But it all comes our way, I'm glad to see. Texaco's coming in. They all come. We did a little survey of the petroleum industry and there was a hundred of them registered on the east coast and four hundred in Perth. That went form pipe, supply, fittings, and explorers to consultants. This is where the activity is. And the nice thing is there's a change in thinking, too, more of a frontier attitude. It's not the old conservative Eastern establishment. It's good to be part of that.
"Over here, one of the assets that this industry has is that they've got a government administrative body that understands their industry. That's very important, because industry just hates going to a bunch of bureaucrats and talking to clerks that don't know anything about the oil business. Western Australia's Department of Minerals & Energy has a lot of respect from the industry, and I feel that's a measure of our success."
Copyright 1996 Offshore. All Rights Reserved.