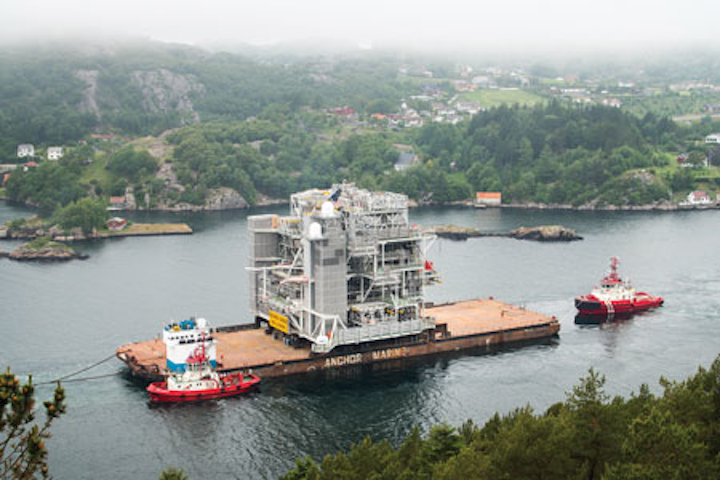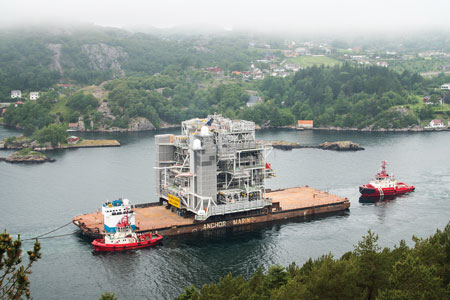 The 4,500-metric ton (4,082-ton) process module for the Edvard Grieg platform leaves the Aker Egersund yard en route for the field in early July. (Photos courtesy Lundin Norway)
Nick Terdre
Contributing Editor
Lundin Norway is on a steeply upward production curve, after converting its first two major exploration successes offshore Norway into new development hubs. With the Edvard Grieg field in the centralNorwegian North Sea on track to produce first oil later this year, development under way of the nearby giant Johan Sverdrup field, and appraisal continuing of the significant Alta discovery in the Barents Sea, the company has a "very bright future," according to Managing Director Kristin Færøvik.
In June, Norway's parliament (Storting) authorized operator Statoil's first-phase scheme forJohan Sverdrup. Lundin, however, made the initial breakthrough in the discovery of the field, the largest found anywhere offshore Norway in 30 years. Previously, the company had discovered Edvard Grieg in the same Utsira High region, and it has since proved substantial additional resources in what was considered to be a mature area.
"We've got very good people who are set on acquiring as much information as possible from every exploration well that we drill, and that goes for both coring and testing," said Færøvik. Heading the team has been Hans Christen Rønnevik, who just retired as exploration manager but will continue as a consultant. "We have a very high level both of expertise and experience in our exploration team, with very deep knowledge of the Norwegian continental shelf," Færøvik continued. They are supported, she added, by "owners who have given us the freedom to explore, who believe in our ideas, and are willing to take risks."
Parent company Lundin Petroleum is active in several countries, including offshore Malaysia and Indonesia, but the Norwegian operation accounted for almost 80% of its 187.5 MMboe of booked 2P reserves at the end of 2014. That does not include its 22.6% share of the 1.7-3 Bbbl of Johan Sverdrup reserves, as re-determined recently by Norway's Ministry of Petroleum and Energy.
According to the Norwegian Petroleum Directorate, Lundin was the second most active explorer on the Norwegian continental shelf during 2007-14, drilling 41 wildcats and making commercial discoveries with 16; as operator, the company was also responsible for 50% of the country's discovered resources in this period. "This year we might very well be the company with the most wildcat and appraisal wells on the Norwegian continental shelf," Færøvik added.
Lundin discovered Edvard Grieg, then known as Luno, on the Utsira High in 2007, via exploration well 16/1-8. From 2008-2010, appraisal drilling led to a doubling of reserves on the field, with further discoveries following nearby on Apollo (16/1-14) and Luno South (16/1-12).
In 2010, Lundin discovered Johan Sverdrup via exploration well 16/2-6 on the Avaldsnes prospect, but prior to drilling, analysis suggested a discovery would likely extend over more than one production license. Statoil drilled an appraisal well a year later (16/2-8) on the Aldous Major South prospect in the neighboring license, confirming this assumption, with the reservoir appearing to cover large parts of both licenses. An extensive program of 29 appraisal wells and side tracks followed, eventually ending in 2014.
Edvard Grieg
Lundin's first operated development on the NCS was Brynhild, a small subsea development in the North Sea tied back to Shell's Pierce FPSO in the UK sector, which came onstream last December. Reserves are 23.1 MMboe and initial production exceeded the forecast plateau rate of 12,000 boe/d. However,Edvard Grieg, with reserves of 187 MMboe and capex of NOK 25 billion ($3.05 billion), is of a higher order of magnitude. Production, expected to plateau at around 100,000 boe/d, will take place through a fixed platform with wellhead, processing, and accommodation facilities. Saipem's crane bargeS7000 installed the 14,500-metric ton (15,983-ton) jacket, built by Kvaerner Verdal last year, while Heerema Marine Contractors' crane barge Thialf installed the 22,000-metric ton (19,958-ton) topsides last month. This was built mainly by Kvaerner Stord, with Aker Egersund contributing the 4,500-metric ton (4,960-ton) process module and Apply Leirvik the 1,200-metric ton (1,322-ton) living quarters.
Lundin expects production to start some time during the latter part of this year. Produced oil will be exported through a new 43-km (27-mi) pipeline linking into the Grane field export line, while Edvard Grieg's rich gas will head through a new 90-km (56-mi) line connecting to the Sage trunkline in the UK sector. Allseas laid both lines.
The jackupRowan Vikingbegan drilling the 15 development wells last October. "We had to get the rig out of the way to allow the topsides to be installed," Færøvik said. "It is now drilling an appraisal on the southeastern part of Edvard Grieg." This well, 16/1-23, spudded in late June, will hopefully optimize the placement of future development wells in this part of the field and test for upside potential of up to 50 MMboe.
The search continues for additional reserves. "We will hover the area around Edvard Grieg so we can get the most out of our acreage there," Færøvik said. "We're drilling an exploration well on Luno II North. We now need to prove up materiality and hopefully we can get development going there too at some stage. Reserves to tieback to Edvard Grieg – that's our motivation."
The Edvard Grieg complex will also handle final processing of oil and gas from Det norske oljeselskap's Ivar Aasen development, 10 km (6.2 mi) to the north, in which Lundin has a 1.39% stake.
Johan Sverdrup
Under a pre-unitization agreement Statoil led development planning for Johan Sverdrup, but with the active participation of the other licensees Det norske, Maersk, Petoro, and Lundin. The first-phase plan calls for installation of a field center comprising four bridge-linked installations – drilling, riser, process, and utilities/quarters platforms – and 35 development wells.
The field extends more than 200 sq km (77 sq mi), with anticipated long-term investment costs of NOK 170-220 billion ($20.7-26.8 billion). At plateau it will deliver 550-650,000 boe/d and is expected to remain in production for 50 years. The first-phase project will recover 1.4-2.4 Bboe at a cost of NOK 117 billion ($14.6 billion) and will produce 315-380,000 boe/d at peak. According to the Ministry of Petroleum and Energy, the breakeven price for the development is just $32/bbl.
Following authorization from Storting, Statoil swiftly issued engineering, procurement, and construction (EPC) contracts to Kvaerner for the drilling and riser platform jackets; the Kvaerner/KBR joint venture for the utilities/quarters topsides; Aibel for the drilling platform topsides; and Samsung Heavy Industries for the process and riser platform topsides. Allseas will install the drilling, process, and utilities/quarters topsides using its newly-built single-lift vesselPioneering Spirit. Odfjell has the contracts for both platform drilling and mobile rig drilling, with Baker Hughes providing well services and Fjords Processing supplying topsides process packages.
Following the wishes of the government, operations at the field center will be powered from shore via a 200-km (124-mi) subsea cable system. When the second phase of development comes onstream, probably in 2022, the power-from-shore system will be expanded to create a high-power hub supplying other development projects on the Utsira High, including Statoil's Gina Krog, Edvard Grieg, and Ivar Aasen.
"The beauty of Johan Sverdrup is that it's such a long-term revenue stream," Færøvik said. "We're talking about a field with a 50-year horizon. It gives us a fantastic foundation on which to continue to build our business in Norway."
Barents Sea prospects
Lundin is a major license holder in the Loppa High area in theBarents Sea. In 2013, the company opened up a new play with its discovery well 7120/1-3 on the Gohta structure, followed in 2014 by Alta with well 7220/11-1. The company assesses Alta's potential resources in the 125-400 MMboe range.
The semisubmersibleIsland Innovator is conducting a further drilling campaign on the Loppa High this year. It began with Alta appraisal well 7220/11-2, spudded in March and side tracked in May. The well confirmed the reservoir model and proved the presence of hydrocarbon columns and fluid contacts similar to those in the discovery well. In June, the rig spudded Alta III appraisal 7220/11-3. After finishing this operation, the rig will move to the north to drill an exploration well on the Neiden prospect (7220/6), just east of Statoil's Johan Castberg oil and gas discovery. "We'll have a better understanding of the Loppa High later this year when we've been able to interpret all the new data that we've gathered," Færøvik said. Lundin also plans a wildcat later this year on the Ørnen prospect, much farther east in quadrant 7130.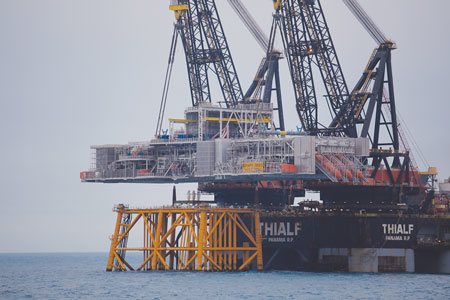 Heerema Marine Contractors' crane bargeThialf installed the main deck of the Edvard Grieg platform in early July.
In addition, the company is also preparing bids for two current Norwegian licensing rounds that include Barents Sea acreage – the Awards in Predefined Areas 2015, for mature areas, and the 23rd frontier round, which for the first time takes in acreage in the southeast Barents Sea near the frontier with Russia. There has been widespread interest in the 23rd round acreage, which led to multi-company seismic acquisition campaigns last year. In partnership with Statoil, Chevron, and Shell, Lundin is the lead company for the processing and interpretation of data for one of the four areas covered. "The results will be available in time for the applications which are due by Dec. 2," Færøvik said. Meanwhile Lundin, Statoil, and other operators with significant discoveries in the Barents Sea have held talks on possible export solutions in an area virtually devoid of offshore infrastructure. This is one of the key issues to be resolved ahead of development.
Lundin's main non-operated asset in Norway is the Alvheim area in the North Sea where it has a 15% stake. Marathon Oil (Norway), which Færøvik once headed, developed the Alvheim field in 2008, and Det norske is the current operator. Production performance has been above expectation, she claimed. "Alvheim has been our backbone for quite some time and it's still going pretty well."
Norway remains an attractive venue for exploration, she added. "Apart from one glitch a couple of years back when there was a change to the tax uplift, Norway offers a stable environment to investors. Exploration conditions are generous and our capital expenditure is reasonably well sheltered – you're not as exposed in a low-price environment as you might be in a lot of other tax regimes."
Later this year, Lundin's Norwegian business could end up almost trebling the group's production to 75,000 boe/d, thanks to Edvard Grieg. Production will take a further giant step forward once Johan Sverdrup comes onstream in 2019, with potential add-ons at some point from the Barents Sea. •