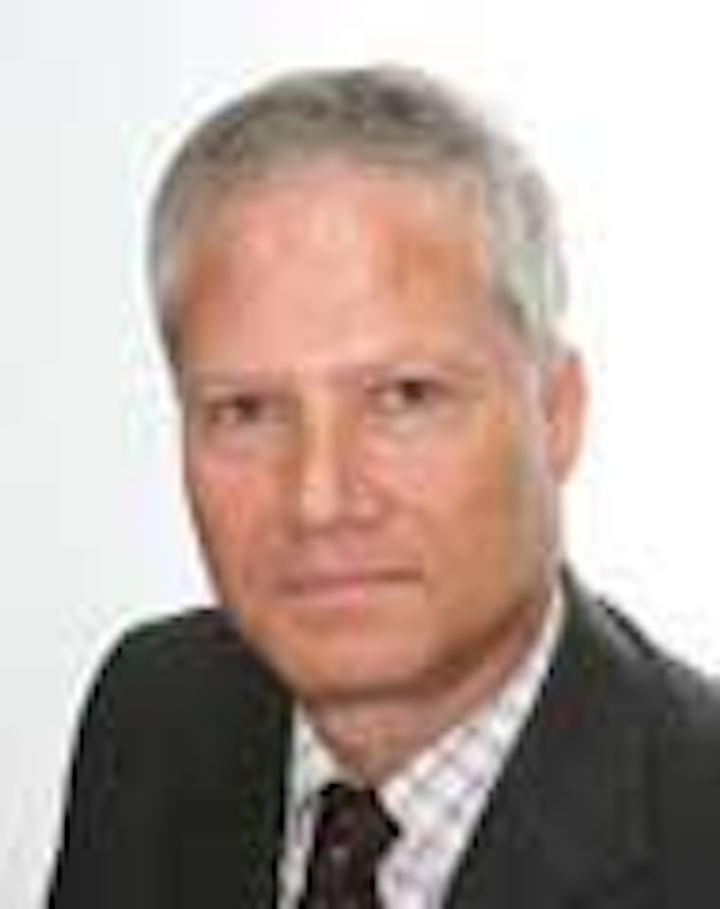 | | | |
| --- | --- | --- |
| | | Jeremy Beckman • London |
Britain's government should take further action to ensure new North Sea projects go ahead, according to two reports. Analysts GlobalData claimed the recent reduction in the supplementary petroleum tax charge from 62%-60% would do little to stimulate investors if the oil price remains low. The generally accepted break-even price for a UK North Sea development is $70/bbl.
Will Scargill, a fiscal analyst at GlobalData, called for more substantial changes to promote investment, not just in new fields but also in life-extension measures for producing fields. Otherwise, he suggested, existing UK offshore infrastructure may have to be decommissioned sooner.
Scotland's Energy Minister Fergus Ewing has put forward three main proposals for further reform of the North Sea taxation regime. He advocates the introduction of an investment allowance to provide support for higher-cost field developments; a phased reversal of the increase in the supplementary charge that the UK government introduced in 2011, which caused consternation in the industry; and an exploration tax credit to stimulate exploration and sustain future production.
Industry association Oil & Gas UK said it would respond to the Scottish government's request for feedback on the proposals. CEO Malcolm Webb added: "If the [UK] Treasury's new Investment Allowance is to have any impact it must be implemented by Budget 2015 at the very latest. However, with the oil price now at around $50/bbl, it is becoming increasingly apparent that this measure is not enough and a significant reduction in the headline rate is required."
Late last year Sir Ian Wood, who led the UK government's review "Maximizing Recovery of the UK's Oil and Gas Reserves," said he believed the fortunes of the UK North Sea industry would revive by 2016. He pointed out that the UK's new regulator, the Oil & Gas Authority, has a charter to encourage exploration and new developments via improved collaboration with UK offshore operators. This is already having an impact on thinking on some new field developments, Sir Ian claimed, adding that the industry itself is undertaking a major efficiency review that should bring down costs per barrel significantly – hopefully by the second half of this year.
Chevron considers polymer for EOR project
One new UK project that appears to be going forward involves the addition of a new platform at Chevron's Captain complex in the Inner Moray Firth, dedicated to polymer injection for enhanced oil recovery via subsea wells. This would represent the fourth stage of development on the heavy-oil Captain field, which came onstream in 1997 through a wellhead platform linked to an FPSO.
Chevron has contracted Amec Foster Wheeler for a front-end engineering and design (FEED) study for the platform and brownfield tie-ins, while Wood Group Kenny is performing the FEED for the subsea trees, controls, and flowlines. If the project goes ahead and proves successful, it could lead to further use of polymer injection on other projects, Chevron said.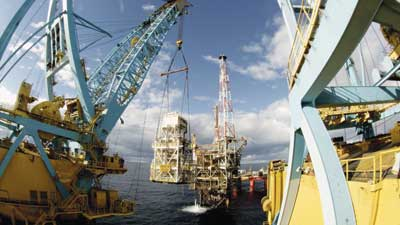 Module installation on the Andrew platform. (Photo courtesy BP)
Also in the central North Sea, BP has started production from the Kinnoull field through a 28-km (17.4-mi) subsea pipeline bundle (said to be the world's longest) connected to the host Andrew platform. To accommodate Kinnoull's wellstream BP added a new 700-metric ton (771-ton) topsides processing module to the platform, which additionally underwent refurbishment to improve its integrity and operational facility. Trevor Garlick, the company's regional North Sea president, said this was one of the most challenging offshore projects BP had ever undertaken in the North Sea. Production from Andrew and Kinnoull should peak at 50,000 boe/d.
New Year boost to Norway's production
Three more field developments started up around the turn of the year in the Norwegian North Sea. ConocoPhillips began production from one of four pre-drilled wells at the new Eldfisk 2/7 (Eldfisk II) platform, 300 km (186 mi) from the southern Norwegian coast. Eventually the jackupMaersk Innovator will drill 40 new production and water injection wells, designed to recover a further 220-280 MMboe from the Eldfisk field, according to analysts ScanBoss. The new platform has a design life of 40 years.
Statoil delivered first gas and condensate from the high-pressure/high-temperature Valemon field. The platform will be the company's first to be remotely controlled from shore, at the Bergen operations center. The facility will switch to normally unmanned status once development drilling is completed in 2017. At that point, 10 production wells are expected to be in service. The gas is sent via pipeline to the Heimdal platform for processing. This installation, which now serves as a gas hub in this part of the North Sea, was otherwise scheduled for closure in 2014. Statoil and its partners aim to recover 192 MMboe from Valemon.
Lundin Petroleum's Brynhild development is a subsea tieback across the median line to the Haewene Brim FPSO serving Shell's Pierce field in UK waters. Eventually five wells will be drilled, with planned plateau production of 12,000 b/d.
Other new projects close to going forward include development of Statoil's Rutil gas/condensate discovery in the Gullfaks Rimfaks valley area of the North Sea. The company has submitted a plan for a $617-million scheme involving installation of a subsea template in 135 m (443 ft) of water, with initially two gas producer wells. These will be connected via flowlines to Gullfaks A to the northeast, with production set to start in early 2017.
Wintershall expects to develop its Maria field in the Norwegian Sea via tiebacks to the Kristin, Heidrun, and Åsgard B platforms. A recent review has lifted the estimate of recoverable oil, gas, and natural gas liquids at the field by 40 MMboe to 180 MMboe.