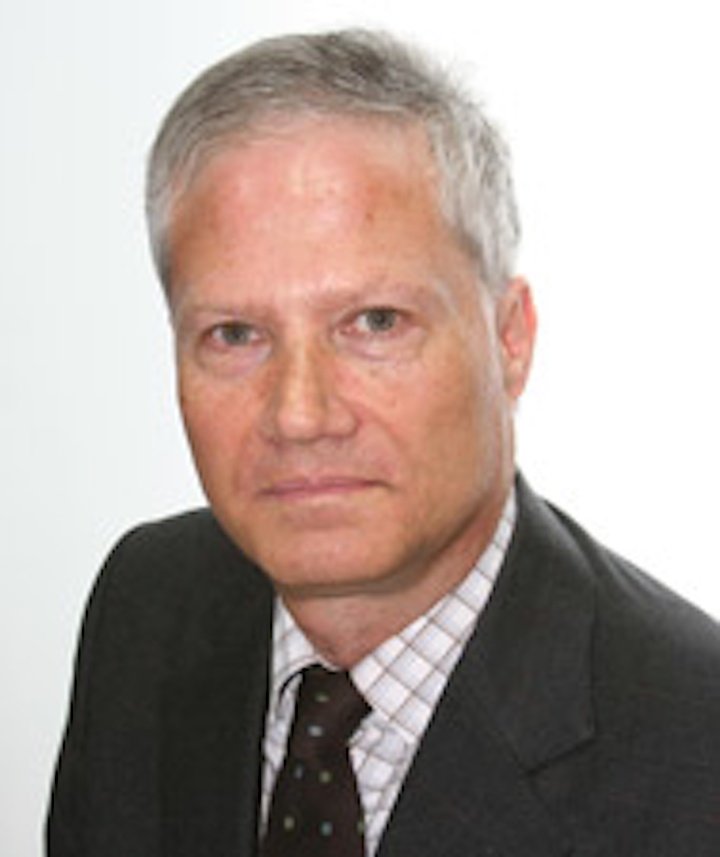 | | | |
| --- | --- | --- |
| | | Jeremy Beckman • London |
FLNG set for second wave of investments
Worldwide expenditure on floating LNG could exceed $58.3 billion over the next seven years, according to a report from analyst Douglas-Westwood (DW). Compared with onshore LNG, FLNG facilities are more secure, can be developed more quickly, and are potentially a lower-cost alternative for stranded offshore gas fields, the analyst claims. Investments will likely dip in 2018 as the first installations are completed, recovering later in the decade as a second wave of projects gets under way. Yet-to-be sanctioned projects will target stranded gas offshore Australasia, the Eastern Mediterranean, East and West Africa, DW adds.
North America
The Canada-Newfoundland and Labrador Offshore Petroleum Board has conditionally approved Husky Energy's amended development plan for the White Rose extension project. Husky has not taken a final investment decision, although the board has approved a scheme based on a fixed wellhead platform. White Rose is 300 km (186 mi) offshore Newfoundland and Labrador.
South America
Anadarko has proven gas with its first well in the deepwater Grand Fuerte block in the Caribbean Sea, 53 km (33 mi) offshore Colombia. The well, drilled by theBolette Dolphin drillship in 1,584 m (5,195 ft) of water, intersected 130-230 net ft (39.6-70 m) of pay in the upper objective, confirming a working petroleum system. The rig was due to transfer 161 km (100 mi) north to drill a second well for Anadarko and partner Ecopetrol on the Calasu prospect.
•••
Petrobras has started production from the Iracema Norte area of the Lula field in the presalt Santos basin offshore Brazil. The first well online at the FPSOCidade de Itaguaíhas potential to flow 32,000 b/d. Eventually eight producers and nine injectors will be drilled, with peak oil production of 150,000 b/d in early 2017. The location is 240 km (149 mi) offshore in 2,220 m (7,283 ft) of water.
According to BG Group, the Petrobras-led BM-S-11 consortium has submitted initial development plans for the Atapú, Sururu and Berbigão fields, all within the wider Iara area in the Santos basin. The current proposal is for two lookalike FPSOs, with the first, serving Atapú, due to start operating in 2018. The other will be on Berbigão, tying in production from Sururu via subsea wells, although plans could change following operational experience.
West Africa
Xplorer has signed a memorandum of understanding to acquire a 36.75% interest from Teredo International in the shallow-water Boujdour permit offshore Morocco. The concession could hold oil and gas resources of up to 463 MMboe.
London-based Genel Energy, however, has opted to withdraw from the offshore Juby Maritime license following results from an appraisal well last year on an old heavy-oil discovery. Genel is also working with Morocco's government to determine the best way forward for its Sidi Moussa offshore license, where last year's SM-1 exploration well recovered oil to surface.
•••
The partners in Chinguetti, Mauritania's first producing offshore oil field, are working on a decommissioning plan as the oil price renders production sub-commercial. Recently the government approved Tullow Oil's assignment of a 13.5% stake in the C-10 production-sharing contract surrounding Chinguetti to UK independent Sterling Energy. Water depths range from 50-2,400 m (164-7,874 ft).
•••
Australian independent FAR says the Cairn Energy-led consortium has contracted the drillshipOcean Rig Athenafor its next phase of exploratory drilling offshore Senegal, designed to build on last year's two deepwater oil finds. The first two wells will appraise the SNE discovery to establish its size and commerciality. The third well will target a new prospect - Bellatrix, Soleil, or Sirius - in an attempt to prove further resources that could be tied back to a production hub on SNE.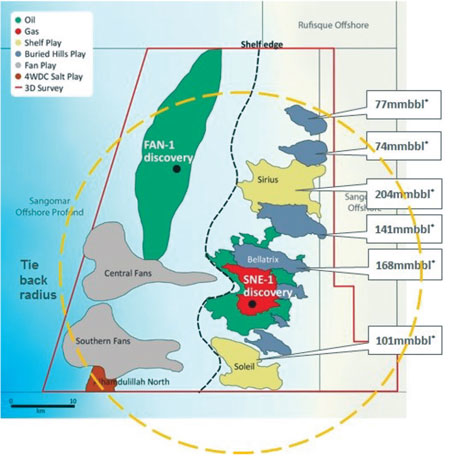 Potential drilling targets offshore Senegal for the Cairn-led consortium. (Map courtesy FAR)
•••
The World Bank has approved $700 million in guarantees for the Sankofa gas project, which will ease Ghana's energy shortage by providing new sources of gas for power generation. This will come from five fields Eni and Vitol plan to develop in the Offshore Cape Three Points block, 60 km (37 mi) offshore, via subsea production systems tied back to an FPSO. The gas will be exported through a subsea pipeline to reception facilities on Ghana's western coast.
•••
Total has started production from the Phase 1A development of the deepwater Dalia field in block 17, 135 km (84 mi) offshore Angola. This is designed to extract a further 51 MMbbl of reserves and sustain production through the FPSO, which came onstream in 2006, at around 200,000 b/d. The project involved debottlenecking of onboard treatment facilities and drilling seven infill wells.
On block 18, BP has brought online Phase III of the Greater Plutonio project. Here too the purpose is to sustain production levels through the FPSO, in this case via four new producers and two new water injector wells.
Mediterranean Sea
PA Resources and state oil company ETAP have submitted an updated plan for the 147-MMboe Zarat field offshore Tunisia, said to be the country's largest undeveloped offshore resource with similar geology to nearby producing fields such as Ashtart and Hasdrubal. The partners propose a phased development, with fixed facilities processing eventually up to 40,000 b/d of oil and 200 MMcf/d of gas from eight wells. If approved, the new complex could also serve as a hub for production from other stranded fields in the eastern Gulf of Gabes.
•••
BP has contracted Subsea 7 to engineer and install subsea infrastructure for the Libra and Taurus fields under the first phase of the Nile Delta project offshore Alexandria. Water depths are around 800 m (2,624 ft). The workscope includes laying 75 km (46.6 mi) of umbilicals and 100 km (62 mi) of subsea pipeline. Petrojet Madia near Alexandria will fabricate the other subsea structures and spools. Offshore installations for the $500-million contract should start during the second half of next year.
In Egypt's offshore Nile Delta, Eni has discovered gas with a well on the Nooros prospect on the Abu Madi West license, while the Ministry of Petroleum has awarded a new exploration block in the southern Gulf of Suez to Pacific Oil and Gulf Hibiscus. The South East Ras El Ush concession (block 2) covers 68 sq km (26 sq mi) in waters up to 75 m (246 ft) deep. It contains the West Ashrafi discovery, which the partners may seek to develop via a tie-in to nearby onshore infrastructure.
•••
Cypriot state utility DEFA has been given more time to review a proposal from the Leviathan field partnership offshore Israel to export gas to Cyprus via new subsea pipelines. The period of validity now runs to Oct. 31.
Noble Energy operates Leviathan and Aphrodite, Cyprus' sole deepwater gas discovery to date. The company says pre-front-end engineering and design has started on a potential scheme to take production from Aphrodite directly to customers in Egypt.
East Africa
ExxonMobil and Rosneft subsidiary RN-Exploration have filed joint bids for contract areas in the Angoche basin and Zambezi Delta under Mozambique's fifth license round. If any awards result, ExxonMobil would operate.
Global Petroleum has opted to withdraw its application to extend the term of its offshore Juan de Nova permit in the Mozambique Channel. The company first applied for an extension in August 2013, but the French authorities have not responded.
India
ONGC plans to invest more than $8.8 billion in developing reserves in the Krishna-Godavari basin offshore eastern India. The company has earmarked 12 discoveries in the KG-D5 license and a gas find in adjacent block G-4 in the Bay of Bengal, to be developed via a fixed platform and FPSO with subsea pipelines.
Asia/Pacific
SBM Offshore has secured a three-year extension to its contract to operate the FSO Yetagun. The vessel serves the Petronas-operated Yetagun gas/condensate field in the Gulf of Martaban offshore Myanmar, currently undergoing brownfield engineering works in order to prolong its productive life.
•••
The heads of PetroVietnam and Murphy Oil have signed a memorandum of understanding to collaborate. Murphy is interested in participating in development of the block B gas project in the offshore Malay - Tho Chu basin and various blocks in the offshore Cuu Long basin. In return, PetroVietnam could get access to Murphy projects in the Gulf of Mexico.
PanPacific Petroleum says operator Repsol (Talisman) should finalize plans to develop the CRD oil and gas discovery offshore Vietnam by the end of this year. The preferred option remains a tension leg wellhead platform linked to an FPSO, producing 30,000 b/d from six wells at start-up, targeted for late-2018.
•••
CNOOC has started production from the Luda 10-1 comprehensive adjustment project in the Liadong Bay in China's Bohai region. The Luda 10-1 oil field is in 30 m (98 ft) of water - development involved adding a new wellhead platform. Production should build to a peak of 6,000 b/d next year.
Primeline Energy has a letter of intent with China Oilfield Service Co. Ltd. to drill two exploration wells in block 33/07 in the East China Sea. Estimated cost is $20 million, excluding testing. Primeline and partner CNOOC aim to prove further gas volumes to tie into infrastructure serving the nearby offshore gas field LS36-1.
•••
Petronas has produced first oil from the Tembikai field offshore Peninsular Malaysia, under the Tembikai-Chenang Cluster small field risk service contract. Eventually three production wells will supply 2,000 b/d through the central processing platform, a lightweight Seahorse design, linked to an FSO via a flexible subsea pipeline. Water depth is 70 m (230 ft).
In the deepwater Sabah Delta basin offshore Sabah, Murphy has scored its eight successive gas find on block 10. The Permai prospect is one of various under review for tie-in to the Rotan field FLNG project.
•••
Japan's government has commissioned INPEX to drill an exploratory well at a location offshore Yamaguchi and Shimane prefectures. Here the geophysical vesselShigen conducted a geophysical survey in 2011 as part of Japan's Domestic Oil and Natural Gas Exploration project, and two years later INPEX acquired 3D data in the same area. Drilling should start next May, in a water depth of 210 m (689 ft).
•••
Eni has upgraded reserves at its deep offshore Merakes gas discovery in Indonesia's East Sepinngan block following further technical studies. It now plans to advance an appraisal campaign with a view to a fasttrack tie-in to infrastructure serving the company's nearby Jangkrik field development.
Australia
Subsea installations have started for Phase 1 of Woodside Petroleum's Xena gas field development offshore Western Australia. The gas started flowing to the onshore Pluto LNG plant this past June.
•••
Octanex plans to seek a retention lease over the WA-407 permit containing the Ascalon gas discovery, 465 km (289 mi) west of Darwin in a water depth below 100 m (328 ft). The company plans further engineering studies to determine the field's commerciality.
•••
AWE is considering accelerating development studies for the 17-MMboe Trefoil field in the T/18P permit in the Bass Strait offshore Victoria. Trefoil could be tied into infrastructure serving the nearby Yolla field, where operator Origin Energy recently downgraded its estimate of remaining gas reserves. Yolla produces from a wellhead platform 140 km (87 mi) offshore Kilcunda - the gas is exported through a pipeline to a processing complex onshore at Lang Lang.
•••
Cooper Energy has upgraded the resource potential at the Manta field in the Gippsland basin 57 km (35 mi) offshore southeast Australia. It claims development of the field's gas is technically feasible via a two-well subsea development, with the wellstream sent directly through a subsea pipeline system to the onshore Orbost gas plant. The previous consortium produced oil from Manta over a four-year period as part of the Basker-Manta-Gummy project.