Intensive five-year drilling campaign to lift production from Bohai Bay fields
Program taps new reserves in Zhao Dong block
Feb 1st, 2009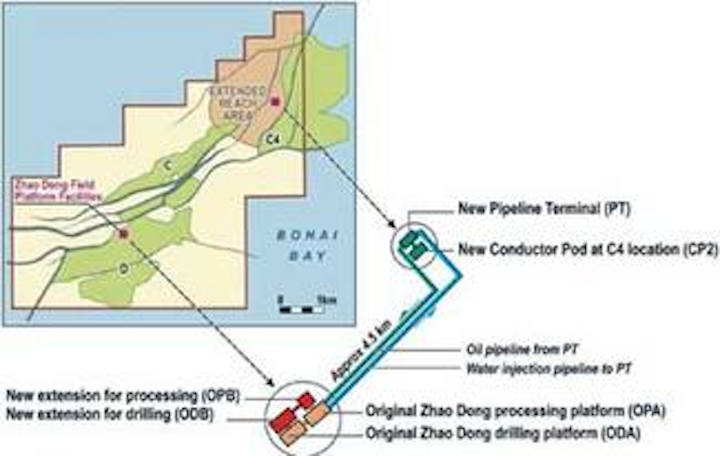 Program taps new reserves in Zhao Dong block
Jeremy Beckman - Editor, Europe
ROC Oil is strengthening its position as the fourth-ranked foreign operator of oil production in China. The Sydney-based company, active in the country since 2002, is midway through a program to expand and to extend production from the Zhao Dong fields in Bohai Bay. It also is close to initiating a brand new cluster development 2,500 km (1,553 mi) to the southwest in the Beibu Gulf.
The Zhao Dong block extends over 27.5 sq km (10.6 sq mi) in shallow water, close to the shore in Bohai Bay, southeast of Beijing. No previous drilling had occurred in the permit before 1993, when XCL was awarded the PSC for a seven-year exploration and development period, followed by a 15-year production term.
After an initial discovery made by XCL, Apache farmed into the acreage and assumed operatorship in 1994, increasing its equity in the block in 1995. Seven subsequent appraisal wells also encountered significant quantities of oil. First production was in 2003.
The Zhao Dong fields comprise stacked reservoirs ranging from Permian age clastics to the late-Tertiary Minghuazhen formation. Of the different stratigraphic levels, 27 are known to contain oil, and 16 of these were developed between 2003-07, via 31 production wells and 20 water injectors. According to ROC, the source rock is rich and generative, and oil typically is found wherever a prospective trap exists. There also are small quantities of associated gas, which is used currently for power generation. Excess volume is flared.
Reservoir quality in the productive zones generally is high. Some of the deeper targets are tighter, but also tend to have higher API crude, with better flow characteristics. The block is part of a prolific oil-producing province: nearest fields in production are Caofendian 13-1 and the Qikou complex (both offshore), and the Dagang fields onshore.
ROC acquired Apache's equity in 2006, in the process becoming operator with a 50% exploration interest; a 24.5% development interest (including the C and D fields); and an 11.575% unitized interest in the C4 field, which is part of the current second-phase program. Partners in the development are PetroChina and New XCL-China LLC, with the latter also holding the remaining 50% exploration interest.
Facilities review
Zhao Dong C and D were developed initially via two bridge-linked platforms in 3-5 m (9.8–16.4 ft) water depth, 10 km (6.2 mi) from the shoreline. One platform serves for drilling and accommodation, the other for processing and storage. Crude is offloaded onto a barge for transportation to the nearby port of Tangu, and subsequent loading onto tankers for export. The oil is waxy, with a low sulfur content, and gravity ranges from 18º-38º API, but typically 20º API.
When ROC took over from Apache in 2006, 20 MMbbl had been recovered, but production was set to decline. The partners conducted further geological and reservoir modeling studies as part of a program to extend field life. The review suggested that a further 27 MMbbl could be extracted via a program of:
New wells and re-completions in the C and D fields
Extended reach wells into a previously undeveloped section in the north-eastern part of the C structure
A new drill center accessing reserves from the C4 field straddling the boundary with the adjacent Eastern block.
The JV partners have a current budget around $426 million for an Incremental Development Plan (IDP), which includes construction of a second drilling platform (ODB) and a fluids processing and storage platform (OPB), both to be stationed next to the existing production facilities. Around 110 new wells or re-completions are planned throughout the Zhao Dong and C4 fields between 2007 and 2011.
A drilling conductor pod (CP2) and a pipeline terminal also were commissioned, both north of the Zhao Dong facilities on a stretch known as the Extended Reach Area, and connected to the main production facilities by 4.5 km (2.8 mi) long oil and water injection pipelines. According to ROC, "there has always been a program of water injection/pressure support on Zhao Dong. As more wells are drilled and reservoirs developed, more water will be produced and re-injected."
Both the pod/pipelines and the ODB platform entered service late last year, with seven associated development wells on stream by November. This helped lift average production from Zhao Dong to over 30,000 b/d, compared with just over 16,000 b/d when the program started.
Sticking to the schedule was a major achievement, according to Bruce Clement, ROC's CEO, given the pressures on the Chinese construction industry arising from the Olympics and natural disasters. The resultant power cuts, logistics, and transportation restrictions all impacted progress on the project.
The final four wells in the 2008 campaign – three on ERA and one on C4 – were completed and online in December. Development drilling then was suspended for the winter, but should resume shortly. The OPB is expected to be installed and commissioned some time this spring. Design, fabrication, and installation has been handled by a mix of Chinese and foreign engineering contractors.
Despite the increase in production, the underlying natural decline at Zhao Dong will continue. The partners will address that issue with a further program of development, which should start after the current program is completed in 2011.
Beibu production issues
In Beibu Gulf Block 22/12, covering an area of 342 sq km (132 sq mi), ROC Oil is operator with 40%, in partnership with Horizon Oil (30%), Petsec Petroleum (25%), and Oil Australia (5%). ROC farmed into the block in 2002. Within a month, the first exploration well was drilled, discovering the small Wei 6-12 oil field.
Over the next six years there were further successes on Wei 6-12 South-1 – a potentially significant oil find – which intersected 95 m (311 ft) of net hydrocarbon pay. Testing three separate zones led to a collective, stabilized flow rate of 5,750 b/d. A sidetrack well encountered similar reservoir quality, while a second sidetrack, designed to test reservoir intervals in the upper part of the original discovery well, intersected 16 m (52 ft) of net oil pay across four reservoir sands.
ROC drilled four more exploratory wells, one of which, on Wei 12-8 East, found viscous oil. Early last year, ROC drilled two further prospects on the 6-12W structure, but neither found commercial hydrocarbons. In the south of the block are two undeveloped oilfields discovered by the previous regime – Wei 12-2, Wei 12-3, and one oil and gas accumulation, Wei 12-8 West.
The block again is situated in a prolific oil province, the nearest producing field being Wei 12-1 just to the north of Wei 12-2, which draws oil from the Weizhou formation.
Reservoirs in this region range from Eocene-age fluvial-lacustrine sandstones from the Luishagang formation, to Miocene Jiaowei shallow marine sandstones and Oligocene Weizhou sandstones. Oil quality varies from light to heavy, with generally low to medium viscosity, and some waxy crudes.
Progress with development has been slower than ROC anticipated following this early program of work, but last September CNOOC confirmed that the Wei 6-12, Wei 6-12 South, Wei 12-8 West, and Wei 12-8 East fields had been declared development areas. Currently, the partners are working on an overall plan for the first three of these fields, which have combined recoverable oil reserves estimated at 27 MMbbl. The fourth, Wei 12-8 East, will likely be developed under a second phase. The most likely scenario involves a wellhead platform on Wei 12-8 West and a combined wellhead and process platform at Wei 6-12 with oil exported via tie-ins to a new CNOOC pipeline to the latter's Weizhou Island Terminal.
Before agreement on a proposed scheme can be reached with CNOOC, further studies are needed to optimize the project's economics, to satisfy both the foreign joint venture participants and CNOOC. Once these studies are completed, an overall development plan will be submitted to the Chinese government. ROC is hopeful of gaining CNOOC's approval by end-April. In this case, the government has a back-in entitlement to take up to 51% equity in the development.