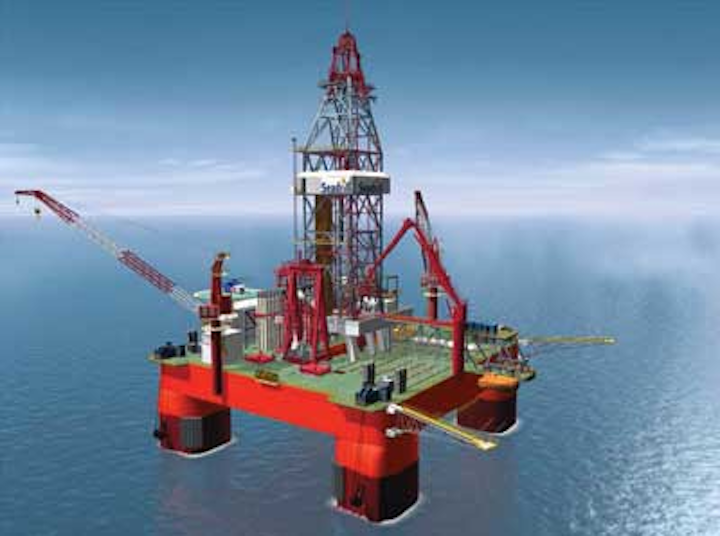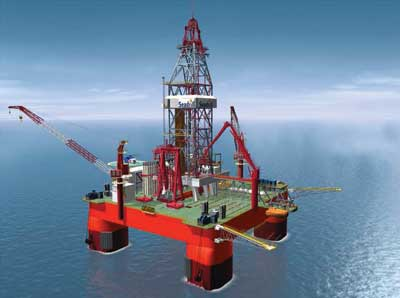 Seadrill's semisubmersible rigWest Capricorn drilled the exploration well that led to the Gila discovery, in approximately 4,900 ft (1,493 m) of water. (Image courtesy Seadrill Ltd.)
BP has reported a "significant" oil discovery at its Gila prospect, which it co-owns with ConocoPhillips, in thedeepwater Gulf of Mexico. BP says that this is its third discovery in recent years in the emerging Paleogene trend in the GoM, and reflects the company's ongoing commitment to the US offshore region. BP has previously announced two other Paleogene discoveries in the Gulf of Mexico - Kaskida in 2006 and Tiber in 2009.
The Gila discovery was made by an exploration well on Keathley Canyon block 93, about 300 mi (483 km) southwest of New Orleans, in approximately 4,900 ft (1,493 m) of water.
The well, which penetrated multiple Paleogene-aged reservoir sands, was drilled to a total depth of 29,221 ft (8,906 m). Appraisal drilling, including completion of drilling through the Paleocene section, will be required to determine the size and potential commerciality of the discovery.
"The Gila discovery is a further sign that momentum is returning to BP's drilling operations and well execution in the Gulf of Mexico," said Richard Morrison, Regional President of BP'sGulf of Mexico business.
Mike Daly, BP's Global Head of Exploration, said: "Gila continues our successful drill out of the prolific Paleogene play system in the deepwater Gulf of Mexico. Subject to successful appraisal, Gila, Tiber, and Kaskida together offer the potential for significant future oil developments in the Keathley Canyon area."
BP has an 80% working interest and is the operator of the well, while ConocoPhillips has a 20% working interest in the well.
The Gila discovery is located approximately 25 mi west of Tiber, which is also in the Keathley Canyon area. The lease for Keathley Canyon Block 93 was acquired in the Western Gulf of Mexico Lease OCS Sale 187 in 2003.
API issues new well construction interface bulletin
The API has issued a new bulletin on well construction interface as one of several standards resulting from Macondo.
API Bulletin 97, Well Construction Interface Document Guidelines, provides guidance on information that is to be shared regarding well construction and rig specific operating guidelines. It is intended to align the lease operator's safety and environmental management system (SEMS) with drilling contractor's safe work practices (CSWP).
"API standards help the oil and natural gas industry produce the energy to fuel our economy in a safe and responsible manner," said API Director of Standards David Miller. "These well construction guidelines will help lease operators and drilling contractors ensure that they are on the same page when it comes to safety."
Noble Energy makes new deepwater discovery
Noble Energy has made a new discovery at the Dantzler exploration well in the deepwater Gulf of Mexico, where wireline logging data indicate that the well has encountered over 120 net ft (37 net m) of primarily crude oil pay in two high-quality Miocene reservoirs. The Dantzler well represents the company's third consecutive exploration discovery in the Miocene trend of the Gulf of Mexico.
The discovery well, located in Mississippi Canyon 782, was drilled to TD of 19,234 ft (5,863 m) in 6,580 ft (2,006 m) of water. Dantzler is located 12 mi (19 km) west of the company's Rio Grande development, which includes discoveries at Big Bend and Troubadour. Discovered gross resources at Dantzler are now estimated at 55 to 95 MMboe.
Noble Energy operates Dantzler with a 45% participating interest. Additional interest owners are entities managed by Ridgewood Energy Corp. (including Riverstone Holdings LLC and its portfolio company ILX Holdings II LLC) with 35%, and W&T Energy VI LLC (a wholly owned subsidiary of W&T Offshore Inc.) with 20%.
In the deepwater Gulf of Mexico, Noble reports that it anticipates drilling at least two additional Miocene trend prospects in 2014.
BOEM proposes eastern GoM lease sale
TheUS Bureau of Ocean Energy Management (BOEM) plans to hold Gulf of Mexico Eastern Planning Area Oil and Gas Lease Sale 225 in New Orleans, on March 19, 2014, following Central Planning Area (CPA) Sale 231.
Sale 225 is the first lease sale proposed for the Eastern Planning Area under the 2012-2017 Outer Continental Shelf Oil and Natural Gas Leasing Program, and the first sale offering acreage in that area since Sale 224, held in March 2008. The sale will encompass 134 whole or partial unleased blocks covering 465,200 acres in the Eastern Planning Area. The blocks are located at least 125 statute miles offshore, in water depths ranging from 2,657 ft (810 m) to 10,213 ft (3,113 m).
Of the 134 blocks available in this sale, 93 are located in the same area offered in 2008's Eastern Planning Area Sale 224 and are subject to revenue sharing under the Gulf of Mexico Energy Security Act of 2006 (GOMESA), which provides that the states of Alabama, Mississippi, Louisiana, and Texas share in 37.5% of the bonus payments.
These four Gulf producing states will also share in 37.5% of all future revenues generated from those leases. Additionally, 12.5% of revenues from those leases are allocated to the Land and Water Conservation Fund. The remaining 41 blocks, located just south of that area, are not subject to revenue sharing under GOMESA.
BOEM estimates that the lease sale could result in the production of 710 MMbbl of oil and 162 bcf of natural gas. The terms of this sale ensure both orderly resource development and protection of the human, marine, and coastal environments, says BOEM. All terms and conditions for Lease Sale 225 will be finalized when the Final Notice of Sale is published at least 30 days prior to the sale.