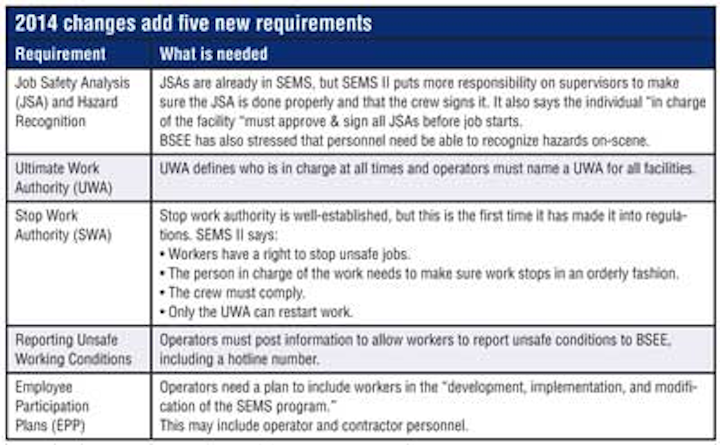 SEMS II, worker verification, subcontractor compliance loom for 2014
Ken Wells
Lifeline Strategies
It has been a little more than two years since theSafety and Environmental Management Systems (SEMS) regulations went into effect and, like most two-year-olds, SEMS is going through its share of growing pains. Starting on Nov. 15, 2011, offshore oil and gas operators were expected to have SEMS plans in place. Since then, SEMS has not made the industry accident-free. But then, no one really expected that to happen. Instead, operators have been setting up their programs and now they are entering the maintenance phase. To put it another way, the first two years were about building the house and now we go about living in it.
A large part of Lifeline Strategies business is helping companies meet the SEMS requirements, so the following is a best judgment of what trends are emerging and what operators may need help with.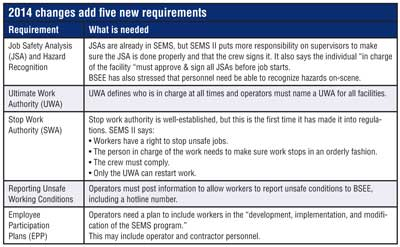 Click to Enlarge
Audits
The first major milestone was the initial round of audits that operators needed to complete by Nov. 15, 2013. Under the regulations, operators needed to audit their plans, identify any weaknesses, and come up with a plan to address them. For most of the industry, the deadline was a non-event. BSEE says 72 operators completed audits. It cited 12 for either not finishing, or never starting, their audits, but most of those operators were in the process of decommissioning their facilities and none are major forces offshore.
Operators are not saying much about their audit results and BSEE has not released any information on its reviews of the audits. However, some are asking whether audits are really an effective way to tell whether SEMS is working. Traditional audits look at compliance (Are procedures documented? Do job safety analyses (JSAs) have the signatures required by the regulations?). Tried-and-true audit techniques may not uncover whether procedures are actually effective or whether JSAs accurately describe the hazards a crew faced. Given the time and expense of audits, some wonder whether they address the real intent of the regulations. BSEE is said to be wrestling with that question internally, and groups like the Center for Offshore Safety are looking closely at improvements to the audit process.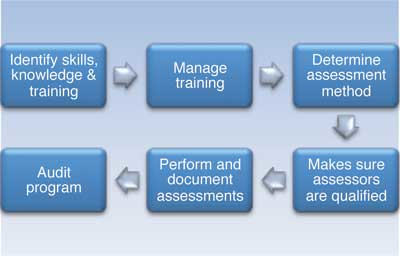 SEMSReady certification process.
New for 2014
So what comes next with SEMS? Again, because this is hot button for the industry, Lifeline Strategies follows trends closely. In 2014, the overwhelming needs for clients fall into three general categories:
1. Implementing SEMS II
2. Meeting SEMS requirements to verify worker skills and knowledge
3. Making sure that subcontractors can meet operator requirements.
The first SEMS rule had not even taken effect before BSEE proposed revising the rules. The SEMS II rule was published in April 2013, and most of the provisions take effect in June 2014. The audit provisions take effect in June 2015. The changes do not radically alter operator plans, but they do add to them, and a few may be a little hard to interpret.
Operators must include all of these changes in their training plans for their own employees and contractor personnel. Additionally, all offshore personnel must be trained on JSAs before the job starts and on stop-work authority as a part of their orientation.
On the surface, the changes seem minor, but the devil will be in the details and operators have already signaled that they do not know how to interpret some of the provisions. Just a couple of examples:
When a two-man crew of contractors goes to an unmanned platform, who is the Ultimate Work Authority and how much liability is involved?
As hard as it is to get a green hand to stop an unsafe job, will he really do it if it means work will not resume until the big boss has come down and investigated?
SEMS II audits
The audit changes become effective in June 2015 and they are the most significant. From now on, the audit team leader has to be an independent third party and the auditors have to be certified through a process that is still to be developed.
SEMS II has one line that could prove to have an enormous impact. In addition to looking at the SEMS plan as a system, SEMS II says the audits"must also identify safety and environmental performance deficiencies." To some, that means a full facility audit, which can be an expensive and time-consuming process. Fortunately the industry has an extra year to sort that one out.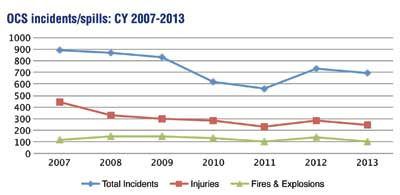 Click to Enlarge
Skills and knowledge
One area where operators came up short last year was in verifying that contractor personnel know how to do their jobs safely and effectively. It is an almost impossible task. But, in 2014, operators are starting to coalesce around a few solutions. A majority of them require some sort of annual evaluation of personnel, but there has not been a clear roadmap for contractors to follow. Without a standardized approach, it is impossible to judge results.
However, early this year, the Center for Offshore Safety released guidelines for companies to develop Skills and Knowledge Management Systems (SKMS). The guidelines are a multi-step process of identifying, assessing, and documenting skills and knowledge.
Lifeline Strageties has tried to help contractors with this through a program called SEMSReady which trains administrators and assessors, and certifies their programs as meeting the intent of the SKMS guidelines. The SEMS skills and knowledge verification requirement is hard to meet, but regulators insist that it must be done.
Subcontractors under SEMS
Subcontractors have had a bad fit with SEMS from the start. They are an everyday part of offshore E&P, but they are never even mentioned in the SEMS rule. It is difficult for operators to get subcontractors to sign bridging agreements when there is no MSA or other direct business relationship between the two parties.
The issue simmered in the background while operators scrambled to get their plans into place, but many are pushing their larger contractors to begin managing their subs:
Making sure they were following accepted safety practices
Vetting their safety records
Evaluating training, skills, and knowledge.
A lot of recent work has involved assisting contractors with subcontractor compliance programs and helping subcontractors develop the policies and training they need to keep working.
Operator cost-cutting
One of the big uncertainties in the oil and gas industry is how deep operator cost-cutting will go. It is worth asking whether this will impact SEMS.
In recent weeks, Royal Dutch Shell, ExxonMobil, and Chevron all announced efforts to reduce costs. The chairman of Total SA, Christophe de Margerie, spoke on the need to contain costs at the IHS CERAWeek conference. While saying that the industry needs to be safe, the Houston Chronicle reported him as saying that the industry needed to restrain "potentially inefficient environmental and safety expenditures that may have jumped in the wake of the 2010Deepwater Horizon disaster." He suggested that safety and environmental concerns after the Gulf oil spill had been used to justify outsize expenses.
What does that mean on America's OCS? Possibly:
1. Fewer contractors. Indications are that operators are already paring their vendor lists.
2. More subcontractors. Contractors managing subs is cost-effective for operators.
3. Fewer contractor audits. The focus may be on higher risk positions.
4. More reliance on third-party certifications of contractor compliance.
Possibly, just possibly, operators will finally agree on shared audits, cutting their costs and saving contractors a lot of headaches.
Is SEMS working?
That is the most important question and the hardest to answer. We simply do not have the metrics to know.
Total incidents are down, but only about 6% off the seven-year average, certainly not a spectacular return for a massive undertaking that the government estimated would cost about $93 million to set up and keep running.
Bureau of Safety and Environmental Enforcement
However, no one seriously thought that SEMS would end all accidents forever. Safety management does not work that way. While you should see steady reductions in occupational incidents like minor injuries and small spills, safety management is really about preventing major disasters and keeping minor incidents from becoming catastrophes.
Some would argue that, two years into SEMS, the program is still a work in progress. The rules have taken effect, but the cultural shift that needs to take hold before SEMS becomes a part of the industry's DNA has not happened yet. Looking back at the first two years of SEMS, we see progress, but we still do not see a fully matured program. That will come with time. For now, the industry is focused on the SEMS II requirements that are just a month away.
The author
Ken Wells is president of Lifeline Strategies (www.LifelineStrategies.com), a safety and regulatory management consulting company with a special focus on helping companies meet the requirement of SEMS.