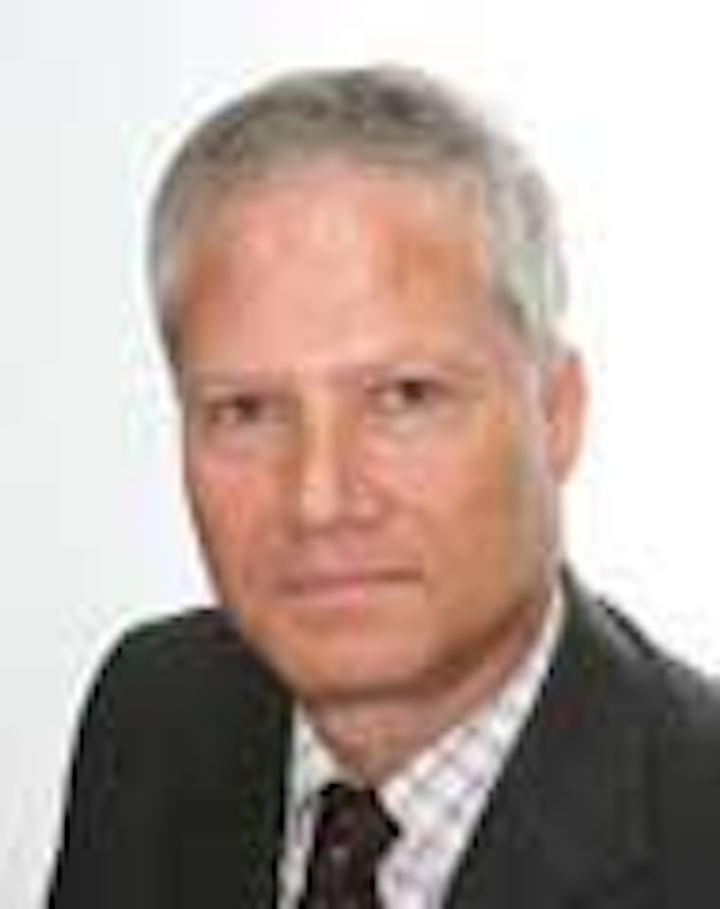 | | | |
| --- | --- | --- |
| | | Jeremy Beckman • London |
Statoil and Husky Energy will resume exploration and appraisal drilling this fall in the deepwater Flemish Pass basin offNewfoundland & Labrador, using the semisubmersible West Hercules. The partners have three potentially large oil discoveries in the area, the most recent being last summer's Bay du Nord, 500 km (310 mi) northeast of St John's.
Petrobras has completed its final mandatory exploratory well under its presalt Santos basin Rights Transfer Agreement. Entorno de Iara 3, drilled in 2,224 m (7,296 ft) of water, 241 km (150 mi) offshore Rio de Janeiro state, confirmed good-quality oil in carbonate reservoirs below the presalt layer. Results suggest 5 Bboe of reserves within the Entorno de Iara block.
In the frontier Barreirinhas basin off northeast Brazil, Thailand's PTTEP has agreed to farm into 25% of four blocks assigned last year to BG Group. Assuming approval from ANP, the partners will commission a 3D seismic survey over the blocks under the initial assessment phase.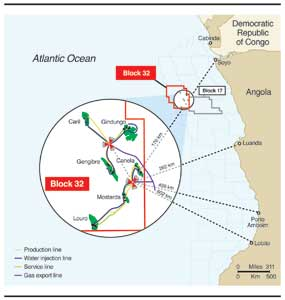 Total's Kaombo development offshore Angola. (Image courtesy Total)
Total has discovered light oil in an abrupt margin deepwater play offshore Côte d'Ivoire. The semisubEirik Raude drilled Saphir-1XB, the first well on block CI-154, in 2,300 m (7,546 ft) of water. It encountered a 350-m (1,148-ft) series of thick sands containing a 40-m (131-ft) hydrocarbon column with 34° API oil. Total and partner Canadian Natural Resources plan to evaluate a possible extension to the northeast.
Côte d'Ivoire's government has agreed to extend African Petroleum's production-sharing contracts for deep offshore blocks CI-509 and CI-513. These will give the Australian independent more time to pursue a rig and to bring in partners for the first-phase commitment wells.
•••
Noble Energy has completed a long-term drillstem test on the Diega oil field in block 1 offshore Equatorial Guinea. The well flowed at constrained rates of up to 7,300 b/d, and results suggest recoverable volumes above 30 MMbbl. According to partner PA Resources, Noble should submit a development plan before year-end. The partners will also re-evaluate the Carla South discovery in the same block following a planned 3D seismic survey.
•••
Total and its partners have launched the $16-billion Kaombo development in Angolan block 32, one of West Africa's most extensive deepwater projects to date. The offshore complex will receive production from the Canela, Caril, Gengibre, Hindungo, Louro, and Mostarda fields in water depths ranging from 1,400-1,900 m (4,593-6,233 ft). They are spread out over an 800-sq km (309-sq mi) area in the central and southeastern part of the block, 260 km (161 mi) from Luanda.
Production will head to two converted turret-moored FPSOs which Saipem will supply and later operate and maintain. They will enter service in 2017, and will each provide oil handling capacity of up to 115,000 b/d, water injection and gas compression of respectively 200,000 b/d and 100 MMcf/d, and storage for up to 1.7 MMbbl of oil.
Aker Solutions will provide the subsea production system comprising 65 vertical subsea wellsets, 20 manifolds, workover/tie-in and control systems. The Technip/Hereema consortium will supply and install 120 km (75 mi) of umbilicals; 300 km (186 mi) of rigid pipe-in-pipe production and single-pipe injection lines; and 18 rigid single top tension risers, associated 40-m (131-ft) tall buoyancy tanks and jumpers. They expect to complete the installations during the first half of 2018.
•••
Genel Energy and White Rose have agreed to pay China Sonangol and Statoil up to $281 million in total to farm into blocks 38 and 39 in Angola's offshore Kwanza basin. Water depths in this frontier region, which has yielded numerous successes for Cobalt International, range from 1,500-2,500 m (4,921-8,202 ft). Genel says the geology on both blocks is analogous to Brazil's Campos and Santos basins. The drillshipStena Carron may have started drilling the Dilolo prospect for Statoil in block 39.
Off Namibia to the south, Murphy Oil has agreed to farm in as operator of exploration blocks 2613A and 2613B. The company and partners OMV, Cowan, and NAMCOR planned to acquire 3D seismic. In offshore 2913B, on the maritime boundary with South Africa, London-based Impact Oil and Gas is confirmed as the new operator. The acreage is thought to contain oil-prospective sands within anticlinal traps west of the Orange River delta.
Mediterranean Sea
Enagas has commissioned French contractor Diestwell to overhaul the drilling rig on the Gaviota platform, 8 km (4.97 mi) offshore Spain's northeast coast. Since 1994 the former gas production facility has supported gas storage in a subsurface reservoir. Dietswell will prepare the refurbished rig for a workover program this summer.
•••
Lebanon's Ministry of Energy and Water has extended the deadline for bid submissions for the country's first offshore licensing round until Aug. 14, 2014. This follows delays in decrees related to delineation of the blocks and the model E&P agreement. Five offshore blocks are currently on offer, but more could be added.
•••
Noble Energy and its partners will seek to expand the deepwater Tamar field gas production and export facilities. This follows a letter of intent to sell up to 2.5 tcf over 15 years to Union Fenosa's natural gas liquefaction facilities in Egypt, subject to regulatory approvals.
Delek Group says its subsidiary companies in partnership with Noble have applied to export gas from Israel's deepwater Leviathan field through a new pipeline to Cyprus. They aim to supply up to 0.95 bcm/yr between early 2016 and the end of 2022, with options to extend deliveries till end-2025. However, a development schedule for Leviathan and agreements with Cyprus' government would both need to be in place by Aug. 21.
Black Sea
Allseas' new construction vesselPieter Schelte will install the second string of the South Stream gas pipeline through deepwaters in the Black Sea. The vessel, equipped with six welding and coating stations, will start work on the 900-km (559-mi) pipelay campaign in summer 2015. Saipem will connect the offshore pipeline to the landfall sections using the above-water tie-ins.
Caspian Sea
RWE Dea and SOCAR will jointly evaluate prospectivity south of the Absheron peninsula in the Azeri sector. The 850-sq km (328-sq mi) study area, between Hamamdag and Karadagm, is in water depths ranging from 0-30 m (0-98 ft).
In the same sector, BP has contracted the Saipem/Bos Shef/Star Gulf consortium to transport and install new platform jackets, topsides, subsea structures, and subsea production systems for the Shah Deniz Stage 2 project. Additionally, the consortium will install more than 360 km (223 mi) of subsea pipelines and upgrade theIsrafil Huseinov laybarge for the program.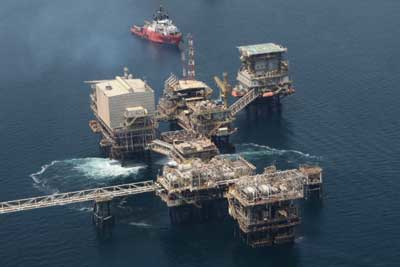 Qatar Petroleum will redevelop and add new facilities at its Bul Hanine field complex offshore Qatar. (Image courtesy Qatar Petroleum)
Qatar Petroleum (QP) is to commit more than $11 billion to redevelop the Bul Hanine offshore oil field 120 km (75 mi) east of Qatar. The programs, currently in the pre-front-end engineering design phase, will double the field's current production capacity and extend its productive life.
QP plans to drill new wells from existing/modified wellhead platforms and from 14 new wellhead platforms, with associated production and injection flowlines. The new offshore central complex will comprise production, compression, utility and living quarter platforms with topside weights ranging from 4,000-14,000 metric tons (4,409-15,432 tons). Produced oil will be sent to Halul Island for export, while 90 MMcf/d of sour gas will head through a new 150-km (93-mi) subsea pipeline to a gas treatment facility in Mesaieed. Lean sweet gas will be imported to the new complex for compression/injection.
East Africa
Anadarko says recent appraisal drilling on the Orca field has increased gas reserves in Mozambique's Offshore Area 1 to 50-75 tcf-plus. The company continues to progress the planned Mozambique LNG project having added incremental non-binding LNG take-off agreements.
India
ONGC plans further development of its Vasai East field in the Arabian Sea offshore western India. The company will drill infill wells from the VSEB and VSEC wellhead platforms into the field's northern and southern flanks. It will also modify facilities at the BPA/BCPA-2 process platform. The project, due to be complete by the end of 2018, should add 1.83 million metric tons (2.01 million tons) of incremental oil and 1,971 bcm of gas production by 2030.
CNOOC has delivered first oil from the Kenli 3-2 oil fields project in the southern Bohai Sea. The company developed the Kenli 3-2, Bozhong 34-6/7, southern part of Bozhong 29-4, and the Bozhong 35-2 oil fields in water depths averaging 20 m (65.6 ft). The offshore facilities, designed to produce 35,000 b/d, include seven platforms. Oil is exported to a processing terminal onshore.
•••
Shell has a new gas discovery in block SK318 off Malaysia. The Rosmari-1 well, drilled 135 km (84 mi) offshore, intersected a gas column of more than 450 m (1,476 ft). Shell and partners Petronas plan to drill for more gas in the area.
Petronas has signed a small field risk service contract with a consortium headed by EnQuest for development of the Tanjong Bram field offshore Lutong, Sarawak. The approved development plan involves drilling wells and installing platforms and pipelines which will be linked to existing infrastructure. First oil is slated for 2015, with an estimated project cost of $100 million.
Elsewhere off Malaysia, Australian company ROC Oil has farmed into 50% of a Petronas-operated PSC covering the shallow-water producing fields D21, D35, and J4. Combined production is currently 10,000 b/d of oil and 17 MMcf/d of gas. The partners will look to raise output through redevelopment and enhanced oil recovery measures.
•••
Premier Oil has discovered oil and gas in the Kuda Laut structure in the Tuna PSC offshore Indonesia. The Kuda-Laut-1 well encountered 183 ft (56 m) of net oil-bearing reservoir and 327 ft (99.7 m) of net gas-bearing reservoir. The company planned a side track into the Singa Laut prospect in the adjacent fault block.
Origin Energy has contracted Seadrill'sWest Telesto to drill two new wells during the next Australian summer on the Yolla gas field in the Bass Strait. The wells form part of the BassGas joint venture's Yolla mid-life enhancement project Stage 2, designed to maintain production from the field.
•••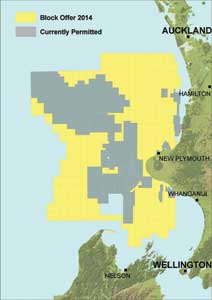 New Zealand's Energy and Resources Minister Simon Bridges has revealed details of the country's third annual block offer for petroleum exploration permits. Block Offer 2014 covers total acreage of 405,000 sq km (156,371 sq mi). Offshore release areas include the Canterbury, Great South, New Caledonia, Pegasus-East Coast, Reinga-Northland, and Taranaki basins. Bids are due by Sept. 25, with permits due to be issued between December and March 2015.