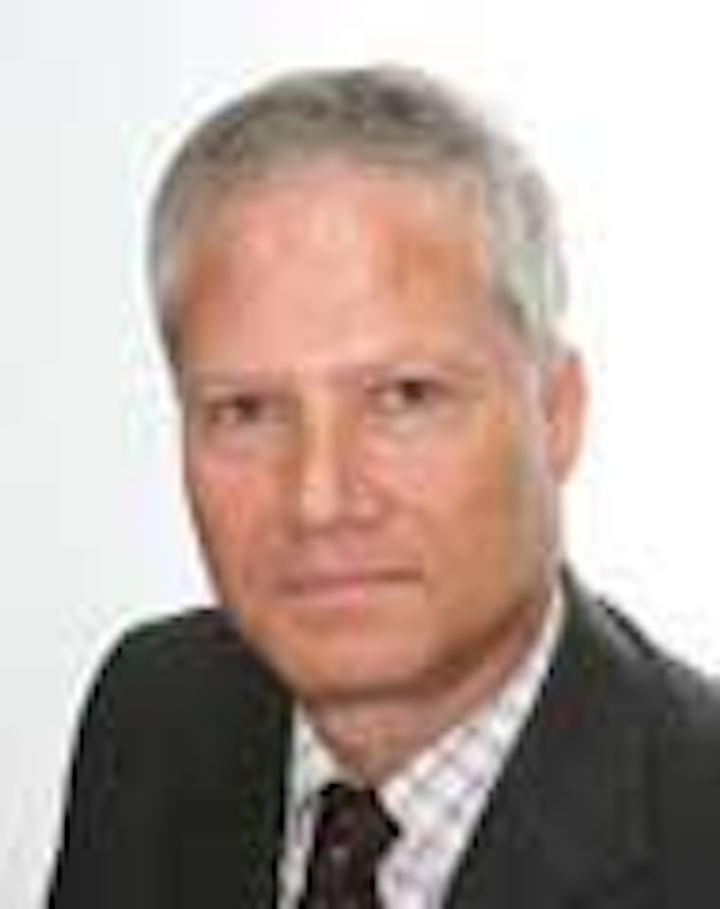 | | | |
| --- | --- | --- |
| | | Jeremy Beckman • London |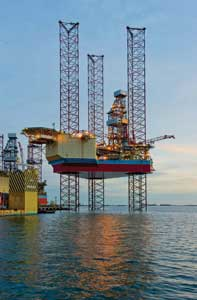 The new Keppel-built jackup for Ivar Aasen. (Photo courtesy Keppel Offshore)
Two of the partners in the Johan Sverdrup project in the centralNorwegian North Sea have issued more details of the probable development scheme. Lundin Petroleum expects start-up in late-2019 with a capacity in the 315-380 MMboe/d range, and a semisubmersible drilling 11-17 wells prior to start-up. Phase I capital investments of $9.44-11.33 billion will include 40-50 production and injection wells, a 274-km (170-mi) 36-in. oil pipeline connected to the Mongstad terminal on Norway's west coast, and a 165-km (102-mi) 18-in. gas line to the Kårstø gas terminal for processing and onward transportation.
Det norske oljeselskap says around 100 MW of power will be supplied from the Norwegian mainland to the Johan Sverdrup riser platform, and future phases of the development will also be powered from shore, along with the nearby Edvard Grieg, Gina Krog, and Ivar Aasen projects. This follows the Norwegian parliament's decision that full electrification of the Utsira High region must be implemented by 2022, despite the concerns of the various field partnerships over the escalating cost.
Maersk Drilling has taken delivery of the Keppel FELS newbuild harsh environment jackupXLE-2, designed for year-round operations in the North Sea. It has been chartered to work for up to five years on the Ivar Aasen development.
No Barents Sea breakthrough for Statoil
Statoil has concluded its drilling campaign this year in the emerging Hoop area of the Barents Sea. The well on the Mercury prospect in license PL614 encountered sub-commercial gas, and followed earlier dry holes on the Apollo and Atlantic structures in PL615. The company is a partner in the OMV-operated Wisting Central and Hanssen oil discoveries, 20 km (12.4 mi) northwest of Mercury.
Irene Rummelhoff, Statoil's senior vice president for exploration in Norway, admitted results had been below expectations, but added "it is important to understand that Hoop is a frontier area of more than 15,000 sq km [5,701 sq mi] with only six wells completed to date, so we do not have all the answers about the subsurface yet."
This year's campaign, like Statoil's wells in the Johan Castberg area of the Barents Sea, was designed to test different play models in varied geological settings and depths.
Kongsberg Oil & Gas Technologies is working on conceptual design and pre-front-end engineering and design studies for Johan Castberg, which has been extended to take in oil from this year's Drivis discovery as well as the much larger Havis and Skrugard fields in the same license (PL532). The project is 230 km (143 mi) northwest of northern Norway's North Cape in 360-405 m (1,181-1,329 ft) of water.
Drilling slowdown may be linked to fiscal review
UK offshore exploration remains in the doldrums, with only seven exploration and appraisal wells across the region during 2Q 2014, according to Deloitte's Petroleum Services Groups. This compares with 12 in the previous quarter and 17 in 2Q 2013. Deloitte's senior partner in Aberdeen Derek Henderson said rising operating costs were one factor. But the industry may also be stalling on drilling until more clarity emerges on proposed changes to the UK's offshore oil and gas tax regime.
In July HM's Treasury announced a formal consultation that was welcomed by industry association Oil & Gas UK, which predicts that UK offshore investments will halve over the next four years. Economics director Mike Tholen said: "The current fiscal regime has become increasingly complicated and unpredictable with high tax rates combined with a multiplicity of allowances. While targeted allowances have successfully encouraged a wave of activity in recent years…their impact is diminishing in an ever more expensive business climate."
The government has also promised to contribute funding to a new UK oil and gas regulatory body, one of the recommendations from Sir Ian Wood's report on ensuring the sector's long-term future. Judith Aldersey-Williams, partner at European law firm CMS, said the industry was waiting to see how the regulator's powers would be applied to enact some of Sir Ian's suggestions. "There is a concern among some oil industry players that they could be forced into commercial arrangements which they don't consider are in their shareholders' interests…This could include keeping in place infrastructure where companies do not feel they are getting a suitable balance of risk and return."
Simon Gray, CEO of the East of England Energy Group, called for further stimulation for gas exploration in the UK southern North Sea "while [the] existing infrastructure and subsea resources are still in place." He highlighted the dangers of premature decommissioning of gas fields and associated facilities in the area that could otherwise remain in production for decades to come.
Solan storage tank reaches destination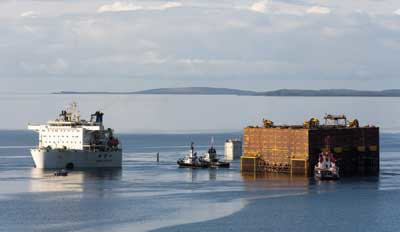 Xiang Yun Kou towing the Solan storage tank to Lerwick harbor. (Photo courtesy Lerwick Port Authority)
The first new oil field development west of Shetland since BP's Schiehallion in the 1990s moved a step closer last month. The 10,000-metric ton (11,023-ton), 300,000-bbl subsea oil storage tank for Premier's Solan field sailed out of Lerwick Harbor last month, following delivery by the Cosco Heavy Lift transport vesselXiang Yun Kou from Drydocks World in Dubai. It was then towed by ocean-going tugs 90 mi (145 km) to Solan where it was installed in 130 m (426 ft) of water. It will be linked to a fixed production platform, built by Burntisland Fabricators in Scotland, with four subsea wells.