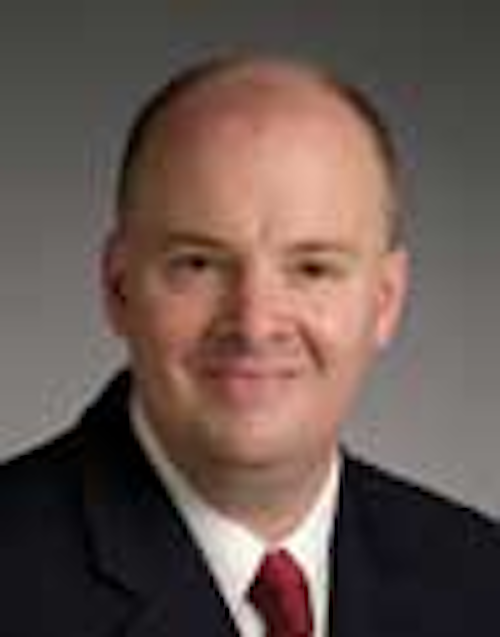 | | | |
| --- | --- | --- |
| | | Bruce Beaubouef • Houston |
Oil and gas companies in the Gulf of Mexico could be set for bigger profits under President-elect Donald Trump's industry-friendly administration, claims a leading energy industry consulting firm.
While any oil and gas boom is unlikely to come from Trump's promise to open up federal waters to exploration and drilling in the future, which would take years to yield significant results, there are several ways in which the incoming administration could make things easier for companies to turn profit in an era of lowly priced oil, says Imran Khan, senior manager at Wood Mackenzie.
"Under a Trump administration, operators may have a sympathetic ear," wrote Khan in a note to clients that was shared by CNBC.
According to this analysis, there are three key areas in which a new administration could provide regulatory relief. These are described below.
Royalties.Reducing royalty rates paid to the US government could encourage energy companies to drill deeper wells with harder-to-get oil reserves, and build more satellite wells that could be tied back. In doing so, those companies would create additional jobs and possibly even increase the cash value of overall royalties to the government, according to the note. However, Khan said that if the Trump administration wanted to encourage investment in the region, it would have to make significant reductions in the royalties, potentially cutting back from the current rate of 18.75% to 2007's rate of 16.66%.
Such a rate cut would only lower the break-even cost of a tieback by 4%, but could create as much as $860 million in government royalties on a 65 MMbbl production, for example.
It is also believed that Trump could introduce a royalty relief program, which would reduce royalties paid to the government as the life-cycle of the well reaches its end. Instead of closing down the well before it becomes unprofitable, oil and gas companies would be able to extend well production and keep infrastructure and jobs in place.
Ease decommissioning bonds.The Trump administration could also ease bonding requirements, the costs paid by oil and gas companies to the federal government to help pay for the decommissioning of old drilling platforms and wells in the event they are abandoned.
Decommissioning costs have gone up in recent years because of an increase in deepwater fields in the Gulf of Mexico, according to the Bureau of Ocean Energy Management. The current decommissioning liabilities stand at around $40 billion in total.
If Trump eases the bond on decommissioning, it would ensure oil and gas companies have more money to borrow. In essence, there would be additional funds for exploration, infrastructure, and drilling in fields where the hard-to-get oil and gas is.
"What the [previous administration has done] is going to increase the amount of money on balance sheets tied up in bonds, shrinking the borrowing base," said Poe Leggette, co-leader of law firm the BakerHostetler's national energy industry team. "It's going to put a lot more pressure on companies," Leggette told CNBC in September. "Basically they're going to find it difficult to meet these bonding obligations." Relief from these decommissioning bonding requirements would be a substantial boon to operators and developers.
Long-term leases. The Trump administration could extend leases for oil and gas companies on areas that they have already spent money exploring. Current rules dictate that lease holders begin operations within five to 10 years, but because of the significant drop in the price of oil over the last two years, companies have been forced to concentrate production on only the most profitable areas, largely abandoning new exploration fields.
Oil and gas companies have slashed planned exploration and production spending around the world by $1 trillion, according to a summer 2016 report by Wood Mackenzie. "Some deepwater exploration spend has been protected by long rig contracts, but as these unwind we expect sharper cuts than in non-deepwater," Andrew Latham, vice president of exploration research said in a statement. That could mean a future cut in investment and jobs. But if the timeframes were extended, operators could be able to focus on many of these underexplored leases in a timely manner, and thereby increase seismic exploration and drilling activity.
Anadarko increases deepwater portfolio
Anadarko Petroleum Corp. says it has closed the acquisition of Freeport-McMoRan Oil & Gas' deepwater Gulf of Mexico assets. The transaction is effective Aug. 1, 2016.
The company said that one of the main benefits of the acquisition is that it doubles its ownership in the Lucius development to about 49%. It also is said to double its GoM production to more than 160,000 net boe/d. It will also add three operated deepwater facilities to the company's portfolio, bringing its total operated facilities to 10.
Chairman, President and CEO Al Walker said: "As a result of closing this transaction, Anadarko now operates the largest number of floating production facilities in the deepwater Gulf of Mexico, which provides a competitive advantage to leverage this infrastructure into attractive new investment opportunities. This region continues to play a key role in our portfolio by contributing to our higher-margin oil growth profile."
The expanded portfolio of deepwater facilities, Walker added, "provides numerous hub-and-spoke opportunities that can generate rates of return of better than 50% at today's prices. Given our industry-leading capabilities in deepwater project management, production solutions and exploration success, adding these high-quality assets greatly improves our ability to deliver strong performance in a volatile commodity environment."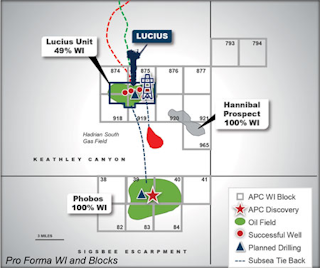 Anadarko reports that it has encountered more than 90 net ft (27 m) of high-quality oil pay in a Pliocene-aged reservoir at its Phobos appraisal well, located approximately 12 mi (19 km) south of the Anadarko-operated Lucius facility. (Courtesy Anadarko)
In addition, the company provided an update on its GoM drilling activities, highlighted by successes at Warrior and Phobos, which add to its inventory of future tieback opportunities.
The Warrior exploration well encountered more than 210 net ft (64 m) of oil pay in multiple high-quality Miocene-aged reservoirs. The Warrior discovery is about 3 mi (about 5 km) from Anadarko's K2 field and is expected to be tied back to its Marco Polo facility. Anadarko is the operator of Warrior (65%).
The Phobos appraisal well has encountered more than 90 net ft (27 m) of high-quality oil pay in a Pliocene-aged reservoir similar to Lucius. This secondary accumulation was present in the Phobos discovery well and will be evaluated for tieback to the Lucius facility. The drilling is ongoing toward the primary objective in the Wilcox formation. Anadarko has a 100% working interest at Phobos.
At the Heidelberg field, the fifth production well currently being drilled has encountered the reservoir sand with more than 150 net ft (46 m) of oil pay to date. The well is expected to be brought on production early next year.