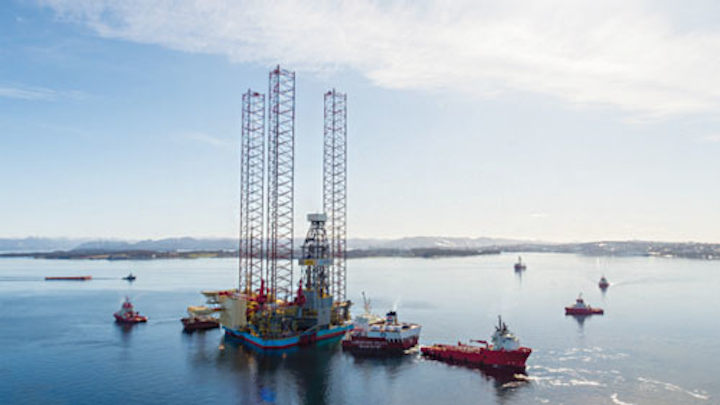 | | | |
| --- | --- | --- |
| | | Jeremy Beckman • London |
Oil and gas production offshore Norway could continue for more than 50 years if the industry takes the right steps, according to the Norwegian Petroleum Directorate (NPD). However, to maximize value of the country's remaining and undiscovered hydrocarbons, companies must show a greater willingness to share production infrastructure and adopt field life extension techniques, the association says in its latest review of the sector.
NPD identified 77 Norwegian discoveries were under consideration for development at the start of this year, most located in the North Sea, although the largest are in the Barents Sea. It estimates combined resources from these discoveries at 700 MMcmoe and believes another 850 MMcmoe could be extracted from existing developments through improved recovery measures, equivalent to total output from the Statfjord field since its start-up in the North Sea in 1979. NPD also believes that deployment of emerging enhanced oil recovery technologies could open production of a further 320-860 MMcm of oil, and that other promising techniques could be applied to unlock large volumes of oil and gas in tight Norwegian reservoirs.
Ingrid Sølvberg, the association's Director of Development and Operations, said: "The Norwegian petroleum industry needs ambitious engineers and visionary leaders that can maintain the Norwegian shelf's strong position within development and use of new and advanced offshore technology through good cooperation between oil companies, suppliers, and the authorities."
Valhall rig powered from shore
For the first time in the North Sea and possibly anywhere, a drilling rig has been operating with power supplied from shore. The newbuild jackupMaersk Invincible recently started a long-term well plugging campaign on Aker BP's Valhall field, alongside the Valhall DP platform. Maersk Drilling had made provisions to facilitate electrification of the rig during its recent construction in South Korea.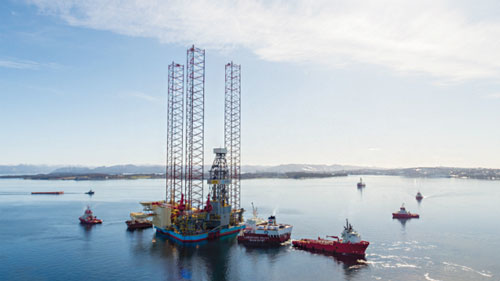 Maersk Invincible in operation at Valhall. (Courtesy Aker BP).">
TheMaersk Invincible in operation at Valhall. (Courtesy Aker BP).
The electricity is transmitted from the Valhall IP platform via a 500-m (1,640-ft) long HV cable. Aker BP had spare generating capacity from the supply that comes from the 294-km (182-mi) subsea power cable between Lista on the Norwegian mainland and the Valhall field complex. Aker BP secured a grant of around $5 million from Norway's NOx Fund for the electrification project and associated modifications, which the company claims will cut its annual emissions of carbon dioxide in the area by 15,200 metric tons (16,755 tons), and nitrogen oxide (NOx) by 168 metric tons (185 tons).
The well plugging is part of a multifaceted campaign to modernize the Valhall field center, which includes removing the three original platforms from the start of operations in 1982 - QP, DP, and PCP. Under a new long-term frame agreement, Allseas'Pioneering Spirit will likely remove and dispose of the QP topsides and QP/DP bridges in 2019, followed later by the QP jacket. Heerema Marine Contractors, which has another agreement that covers the Valhall Flank West platform installations, has now also been contracted for removal services.
Quad 204 starts up west of Shetland
BP has completed the first major component of its west of Shetland field life extension program. The newbuildGlen Lyon FPSO has started production from the Quad 204 project, a revamp of the Schiehallion and Loyal fields that were originally developed through another floater in the mid-1990s.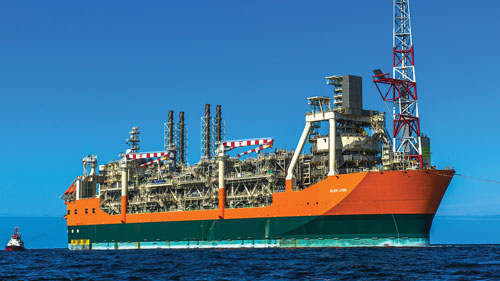 Glen Lyon FPSO. (Courtesy BP)">
The newly onstreamGlen Lyon FPSO. (Courtesy BP)
Glen Lyon, which weighs around 100,000 metric tons (110,231 tons) is the largest FPSO in a harsh environment anywhere, BP claimed. It weathervanes around its turret-mooring system and is moored to the seafloor by 20 x 1.6-km (1-mi) long lines. In addition, BP upgraded or replaced much of subsea network, commissioning seven new production manifolds, 21 new subsea risers, including 15 for oil production, connected to 15 subsea production flowlines. The other six gas and water injection risers tie into existing infrastructure. Drilling continues of the 20 development wells from the semisubmersible Deepsea Aberdeen - eight were onstream ahead of start-up.
Next year BP aims to start up Clair Ridge, the next phase of development of the giant Clair field in shallower water, 75 km (46.6 mi) west of Shetland. Two new bridge-linked platforms, at a location north of the existing Clair platform, should produce 640 MMboe of reserves over the next three decades or more.
UK needs more decom yards
Repsol Sinopec Resources has stopped production through the moored semisubmersible floating production vesselBuchan Alpha, commissioned originally by BP. The five-legged vessel, a conversion of a drilling rig, had produced almost 150 MMbbl of oil from the Buchan and Hannay fields, 156 km (97 mi) northeast of Aberdeen, since the start of operations in 1981. Repsol Sinopec has approval to suspend production from both fields and is reviewing options for a redevelopment.
A new Safety Case had to be submitted for the platform in 2014 due to concerns over structural integrity resulting from the five-leg design. Veolia will dismantle and recycle the vessel at its Dales Voe decommissioning site in Lerwick, Shetland. According to analyst Westwood Energy, more onshore infrastructure needs to be developed in the UK to handle such services, with 261 fixed platforms set to be removed from UK waters between now and 2040, with a total weight of 2.6 MM metric tons (2.87 MM tons) and at a projected overall cost of $28 billion. The only other workable large-scale site is at Hartlepool on the northeast English coast which recently took delivery of Shell's decommissioned Brent D platform topsides.
Much of the spending on decommissioning will likely come after 2025, the analyst acknowledged, and the pressures to build new yards quickly have eased because the UK's offshore sector has been more resilient of late, thanks to production efficiency measures and opex reductions. Many fields that had faced abandonment remain in operation.