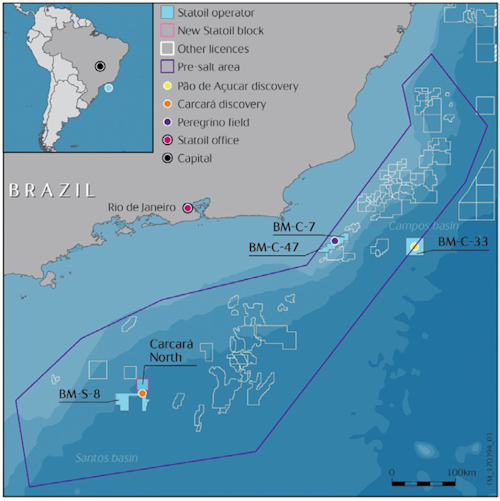 | | | |
| --- | --- | --- |
| | | Jeremy Beckman • London |
Greenland will reportedly resume offshore licensing next year, offering concessions in Baffin Bay and Davis Strait off the country's west coast.
•••
BHP and PEMEX have submitted an exploration and appraisal plan for the deepwater Trion area license to the Mexican authorities.
South America
ExxonMobil and its partners plan to drill an appraisal well next year on the Turbot oil discovery in the deepwater Stabroek block offshore Guyana.
Off neighboring Suriname, Statoil's first well on block 54 has proven the presence of gas/condensate, according to partner Tullow Oil, although the find was sub-commercial. The drillshipNoble Bob Douglas has since P&A'd the well, in 1,000 m (3,281 ft) water depth.
•••
Peru's government has awarded Anadarko a seven-year exploration license covering three deepwater blocks in the Trujillo basin. The initial program includes reprocessing existing seismic and retrieving piston cores from the seabed for analysis.
•••
Petrobras has awarded MODEC a 21-year firm charter and operations contract for an FPSO to serve the Sépia development in 2,200 m (7,218 ft) water depth in the presalt Santos basin. MODEC will supply the vessel, topsides processing and hull/marine systems, while the company's subsidiary SOFEC will provide the spread mooring system. The FPSO will be designed to process 180,000 b/d of oil and 212 MMcf/d of gas, with a crude storage capacity of 1.4 MMbbl.
•••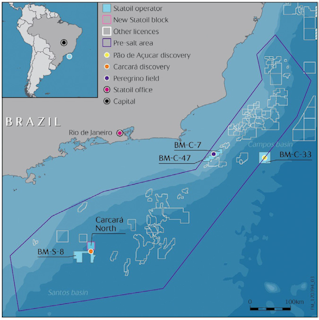 Carcará North block in the Santos basin. (Map courtesy Statoil)
Various major oil companies have secured new blocks in the pre-salt Santos basin under Brazil's latest lease rounds. Petrobras and BP were jointly awarded PSCs for the Alto de Cabo Frio Central and Peroba blocks. Shell joined Petrobras in the Entorno de Sapinhoá block in the central part of the basin, adjacent to the Sapinhoá field development. Shell also bid successfully for Alto de Cabo Frio – West and another block close to its Gato de Mato field.
Statoil, ExxonMobil, and Petrogal were jointly the high bidders for Carcará North, while ExxonMobil, in partnership with Murphy Oil and Brazil's QGEP, secured the SEAL-M-501 and SEAL-M-503 blocks in the deepwater Sergipe-Alagoas basin.
•••
BP and Petrobras have signed a letter of intent to jointly pursue business opportunities in Brazil and elsewhere, including in upstream and gas transportation sectors. The agreement could extend to technological exchanges.
West Africa
Sierra Leone will stage its 4th Offshore Petroleum Licensing Round during the first half of next year. Getech Group subsidiary ERCL has compiled data-sets with the country's Petroleum Directorate for interested parties to view in Freetown and London, including 2D and 3D seismic and analysis of all prior wells drilled during 2009-13, four of which led to discoveries.
•••
Ghana's government has approved Tullow Oil's Greater Jubilee full field development plan, which involves measures to extend the life of the deepwater Jubilee field and drilling wells to tie in production from the undeveloped Mahogany and Teak accumulations. Tullow expected to contract a rig for this project and the final wells on its nearby TEN development. Drilling had been suspended prior to the recent ruling on a maritime border dispute between Ghana and Côte d'Ivoire.
Eni expects to start gas production next year from its recently onstream Offshore Cape Three Points block off western Ghana. This, the company claimed, is the first deepwater non-associated gas development in sub-Saharan Africa in which the gas is dedicated solely to the domestic market. It could eventually generate 1.5 MW of power at new facilities onshore Ghana.
•••
Total's FPSOEgina is on its way to Lagos for completion of topsides fabrication and integration. The 330-m (1,083-ft) long vessel, with an oil storage capacity of 2.3 MMbbl, was built at the Samsung Heavy Industries yard in Geoje Island, South Korea. It will eventually be installed at the Egina field location in 1,750 m (5,741 ft) of water, 130 km (81 mi) offshore Nigeria, with start-up scheduled for late 2018.
Petrobras, a partner in Egina, has put up for sale its equity interest in this project, Nigeria's deepwater Agbami and Akpo oil field developments, and the Preowei discovery. Combined net production from these fields should reach 75,000 b/d in 2019.
•••
Kosmos Energy and Trident Energy have agreed to buy Hess' interests in the producing Ceiba and Okume complex of fields off Equatorial Guinea, and a stake in three adjacent exploration licenses. Under the $650-million arrangement, Kosmos' main role would be to manage exploration and subsurface studies, while Trident, a new company supported by Warburg Pincus, would be responsible for production optimization.
•••
Eco (Atlantic) Oil & Gas has taken the initial steps to drill an exploration well on the Osprey prospect in 500 m (1,640 ft) water depth in the PEL30 'Cooper' block in Namibia's Walvis basin. The company's application for environmental clearance follows interpretation of an extensive 3D survey by PGS over the acreage.
Total has agreed to farm into 70% of UK independent Impact Oil & Gas' interest in the ultra-deepwater block 2913B, adjacent to the maritime boundary with South Africa; and 77.8% of Impact's Orange Basin Deep Technical Co-operation Permit off South Africa's west coast. In both concessions the main features under review are oil-prospective structures at Cretaceous level.
Mediterranean Sea
ADX Energy subsidiary Alpine Oil and Gas has received permission to vary work commitments on the Kerkouane license offshore Tunisia. The company now plans to drill the Dougga Sud well using the drillshipGlobetrotter II and to conduct productivity testing of the Dougga gas/condensate reservoirs.
•••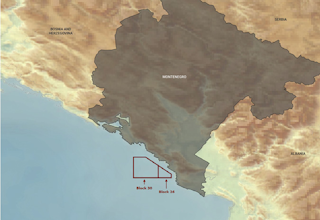 Energean's blocks offshore Montenegro. (Map courtesy Energean)
Netherlands Sewell and Associates estimates potential resources on Energean's two shallow-water blocks offshore Montenegro (4218-30 and 4219-26) at 1.8 tcf of gas and 114 MMbbl of liquids. Following this initial analysis Energean plans a 3D seismic survey over the blocks next year, and further G&G studies.
•••
Total, Edison, and Hellenic Petroleum have signed a lease agreement covering exploration rights to block 2 in the Ionian Sea offshore southern Greece. Hellenic expected Greece's government to also announce a new tender for the offshore areas north and west of Crete.
•••
Eni and Total are reportedly looking to drill an exploratory well in block 6 offshore southern Cyprus. Their previous joint well last summer on offshore block 11 is said to have encountered sub-commercial gas.
Both companies, under a consortium with JSC Novatek, have also applied for blocks 4 and 9 under Lebanon's first offshore licensing round.
Middle East
Saudi Aramco has awarded contracts for incremental developments offshore Saudi Arabia. For the Safaniyah field, NPCC will supply a new tie-in platform to serve as an extra hub for future wellhead installations, and an associated subsea power cable and export pipeline to the onshore GOSP-1 complex. McDermott International is building 10 new slipover platforms for the South Safaniya field, designed to enhance oil production from Safaniyah, and an electrical distribution platform that will generate power for the slipover platforms' electric submersible pumps.
Jacobs Engineering has an engineering contract for the offshore Zuluf field. The scope includes water injection and wellhead platforms, trunklines and flowlines and an onshore complex that will process 600 MMb/d of heavy Arab crude, with additional facilities for gas/oil separation and gas compression.
•••
ADOC/Cosmo Abu Dhabi Energy Exploration & Production Co., owned by Spain's Cepsa and Japan's Cosmo Oil, has delivered first oil from the shallow-water Hail field in the ADOC concession offshore Abu Dhabi. The 10-well development called for construction of an artificial island linked via a subsea pipeline to production/export facilities on Mubarraz Island.
•••
Khazar Exploration and Production Co. and Norway's Offshore Resource Group have agreed to jointly study development of the deepwater Sardar-e Jangal oil and gas field in the southern Caspian Sea offshore Iran.
India
ONGC has discovered two new oil and gas accumulations in the G-1 PML concession in the KG basin offshore eastern India. Both the G-1-15 and GS-29-8 Sub wells produced hydrocarbons during tests of intervals in the Godavari Clay (Pliocene) formation.
•••
Reliance Industries has provisionally awarded McDermott International an EPCI contract for the KG-D6 subsea project in the KG basin. This covers subsea flowlines, vent lines, an MEG line, risers, umbilicals, and other subsea structures linked to six subsea wells in the R-cluster field in water depths of up to 2,100 m (6,890 ft). The scope could be extended to five to seven further subsea wells for the Satellite-Cluster gas and oil fields.
Asia/Pacific
KrisEnergy's Phase 1A program for Apsara, Cambodia's first offshore oil field development, calls for a single unmanned, 24-slot wellhead platform connected to a moored production barge. The vessel will be designed to process up to 30,000 b/d, and will also feature gas/oil/water separation facilities. Produced oil will be exported through a 1.5-km (0.9-mi) pipeline to a permanently moored FSO. Apsara is in the block A contract area in the Khmer basin, where water depths range from 50-80 m (164-262 ft).
•••
SOCO has secured a 70% operated interest in blocks 125 and 126 in the Phu Kanh basin offshore central Vietnam, under a PSC with SOVICO Holdings and PetroVietnam. The partners are hoping to prove oil: initial commitments include reprocessing and interpretation of existing seismic.
•••
Murphy Oil has achieved its second oil discovery this year offshore Vietnam with the CM-1X well in the Nam Con Son basin. The company also plans exploratory drilling in the nearby offshore Cuu Long basin.
•••
TechnipFMC has won a subsea EPCI contract from Murphy for the Phase 1a block H gas development in 1,300 m (4,265 ft) water depth offshore Sabah, Malaysia. This covers umbilicals, risers and flowlines and transport/installation of subsea hardware.
Repsol has installed its second new platform this year in Malaysian waters. The facility is designed to raise production from the PM3 block by around 160 MMcf/d. In June the company installed the Kinabalu-D platform.
•••
Husky Energy aims to initiate construction next year of facilities for the Liuhua 29-1 deepwater gas field development, serving the Liwan Gas Project in the South China Sea. Production will head through existing subsea infrastructure to the onshore Gaolan complex.
Australasia
CGG Multi-Physics has been acquiring a 60,700-sq km (23,436-sq mi) airborne gravity, gravity-gradiometry and magnetics survey for Seismic Searcher over nearshore areas along Papua New Guinea's south coast. Results of the Roho survey, performed from a BT-67 twin turbine aircraft, should assist exploration for hydrocarbons in the Gulf of Papua.
•••
INPEX has secured a 100% operated interest in the WA-532-P exploration permit offshore Western Australia, close to the company's Ichthys field development.