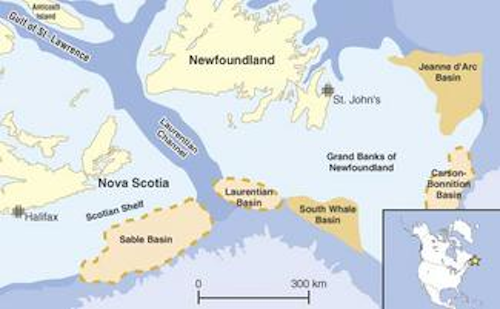 Judy Maksoud • Houston
Americas
Corridor Resources Inc. and Hydro-Québec are partnering in exploration off eastern Canada. The companies have joined forces to evaluate the oil and gas potential of the Old Harry and Cape Ray prospects in the Laurentian Channel and will undertake exploration drilling in the Québec sector of the Gulf of St. Lawrence.
null
Terms for the farm-out will be finalized when an agreement is reached with other participants, one of whom will act as operator for the farm-out lands. Corridor will remain the operator of the farm-out lands until a formal farm-out agreement is concluded with an operating participant.
Corridor holds Québec exploration permits and Newfound-land offshore exploration licenses in the Laurentian Channel covering and in the vicinity of the Old Harry and Cape Ray prospects. The company is looking to secure federal licenses coincident with the Québec Old Harry licenses.
Middle East
An underwater pipeline carried Egyptian gas to Jordan for the first time in July. The 16-km pipeline runs from Taba, Egypt, to Aqaba, Jordan. The line is expected to extend to northern Jordan, Lebanon, Syria, Cyprus, Turkey, and Europe.
In Qatar, McDermott International Inc. subsidiary J. Ray McDermott SA was awarded a subcontract for work on Qatar Petroleum's PS-2 and the PS-3 complex in the Maydan Mahzam and Bul Hanine fields in the Arabian Gulf. The turnkey project includes engineering, procurement, installation, and commissioning of a living quarters platform and power upgrade module for the complexes. J. Ray will provide the procurement, fabrication, transportation, and installation of three jackets with associated piles and four bridges and will install the living quarters and the power upgrade module topsides. Fabrication work is due to begin at J. Ray's Jebel Ali fabrication facility in early 2004. Offshore installation is scheduled for 3Q 2004.
Europe
The search continues off the Faroes, but disappointments are adding up. The latest was a deepwater wildcat drilled by Eni. The company drilled well 6004/17-1 in license 02 in 3,438 ft water depth in August. Additional wells are planned off the Faroes on the nine-year licenses. Only time will tell if the dry streak is indicative of the area's prospectivity.
Statoil, meanwhile, is bringing the challenging Kristin field into development in the Norwegian Sea. Twelve wells are due to be drilled and completed before production starts on Oct. 1, 2005.
Four subsea templates on Kristin will be tied back to a floating production platform. All four subsea templates have been positioned as scheduled.
Statoil operates Kristin with 46.6% interest. Partners are Petoro with 18.9%, Norsk Hydro with 12%, ExxonMobil with 10.5%, Norsk Agip with 9%, and Total with 3% interest.
China
China has seen both new discoveries and new exploration commitments in the past few months.
In mid June, China National Offshore Oil Corp. Ltd. signed a production sharing contract (PSC) with Kerr-McGee China Petroleum Ltd. for Bohai Bay. The PSC covers the 1,788-sq-km block 9/6 in the western part of the bay. Kerr-McGee's commitment is for one wildcat well in the first contract phase, with an option to commit to additional wells in subsequent phases.
In early August, Apache Corp. and PetroChina Co. Ltd. announced first production from the shallow-water Zhao Dong block in Dagang, Bohai Bay, at the rate of 6,000 b/d from three wells.
Production is expected to reach its peak level of approximately 22,000 b/d by 4Q 2004.
Offshore infrastructure at Zhao Dong includes two large platforms, each weighing 6,000 tons, which are the largest ever fabricated in China.
The initial drilling phase of the project included 17 wells drilled primarily to the Guantao formation. Once completion operations are finished on the Guantao wells, drilling will resume to develop additional Guantao and Minghuazhen reservoirs. Drilling results have identified several new reservoirs.
In late July, Cnooc Ltd. made significant gas discoveries in the eastern South China Sea. The preliminary appraisal results confirmed the Panyu 30-1 and Panyu 34-1 discoveries made late in 2002, and the blocks were delineated for recovery.
null
Total natural gas res-erves in place from these fields are estimated at 1.5 tcf. The preliminary development plan calls for an integrated design to add production from smaller reserves in the area to capture further economics. It targets the fast growing Guangdong market. The initial capital expenditure is estimated at $500 million.
Cnooc Ltd. owns 100% of both Panyu 30-1 and Panyu 34-1.
Meanwhile, the 2003 appraisal and exploration drilling program for Roc Oil's block 22/12 in the Beibu Gulf was approved. One appraisal well will be drilled on the 12-8 discovery and one exploration well will be drilled on the 12-7 prospect in 3Q 2003. A development decision is unlikely before next year.
Roc Oil operates the block with 40% interest. Partners include Horizon Oil with 30%, Petsec Energy with 25%, and First Australian Resources with 5%.
Asia-Pacific
Indonesian gas has arrived in Singapore. The 470-km Grissik-Batam-Singapore pipeline, designed for a throughput capacity of 650 MMcf/d, has brought natural gas from Indonesia's Sumatra Island to Singapore. PT Perusahaan Gas Negara, the state-owned gas transmission company of Indonesia, and Singapore Power jointly opened the pipeline with Singapore Petroleum Co. Ltd. and its partners, Petronas, ConocoPhillips, and Talisman Energy Inc.
Cairn Energy has signed a letter of intent (LOI) with Shell to acquire all of Shell's upstream assets in Bangladesh, including its interest in the Sangu gas field. Under the LOI, Cairn will acquire 37.5% interest in the offshore Sangu Development Area and 45% interest in exploration blocks 5 and 10 in Bangladesh from Shell. The acquisition gives Cairn a 75% interest in the SDA and a 90% interest in blocks 5 and 10.
Royal Dutch/Shell Group is reportedly suspending oil and gas exploration in New Zealand. The company has determined to focus on other core areas, shelving New Zealand on the basis of lack of prospectivity. Shell will forego exploration and will instead focus on production from existing joint venture projects, including the Maui, Pohokura, and Kapuni gas fields. This decision followed a year of record net profit for Shell in New Zealand – $140.7 million for 2002, a 20% increase on the previous year.
Daewoo will begin exploration on block A1 offshore Myanmar in 4Q 2003. The block is estimated to hold 13-47 tcf of natural gas. Daewoo operates the block with a 60% interest. Partners are Oil and Natural Gas Corp. with 20%, Gas Authority of India Ltd. with 10%, and Korea Gas Corp. with 10%.
The Philippines is attracting increased foreign interest in its offshore acreage despite the country's political instability. Nearly 50 local and foreign companies expressed interest in exploration prospects that cover 46 contract areas in shallow to deepwater sites near the Malampaya gas field, near Palawan Island, in the Sulu Sea, and in the Reed Bank. The government is accepting bids until March 2, 2004, with winners to be announced in May.
Central Asia
Following the announcement of the Lukoil and Gazprom joint venture, TsentrKaspneftegas, a few months ago, Lukoil is moving forward with exploration. The company has identified the most promising sectors based on the results of seismic studies. Four licenses have been obtained for geological exploration of the Tsentralny, Yalama-Samur, Tsentralno-Kaspiysky, and Vostochno-Rakushechny blocks.
Lukoil estimates Tsentralaya's recoverable hydrocarbon reserves at 521 million tons of oil equivalent.
Lukoil has also increased its stake in the Yalama D-222 block in the Caspian Sea. The block lies in an area that falls on the Russian-Azeri border and is considered to be one of the most prospective in the Caspian Sea. Lukoil plans to begin drilling Yalama in the second half of 2004.
null
In yet another cooperative effort, Kazakhstan and Russia spudded two exploration wells in the Kurmangazy field in August. Gazprom, Rosneft, and KazMunaiGaz are developing the field jointly.
Russia has tremendous reserves, both in the Caspian and onshore. A US Geological Survey report published in July 2003 says scientists expect Russia to represent the largest share of the world's energy resources. Nearly 25% of the world's energy production from fossil fuels comes from Russia, the report says.
In the last year or so, Russia has actively increased exploration and has expanded its customer base. The first shipment of Russian oil entered the US last June. Since that time, Russia has also secured an oil export agreement with China. Russia and China will cooperatively lay an oil pipeline from Irkutsk in south-central Russia to Daqing in northeast China. Russian oil can be pumped through the pipeline to Daqing and then on to other Asian countries.
Africa
ExxonMobil Corp. subsidiary Esso Exploration Angola Ltd. and Sonangol have made another deepwater oil discovery, the 14th oil find on Angola block 15.
The discovery well, named Clochas-1, was drilled in 4,250 ft of water 240 mi northwest of Luanda.
This discovery combines with those previously announced on Angola blocks 15, 17, 31, and 32, to increase the company's resource base in Angola to more than 10.5 Bboe.
Four major development projects are now in progress on Esso-operated block 15.
Esso holds a 40% interest in the block. Partners include BP Exploration (Angola) Ltd. with 26.7% interest, Agip Angola Exploration B.V. with 20%, and Statoil Angola with 13.3%. Sonangol is the concessionaire.
Exxon is also taking steps to move produced oil to market. The company announced in 3Q 2003 that its subsidiary, Esso Exploration and Production Chad Inc., began pipeline fill operations on the Chad-Cameroon oil development and pipeline project.
The pipeline extends 660 mi from the oilfields in southern Chad to a floating, storage, and offloading vessel 7 mi offshore Kribi, Cameroon, in the Gulf of Guinea.
Construction will continue on the central treating facilities in Chad, with full production scheduled for year-end 2003.
The consortium developing the project comprises Exxon subsidiaries (40%), Petronas (35%), and ChevronTexaco (25%).
Nigeria's offshore has also been active. Nexen announced that appraisal of the deepwater Usan and Ukot discoveries on OPL 222 off Nigeria show significant hydrocarbon accumulations. A discovery well and two appraisal wells on Usan confirmed the presence of light, sweet crude oil in multiple pay zones. Nexen estimates recoverable reserves at 300 MMbbl.
Operator Elf Petroleum Nigeria Ltd. is drilling appraisal wells over the two to firm up reserves before going ahead with development.
Elf holds 20% interest in OPL 222. Partners include Nexen with 20%, ExxonMobil with 30%, and ChevronTexaco with 30%.
While the foundation is being laid for Usan and Ukot, Elf is moving Amenam/Kpono into production. The field is expected to produce 125,000 b/d when it reaches its peak.
Developments at ChevronTexaco indicate that Abgami will also move into development soon. Chevron announced that the Nigerian National Petroleum Corp. reached an agreement with Famfa Oil Ltd., Chevron affiliate Star Deep Water Petroleum Ltd., and Petrobras that will govern future operations on the petroleum concession covered by OPL 216. According to Chevron, the agreement clears the way for planned activities toward the development of the Agbami field.
The Agbami partners will move ahead immediately with the project bidding process, which will lead to the award of contracts for an FPSO and construction and installation of subsea production facilities.