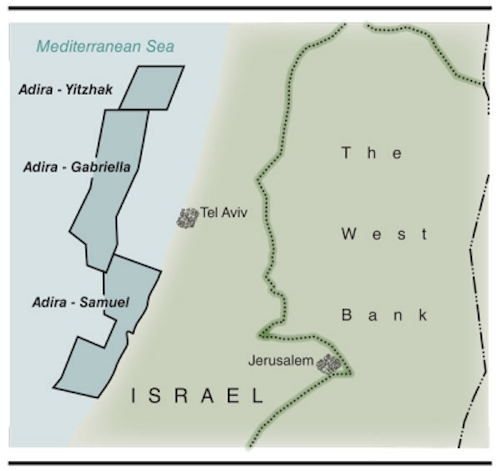 Jeremy Beckman
Editor, Europe
The Levant basin has emerged as a major deepwater gas province, but there could be oilfield opportunities closer to the Israeli coast. One company preparing to investigate is Toronto-based, TSX-V listed, Adira Energy.
Adira operates three contiguous, relatively shallow water petroleum licenses in a north-south line, covering a total area of approximately 585 sq mi. All were awarded by the Israeli Petroleum Commission in 2009-10 – in each case, the initial three-year exploration period carries seismic acquisition and well commitments.
Farthest out is the Yitzhak license, 17 km (10.5 mi) offshore and in water depths of 140-200 m (460-656 ft). This area was first drilled by an Israeli company in the 1970s, with a non-productive well on the Upper Jurassic Delta structure. However, a later well drilled into a deeper-lying Jurassic target to the south, in Adira's Gabriella license, did test 500 b/d of 44-47º API oil in the Yam Yafo structure. Gabriella is 10 km (6.2 mi) offshore. Nearest to shore is the Samuel license to the southeast, which Adira co-operates with GeoGlobal Resources. Water depths here range from 40-100 m (131-328 ft).
Early this year, WesternGeco completed a 129-sq km (50-sq mi) 3D survey over Yitzhak and a 511-sq km (197 sq mi), dual-azimuth 3D survey over Gabriella (the first of its type offshore Israel) to improve mapping of the play. CGGVeritas is processing the data in both cases. WesternGeco also undertook processing of its data, on the basis of which Gustavson & Associates has been compiling a "Quick Look" resource report, which is to be completed in September 2011 and will thereafter be evaluated by consultants Netherland Sewell. The resultant report will be integrated with the CGGVeritas data for publication early in 2012.
This summer, Russian contractor Aris Nefterazvedka conducted a 45-sq km (17-sq mi) 3D ocean bottom cable survey (again, a first for Israel) for heightened resolution in the shallower water Samuel license. ION-GXT is currently processing that data. A 2D survey of the acreage by a previous operator revealed direct hydrocarbon indicators, and there is a further Jurassic oil discovery west of Samuel in the Yam structure, in what is now the Shemen license. Other shallow oil finds in the region are Ashdod (Jurassic) and Heletz Oil (lower Cretaceous).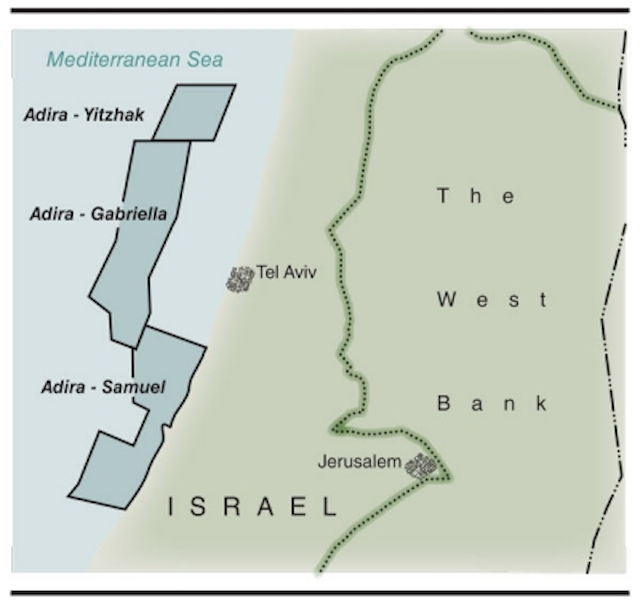 Location of Adira Energy's three shallow water licenses.
Much of the pioneering exploration work in the shallow water basins was performed by a local company, Isramco, which subsequently was obliged to relinquish most of the licenses due to lack of funds. In the cases of Yam and Yam Yafo, "technical capabilities and economics prevailing at the time did not provide for continued development in those wells," explained Adira CEO Hezi Kugler. "However, we believe that advances in technology since then, as well as changed economics in the oil sector, now make for commercially attractive targets in these locations."
Adira expects to start drilling its three commitment wells on the licenses by the end of 2012, with the campaign probably continuing into mid-2013. The company could bring in a jackup for all three, or a semisubmersible for the deeper-water targets in Yitzhak and Gabriella. The hire could be on an exclusive basis, or via a time-share arrangement. A well is planned by the partners in the Shemen concession, targeting the same geological formation that stretches through Gabriella and into Yitzhak.
"Their schedule for drilling coincides with ours," said Kugler, "so we may co-operate with them on the rig."
In all three of Adira's licenses, oil is the primary target. In Yitzhak, the prognosed play is in Jurassic fractured carbonates, with a planned drilling depth of 4,600 m (15,092 ft). The same applies at Gabriella (4,900 m or 16,076 ft), although here there are gas prospects also in Pliocene/Pleisticene and Oligocene/Miocene turbidites and canyon-filled sands, at a drilling depth of 2,500 m (8,202 ft). Samuel has gas prospects in similar horizons, but higher up (2,000 m or 6,562 ft), while its oil targets are in lower Cretaceous carbonates with a planned drilling depth of 3,200 m (10,499 ft).
"If we prove commercial oil with any of these wells," Kugler added, "this could easily be delivered to Israel's existing oil offtake system – in particular via a new subsea pipeline direct to the oil refineries in the north around Haifa or to Ashdod in the south, or to the storage complex in Ashkelon. Should we find gas, our licenses are closer to the shore than the Mari B platform, from which the Noble-led Yam Tethys partnership supplies gas by pipeline directly to Israel's national grid. We should be able to do the same with no more difficulty."
More spare capacity could arise in the nearshore infrastructure Noble has commissioned to service the Tamar field.
Adira continues to build its in-house geological/geophysical and drilling engineering capabilities to prepare for the wells. The company has funds to cover its share of the pre-drill program, but will need positive resource evaluation reports to attract outside investment in order to start tendering for a rig by mid-2012. Each of the wells is likely to cost in the range $30-60 million, according to Adira's Executive VP and Co-Founder Alan Friedman.
Whatever the outcome of the individual wells, "we will continue to progress all of the licenses together," Kugler said, "and seek to optimize the potential of each of them, assuming it makes sense from a commercial standpoint."
Depending on the size of any discoveries, Adira is open to bringing in farm-in partners, Friedman added.
More Offshore Issue Articles
Offshore Articles Archives
View Oil and Gas Articles on PennEnergy.com