Eldon Ball
Senior Editor, Technology & Economics
High on the list of frontier areas beckoning explorers are the Arctic offshore regions bordering the US, Canada, Europe, and Russia, with growing interest in Greenland. Not far behind in potential are new provinces showing success off East Africa, the eastern Mediterranean and in newly developing plays off South America, both north and south of Brazil.
According to Andrew Reid, CEO of energy analysts Douglas-Westwood, the next offshore discovery frontier is the Arctic.
"More than 400 fields have been discovered to date in the Arctic," Reid said, speaking at a recent IADC drilling conference, "providing reserves in excess of 240 Bboe. There is no doubt that further drilling activity in this region could have a major impact on offshore production in the foreseeable future."
Reid said 412 Bboe in undiscovered resources might be found there, and that 84% of that would be offshore.
Meanwhile, Infield Systems has published a new report on prospects for the offshore Arctic oil and gas sector through 2017. The report encompasses current and future offshore oil and gas developments within the Arctic Circle, and developments in the "sub-arctic" regions of Sakhalin Island, the Jeanne D'Arc basin offshore eastern Canada, and the Cook Inlet of Alaska.
Infield has identified more than 130 Bboe in discovered oil, gas, and condensate reserves throughout the offshore Arctic/sub-arctic regions. Around 114 Bboe, or 86% of the total, are gas reserves, with around 16 Bbbl of oil.
Capital expenditure in the Arctic region should increase steadily throughout this decade, Infield says, rising at more than $7 billion annually through 2017. Russia, with its large reserves, should largely drive this expenditure, especially during 2013-2015 (assuming the Shtokman project goes ahead in the Barents Sea).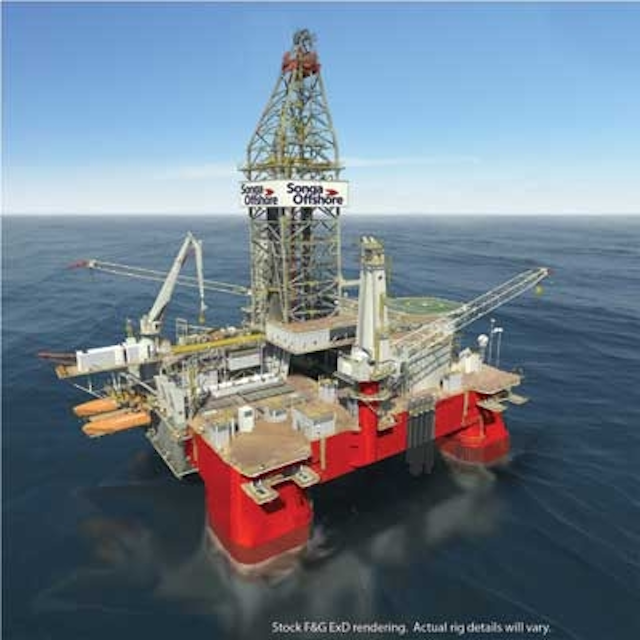 Schematic of Shtokman field development (courtesy Gazprom).
At present, Shtokman, with reserves of over 24 Bboe, is due on- stream in 2016. Further development of Sakhalin Island and other projects in the area should also consume a large share of Russia's capex, the report notes.
Canada may experience a sustained rise in expenditure after 2013, Infield adds, particularly offshore Newfoundland, with the possibility of some (currently speculative) projects to come on smaller fields in the Canadian arctic islands.

The Prirazlomnaya offshore ice-resistant oil-producing platform is a key pre-development facility. Forty slanted wells will be drilled from it.
Other areas of sustained expenditure are the Snøhvit and Goliat fields in the Norwegian sector of the Barents Sea. Off Greenland and Alaska, the focus likely will remain more on exploration.
More Arctic research
In a related development, INTECSEA, based in Houston, earlier this year began a joint industry project that it says will address the delivery of strategically important subsea developments in remote and hostile environments – particularly in offshore arctic and cold-climate regions – and yield a wide spectrum of safe, reliable production opportunities with the application of existing and emerging technologies.
"The prize is enhanced confidence in deeper waters and ice-prone regions worldwide while improving the availability of valuable hydrocarbons," said Uri Nooteboom, president of INTECSEA.
Frontier developments in cold climates – where ice floes and icebergs are prominent much of the year – and remote offshore arctic areas require robust subsea systems that effectively manage the extraction of produced fluids and transportation to the end user, adds Nooteboom.
The United States came a step closer to Arctic exploration when the Department of the Interior recently met a deadline to file the Record of Decision (ROD) regarding a 2008 federal oil and natural gas lease sale in the Chukchi Sea offshore Alaska.
The decision affirmed the sale of 487 leases covering 2.8 million acres under Lease Sale 193 but does not grant approval for companies to begin operations in the Chukchi Sea.
Shell, a major bidder in the lease sale, paid $2.1 billion for Chukchi Sea leases and has submitted a plan to drill as many as six wells in the area by 2013, but the plan is on hold pending resolution of legal issues.
Shell's Chukchi Sea plan includes drilling up to three wells per year beginning in July 2012. The Chukchi and Beaufort Sea programs will be executed using up to two drillships, one in each sea, allowing Shell to begin to exploring its Alaska prospects after five years of delay.
Russian Arctic
In the Russian Arctic, the ice-resistant stationary platform for Gazprom's Neftshelf's Prirazlomnoye field development in the Pechora Sea has reached its location, 60 km (37 mi) offshore. Russian engineering group J.SC.Sevmash built the platform, which was towed from Severodvinsk to the field near Varandey, southwest of Nova Zembla.
Dutch contractor Tideway has started implementing an erosion protection system around the platform to secure it to the seabed. The operation will involve a stone fill of 100,000 metric tons (110,231 tons), expected to take more than 40 days to complete.
The stones are being loaded in Murmansk, and stored in the hold of theSeahorse. The fall pipe is suspended underneath the vessel, to ensure stones are deposited where required above pipelines or directly on the sea bed. The bottom end of the pipe is equipped with an ROV, operated from the deck, which controls the stone laying operation in three dimensions.
Following completion of this operation and startup of the drilling facilities, the first production well should start drilling on the Prirazlomnoye field before the end of this year.
The platform is designed to withstand temperatures that can drop to -50º C (-58º F) during winter, and ice formation.
Recently, Rosneft and ExxonMobil agreed to undertake joint exploration and development of hydrocarbon resources in Arctic regions offshore Russia, the United States, and elsewhere, as well as to share technology and expertise.
Included in the agreement is a plan to spend $3.2 billion to explore Least Prinovozemelskiy blocks 1, 2, and 3 in the Kara Sea and the Tuapse license block in the Black Sea.
The agreement also gives Rosneft an opportunity to gain equity in a number of ExxonMobil exploration opportunities, including deepwater Gulf of Mexico.
The companies will establish an Arctic Research and Design Center for Offshore Development in St Petersburg to be staffed by employees of both companies. The center aims to develop new technology for Arctic drilling, production, and ice-class platforms, among other things.
Greenland
Cairn Energy, the primary player offshore Greenland, plans to continue exploration there, despite disappointing results so far.
Cairn CEO Simon Thomson said recently that his company would "remain focused on the potential of our multi-basin position in Greenland."
Cairn had said its four-well campaign for 2011 targeted various structures in Greenland that have a mean prospective resource potential of 3.2 MMboe. The company says it plans to invest around $600 million during the drilling campaign.
Although Cairn has been focused to the west of Greenland, other operators have expressed interest in the northeast offshore area, where the government of Greenland is due to hold a license round next year. The area is seen as potentially the most lucrative.
TGS recently began a 1,000-km (621 mi) multi-client 2D survey offshore northeast Greenland in partnership with Fugro.
The seismic data is being acquired by theM/V Akademik Shatskiy supported by the ice breaker M/V Fennicia. The survey is scheduled to be completed during 4Q 2011. Data processing will be performed by TGS and data will be available to clients during 1Q 2012.
TGS says the survey will enable operators to prepare for the announced Greenland Licensing Round in 2012-2013.
Eastern Mediterranean
The addition of oil discoveries to previous natural gas finds offshore Israel is drawing renewed interest in the area.
The Levant basin has emerged as a major deepwater gas province, and there could be oil opportunities closer to the Israeli coast, as well.
Adira Energy operates three contiguous, relatively shallow water petroleum licenses in a north-south line, covering a total area of approximately 585 sq mi (1,515 sq km). Adira has received two independent reports covering potential resources in its shallow water Gabriella and Yitzhak licenses offshore Israel.
In April the company commissioned Gustavson Associates of Boulder, Colorado, to evaluate the potential using all data available as of Aug. 31, 2011. Gustavsson's evaluation of Gabriella's oil is in the range 60-806 MMbbl. Total gas resources are in the range 1,083.7-8,427.3 bcf, and gas condensate in the range 112.4-941.2 MMbbl. The Gabriella license covers around 390 sq km (97,000 acres) in water depths of 80-200 m (262-656 ft). Adira is operator with a 15% working interest.
The Yitzhak license covers an area of 127.7 sq km (31,555 acres) in water depths of 60-250 m (197-820 ft). Gustavson estimates potential oil in the range 4.5-64.4 MMbbl.
Other shallow oil finds in the region are Ashdod (Jurassic) and Heletz Oil (lower Cretaceous).
Much of the pioneering exploration work in the shallow water basins was performed by a local company, Isramco, which subsequently had to relinquish most of the licenses due to lack of funds.
Adira expects to start drilling its three commitment wells by the end of 2012, with the campaign continuing into mid-2013. A well is planned in the Shemen concession, targeting the same geological formation that stretches through Gabriella and into Yitzhak. In all three of Adira's licenses, oil is the primary target.
Tamar gas development
In other activity offshore Israel, the Tamar gas development remains on track for first production in early 2013. According to estimates the field has reserves of about 6.3 tcf of gas.
Operator Noble Energy reports that the Tamar 5 development well reached a final depth of 5,044 m (16,548 ft) after intersecting the Tamar sands' three natural gas layers, and penetrating to the D Sand level.
In the same region, during drilling of the deepwater Leviathan 2 well, a flow of water was identified in the hole. Noble decided that the well was not suitable for future use as a producer and ceased drilling.
Leviathan represents the largest exploration success in Noble's history, with gross mean resources of 16 tcf of natural gas. The company is studying multiple export options, including both LNG and pipeline scenarios.
Noble has a 47% interest in the Mari-B field, the first offshore natural gas production facility in Israel. Noble recently completed two additional development wells at Mari-B. Combined with additional compression work in 2011, these new wells will support near-term gas deliverability and serve as injection wells for storage in the future.
Noble has a 36% operated working interest at Tamar, with gross mean resources of 8.4 tcf of natural gas. Tamar was the largest deepwater natural gas discovery in the world in 2009. Initial expectations target commissioning first gas from Tamar in 2013.
Mozambique
Anadarko Petroleum Corp. recently said that the cumulative results of its exploration success offshore Mozambique have substantially increased the resource potential in its Offshore Area 1 of the deepwater Rovuma basin.
The appraisal section of its most recent exploration well at the Camarao prospect encountered approximately 240 net ft (73 m) of natural gas pay in an excellent-quality reservoir and confirmed static pressure connectivity with the partnership's previously announced Windjammer and Lagosta discoveries. In addition, the Camarao well discovered approximately 140 net ft (43 meters) of natural gas pay in shallower Miocene and Oligocene sand packages not encountered in previous wells.
"Our successful drilling program offshore Mozambique continues to expand the already world-class resource potential of this frontier basin," said Bob Daniels, Anadarko sr. vice president, Worldwide Exploration. "The results of our activity to date provide high confidence that the Windjammer, Barquentine, Lagosta and Camarao complex holds at least 10 tcf of recoverable natural gas resources. We are optimistic that our current resource estimates will increase, as we still have significant exploration and appraisal work ahead of us, including the evaluation of two newly acquired 3D seismic datasets and expanded prospect opportunities. We are mobilizing a second deepwater drillship to the Rovuma basin to accelerate the campaign, which includes an extensive reservoir testing program and up to seven exploration/appraisal wells over the next 12 months."
Chuck Meloy, Anadarko sr. vice president, Worldwide Operations, said that "given the increased resource potential of this complex, our base case development plans have now been expanded to a minimum of two 5-million metric ton trains with the flexibility to develop additional trains based upon continued exploration and appraisal success. Once the first two trains are constructed, this infrastructure is expected to provide economies of scale that can reduce expansion costs for any additional trains. Further, we anticipate the results of our drillstem testing program will help determine the optimal number of subsea development wells and offshore facility requirements. We expect to provide further details regarding this world-class development by early next year."
The Camarao discovery well was drilled to a total depth of approximately 12,630 ft (13,850 m) in water depths of approximately 4,730 ft (1,442 m). The well is approximately 5 mi south of the partnership's original Windjammer discovery and approximately 10 mi north of its Lagosta discovery. Anadarko is the operator of the 2.6-million-acre Offshore Area 1 with a 36.5% working interest.
South America
Offshore South America, Tullow Oil is continuing its twin Atlantic basin exploration strategy off French Guiana and Guyana, and other operators are joining the chase.

Tullow Oil sees promise in its Eastern Slope formation off French Guiana, in which it finds similarities to its Jubilee field stratigraphic trap offshore Ghana.
Tullow sees promise in its Eastern Slope formation off French Guiana, in which it finds similarities to its Jubilee field stratigraphic trap offshore Ghana.
As part of a Tullow-operated joint venture, Shell in September confirmed an oil discovery in the Guyane Maritime permit about 150 km (93 mi) offshore French Guiana.
The GM-ES-1 well is being drilled in a water depth of more than 2,000 m (6,650 ft) and to date has drilled to a depth of 5,711 m (18,737 ft). The well has encountered more than 70 m (230 ft) of net oil pay in two objectives. The joint venture plans to drill to target depth.
The objective of the Zaedyus well was to test whether the Jubilee-play, successfully established in West Africa, was mirrored on the other side of the Atlantic. This discovery opens a new hydrocarbon basin within which several neighboring prospects have been mapped. This result also reduces the exploration risk associated with Tullow's prospect inventory offshore French Guiana, Suriname, and Guyana. An appraisal program and extensive follow-up exploration activities will now be considered. Shell acquired an initial equity interest of 33% in the joint venture in 2009 and increased its equity interest to 45% in 2010.
Falklands
Rockhopper Exploration continues to succeed with exploratory efforts offshore the Falklands Islands. The company's latest appraisal well on the Sea Lion oil discovery in the North Falkland basin proved a high-quality reservoir package and oil column. Wireline logs and formation testing indicate that 25 m (82 ft) of net pay were encountered.
Well 14/10-7 is the fifth well drilled on the Sea Lion Main Complex (SLMC), and is 3.3 km (2 mi) northwest of the 14/10-2 discovery well.
The semisubmersible rigOcean Guardian will next drill well 14/10-N roughly 4.1 km (2.5 mi) south-southeast of 14/10-2, with the aim of investigating reservoir and hydrocarbon presence within the SLMC in an area of relatively low amplitudes. It will also serve as an exploration well on the Casper and Kermit oil prospects.
Rockhopper is working on a development of Sea Lion that assumes recoverable resources of 350 MMbbl, using a leased FPSO, and first oil in early 2016, with peak production of 120,000 b/d by 2018. It anticipates development costs to first oil of around $2 billion.
The company expects to complete concept engineering studies early in 2012 and thereafter begin the FEED, which should be submitted to the Falkland Islands government during 1Q 2013.
Meanwhile, Argos Resources expects to drill its first well on license PL001 in the North Falkland basin in late-2011 or early-2012.
More Offshore Issue Articles
Offshore Articles Archives
View Oil and Gas Articles on PennEnergy.com