North America
Shell secured permission last month to re-start operations on its deepwater Cheshire L-97 well off Nova Scotia.

Aug 1st, 2016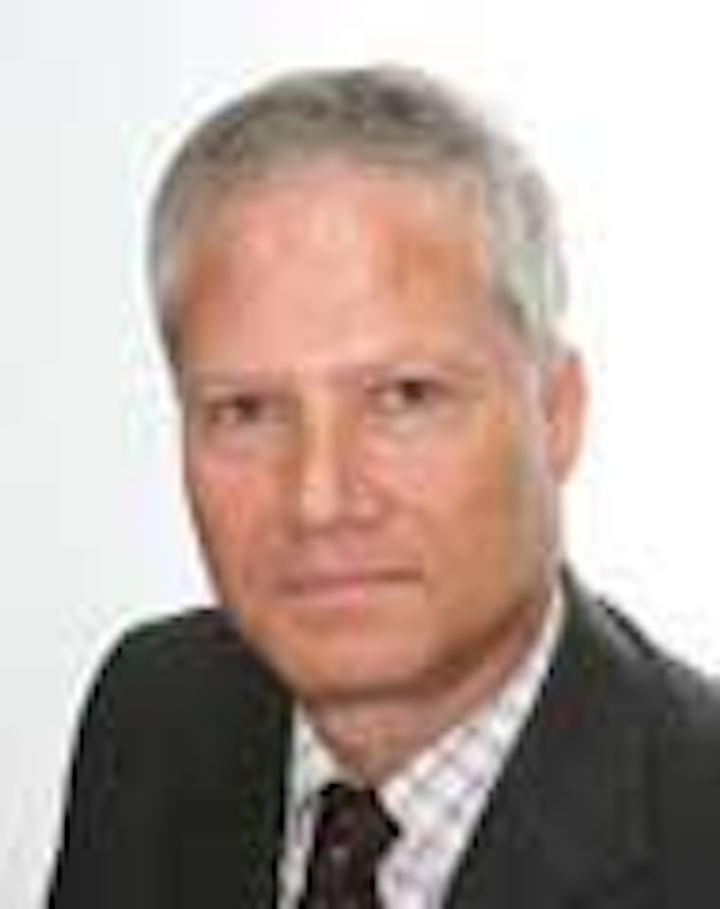 | | | |
| --- | --- | --- |
| | | Jeremy Beckman London |
North America
Shell secured permission last month to re-start operations on its deepwater Cheshire L-97 well off Nova Scotia. Drilling had to be halted in March after a riser fell to the seafloor from the drillshipStena IceMAX during heavy weather. In its review of the incident, the Canada-Nova Scotia Offshore Petroleum Board identified issues with the riser tensioner arrangement. As a result, Shell is obliged to lower its well disconnect level based on vessel heave in similar conditions from 8 m to 5 m (26 ft to 16 ft).
•••
PEMEX has awarded McDermott International a $454-million EPCI contract to build and subsequently install the Abkatun-A2 platform in the Bay of Campeche in 124 ft (38 m) of water. The structure will expand the capabilities provided by the existing Ku-Maloob-Zaap, Cantarell, and Ayatsil complexes. McDermott will construct the platform at its yard in Altamira, and will likely employ theIntermac 60 for the floatover installation. Offshore activities should be completed by 4Q 2018.
South America
ExxonMobil is encouraged by the results from its Liza-2 appraisal well in 5,551 ft (1,692 m) of water in the Stabroek block, 120 mi (193 km) offshore Guyana. A production test confirmed the same high-quality oil and permeable Upper Cretaceous sandstone reservoirs as in the discovery well. Recoverable resources appear to be in the range of 800 MM-1.4 Bboe.
•••
Petrobras says its sixth appraisal well on the giant deepwater Libra oil field in the presalt Santos basin off Brazil delivered the thickest oil column to date of 410 m (1,345 ft), eclipsing the 301 m (987 ft) intersected during drilling earlier this year. The latest well - 3-RJS-742-A - was in the northwest part of the block, 180 km (112 mi) from the Rio de Janeiro coast, and 10.3 km (6.4 mi) south of the original discovery.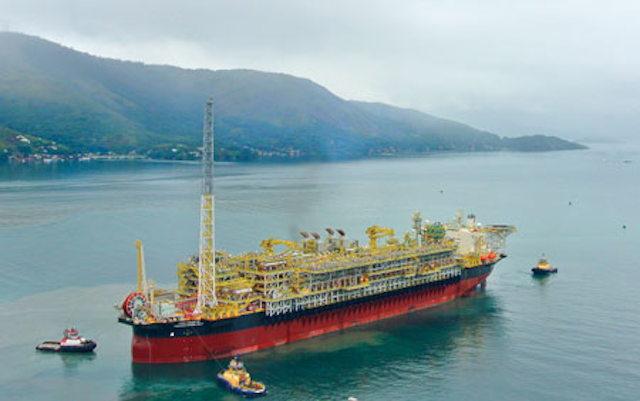 The FPSOCidade de Caraguataba on its way to the Lapa oil field. (Photo courtesy Keppel FELS)
The newly integrated FPSOCidade de Caraguataba MV27 has departed the BrasFELS shipyard for installation at Petrobras' Lapa (ex-Carioca) oil field in the Santos basin. This was the fourth floater supplied by MODEC to undergo completion works at the yard since 2012 - the facility has oil and gas processing capacity of respectively 100,000 b/d and 177 MMcf/d, and can store up to 1.6 MMbbl. The next MODEC-supplied floater,Cidade de Campos dos Goytacazes MV29, should reach the yard from the Far East early next year.
Wood Group Mustang is performing detailed engineering and design for a third wellhead platform, to be built by Kiewit Offshore Services, for Statoil's Peregrino heavy-oil field in the Campos basin. Mustang completed front-end engineering and design (FEED) for the structure last year, and previously designed wellhead platforms A and B.
•••
Uruguay's government has authorized a one-year extension for offshore block 15 to allow Tullow and new partner Statoil to acquire 2,500 sq km (965 sq mi) of 3D seismic later this year. Tullow aims to build on the more promising leads from its 2013 3D survey, particularly in the Pelotas basin in the northeast area of the block.
•••
Sea Trucks will start offshore construction during 4Q for Enap Sipetrol Argentina's PIAM project on the Magellanes field off Argentina. TheJascon 34 will install three pipelines in diameters of 6- to 14-in., the program including one shore approach and riser tie-ins.
West Africa
Morocco's government has granted Chariot Oil & Gas a 75% operated interest in two near-shore concessions in water depths below 500 m (1,640 ft). The acreage contains proven and potential play systems, with oil-prospective structures at Jurassic, Lower Cretaceous, and Eo-Oligocene levels. Eni recently farmed into Chariot's adjacent Rabat Deep license where it is likely to drill the JP-1 prospect next year.
•••
Premier Oil has sold interests ranging from 50-100% in five offshore licenses in the Sahrawi Arab Democratic Republic (SADR), otherwise known as Western Sahara. The buyer is Maghreb Exploration, which plans to transfer these and its existing SADR interests to its subsidiary Vermeer Exploration. Political issues have prevented serious exploration on the concessions to date, although interest has revived following Kosmos' giant deepwater finds off Mauritania and Senegal to the south.
•••
Tullow has brought in a dynamically positioned shuttle tanker to offload oil from the FPSOKwame Nkruma serving the Jubilee field offshore Ghana. Problems with the floater's turret bearing led production to be suspended for several weeks in April-May. Tullow anticipates average production via the new measures to be 85,000 b/d over the next few months, well below the vessel's capacity. Longer term, the partners are considering converting it to a spread-moored facility with a new deepwater loading buoy, measures that could cost up to $150 million.
Ghana's Petroleum Ministry is open to talks on amending coordinates of the offshore Tano basin block to take in deeper water acreage from an adjoining block, containing the deepwater Cape Three Points discovery. Operator Lukoil is thought to be looking to relinquish the concession.
•••
Sonangol has reportedly discovered 813 MMboe in block 20/11 in Angola's offshore Kwanza basin, comprising 313 MMbbl of condensate and 2.8 tcf of gas.
Mediterranean Sea
Montenegro's Economy Ministry has awarded Greek E&P company Energean interests in two offshore blocks under a joint operating agreement. Blocks 4219-26 and 4218-30 are in a little-explored area that Energean's analysis suggests has all components in place for generating hydrocarbons. Offshore Croatia to the north has producing gas fields.
•••
Expressions of interest in a third licensing round offshore Cyprus were due to be submitted by July 22. Three deepwater blocks are said to be on offer close to Eni's 30-tcf Zohr gas project across the median line in Egyptian waters. The Cypriot administration is looking to prove more gas to justify construction of an onshore terminal serving countries in the region.
Petrobel, Eni's joint venture with EGPC that operates Zohr, has commissioned Saipem to lay a 26-in. gas export trunkline from the field and to engineer/install the six development wells and subsea umbilical system.
•••
BP/EGAS have approved development of the Atoll Phase One gas-condensate project in the North Damietta Offshore concession in the East Nile Delta. They plan an early production scheme that will feature three wells, one a recompletion of an existing well: Ensco's deepwater drillship DS-6 was due to begin the 24-month campaign this month. Up to 300 MMcf/d of gas will head via subsea facilities to the onshore West Harbour complex for processing and onward distribution through Egypt's gas network.
•••
Wood Group Mustang has an agreement for a $120-million FEED contract for the platform that will receive gas from the deepwater 22-tcf Leviathan field offshore Israel. Operator Noble Energy and its partners also plan to add a further subsea well at the Tamar field, at an estimated cost of $228 million. Tamar-8, in 1,670 m (5,479 ft) of water, should spud during 4Q and take around four months to drill and connect to the existing subsea production system. The extra producer will improve redundancy and help the partners meet demands during peak periods.
Last month Noble agreed to sell 3% of its interest in Tamar to Israeli private equity fund Harel and is obligated to sell a further 8%, under Israel's newly approved Natural Gas Regulatory Framework.
Middle East
Penspen/Dar Al Handasah are jointly managing engineering and construction of a new gas and condensate pipeline commissioned by Kuwait Gulf Oil Co. (KGOC). This will extend offshore and onshore from Khafji in Saudi Arabia to Mina Al Ahmadi in Kuwait. KGOC represents the State of Kuwait in the country's divided zone with Saudi Arabia.
•••
Qatar Petroleum will have a 70% interest in a new operating company for the offshore Al-Shaheen oil field, in partnership with Total. The agreement takes effect next July and will last for 25 years. Al Shaheen, 80 km (49.7 mi) north of Ras Laffan, produces 300,000 b/d from 30 platforms and 300 wells. Maersk Oil, which has overseen development since 1992, declined the offer to take a minority stake in the new partnership.
India
Reliance Industries reportedly has approval from India's government to drill eight exploration wells in block DY-III-D5 off the southern state of Tamil Nadu. To date Reliance has discovered hydrocarbons from three wells on the block, awarded under India's NELP-III licensing arrangement.
Asia/Pacific
Gazprom aims to double the number of subsea production wells at the Kirinskoye field offshore Sakahlin Island to four later this year and bring a further three online by 2019, lifting the field's annual gas production to 5.5 bcm. The development, which was Russia's first subsea production scheme, is part of the Sakhalin III project. Gazprom adds that it has completed its geological assessment of the undeveloped Yuzhno-Kirinskoye field in the same concession.
•••
SapuraKencana Energy (SKE) Sarawak has signed an upstream gas sales agreement for its B15 gas field offshore East Malaysia with Petronas, which is also a partner in the 2010 discovery. SKE plan to install a central processing platform exporting production to the LNG complex in Bintulu, Sarawak, via a 35-km (21.7-mi) pipeline.
•••
Brunei Shell Petroleum has contracted McDermott International to transport and install pipelines and umbilicals for the Ampa and Fairley fields offshore Brunei during 2017. The DB 30 derrick barge will perform pipelay - McDermott's work scope includes associated beach and pipeline crossings.
•••
BP Berau will commission two new platforms and 13 new production wells to supply gas for the Tangguh Expansion project in Indonesia's Papua Barat province.
The partners have approved construction of a third LNG process train, lifting capacity at the onshore complex to 11.4 MM tons/yr. Indonesian utility PT. PLN (Persero) and Japan's Kansai Electric Power Co. have contracted the Train 3 gas - the new facilities should start operating in 2020.
Chinese contractor Hilong Petroleum Offshore Engineering will start installing jackets this November for CNOOC/Husky Energy's Madura MDH-MBG gas field development offshore Java, using the derrick barge Hilong 106. The program involves lifting and upending the structures underwater.
The jackupRaniworo has completed an extensive appraisal drilling program for Santos for the proposed Ande Ande Lumut oil project in the Natuna Sea off Indonesia. Failure of a downhole mechanical sand screen prevented completion of a DST on the K sand reservoir, but the partners will make do with all the obtained data for the development planning. Recoverable resources from the G and K sand reservoirs are estimated at 137 MMbbl of heavy oil.
Australia
Woodside Energy and Mitsui E&P have committed to the $1.9-billion Greater Enfield development offshore Western Australia. This will target 69 MMboe from the Laverda Canyon, Norton over Laverda, and Cimatti oil fields, 60 km (37 mi) offshore Exmouth. These will be developed via six subsea production wells and six water injectors tied back 31 km (19 mi) to the FPSONgujima-Yinon the producing Vincent field. Subsea multi-phase booster pumps will be installed in the Laverda area and gas lift in the Cimatti area.
Aibel in Thailand and Keppel Shipyard in Singapore will perform modifications to the vessel's hull and topsides, the scope including new water flood and power/control modules and turret risers; modifications to the swivel system; and life extension works on the hull. All work should be completed in early 2019.
•••
Triangle Energy (Global) has acquired a 57.5% interest from AWE in the Cliff Head oil field in the WA-31-L permit in the Perth basin off Western Australia. ROC Oil operates the declining field, which currently produces 1,300 b/d.