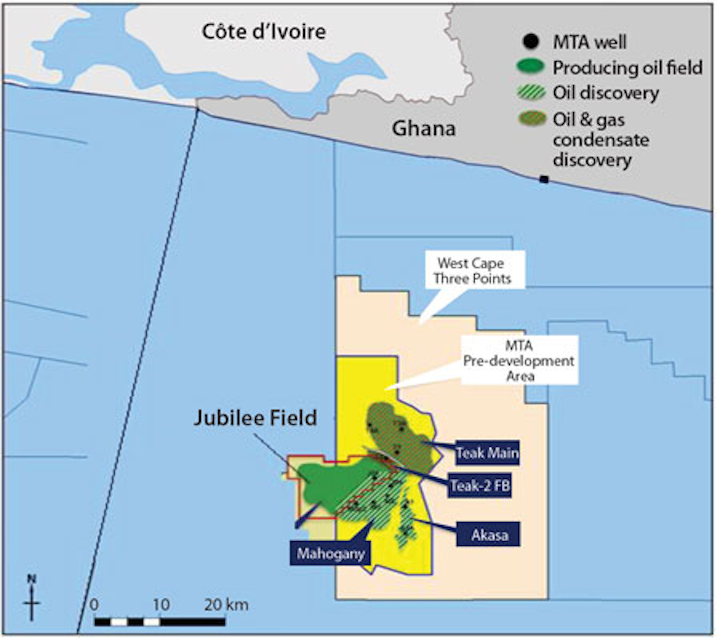 Jeremy Beckman
Editor, Europe
Ghana is pressing ahead with plans to step up offshore production and expand the country's oilfield services infrastructure. Senegal could match Ghana's current status as a deepwater hotspot in the years ahead, if recent exploration results can be sustained.
Both were among the countries highlighted at The African Oil and Gas Growth Story conference in London in February, organized by the Institute of Petroleum for IP Week.
Three of Ghana's four sedimentary are offshore, said Theophilus Ahwireng, CEO of the country's Petroleum Commission. To date, exploratory drilling has proven over 1 Bbbl of oil and 1.5 tcf of gas, he added. Although exploration started in the 1970s, results remained patchy until discovery of the deepwater Jubilee field in 2007, following which there have been 25 further finds.
"A lot of the present activity is offshore but there is also open acreage," Ahwireng explained. "The most recent discoveries were 150 km [93 mi] from the [maritime] border with Côte d'Ivoire." In the main, drillers have targeted prospects at the same Campanian and Turonian level that delivered Jubilee, but the government is now looking to extend exploration stratigraphically down to Albian level, he added.
The ongoing Jubilee Phase 1a development is designed to recover 585 MMbbl of oil. In February, 26 wells were onstream, Ahwireng said, delivering 106,000 b/d of oil and 105 MMcf/d to the FPSO. PetroSA recently joined the Tullow Oil-led partnership. "Jubilee is stratigraphically a well-defined field, typically Turonian in nature…although it had to be developed in clusters due to concerns about flow assurance."
Ahwireng said that the next project to be placed onstream will be TEN, a $6-billion development also operated by Tullow, which comprises 10 black oil, gas condensate and non-associated gas accumulations. Earlier this year the FPSOProf J.E.A. Millswas in transit from Singapore to Ghana. Following start-up of production this summer, output should ramp up to 70,000 boe/d via 24 wells.
Three more major developments should follow. The first in the sequence is in the Offshore Cape Three Points (OCTP) project in the 600-1,000 m of water in the Tano basin, operated by Eni. This is a light oil and non-associated gas development focused on two accumulations at Cenomanian level (Sankofa and Gyaname) containing an estimated 500 MMbbl and 1.5 tcf of gas, which will be developed via subsea production systems connected to a leased FPSO. In February the vessel had transferred from Malaysia to a shipyard in Singapore. Eni plans to re-use some of the existing appraisal wells for production and also to drill 12 new ones, Ahwireng noted. Oil production should start in 2017, building to 40,000 b/d, followed by gas production at rates of up to 180 MMcf/d.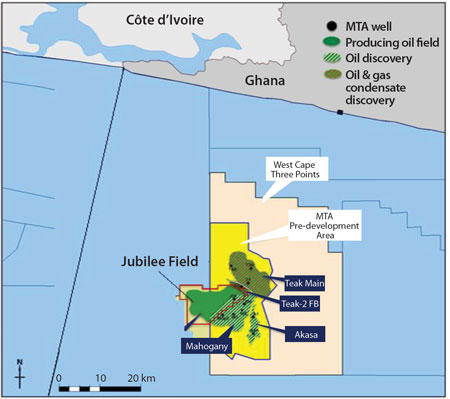 Greater Jubilee Full Field Development. (Image courtesy Petroleum Commission Ghana)
Assuming governmental approval for Tullow's plan, next up will be the Greater Jubilee Full Field Development, tying in all remaining reservoirs of Turonian-Maastrichtian age (the Teak and Mahogany fields) in the West Cape Three Points blocks via new subsea facilities to the Jubilee FPSO. This scheme will lift recoverable reserves from the Jubilee area to 650 MMbbl of oil, 360 bcf of associated gas, and 80 MMcf of non-associated gas, Ahwireng said, and the initial wells could go onstream next year.
Fourth in the sequence should be the Hess-operated Deepwater Tano/Cape Three Points block project which could eventually take in seven deepwater discoveries. Of these, the Pecan and Almond oil fields have so far been appraised. Further appraisal and pre-development work is ongoing, Ahwireng said, and field development should start during 2018.
As a result of these various projects, over the next three to five years the Petroleum Commission expects production of 180,000-200,000 b/d and 300 MMcf/d. All are set to go ahead despite the prevailing gloom caused by lower oil prices. "This should serve as encouragement to other nations [in Africa] not to despair of the present difficulties," Ahwireng said. "We are also driving very hard negotiations, asking the various offshore partnerships to go back to the drawing board to move their projects forward." Service companies have been very reasonable in supporting this process, he added.
"On exploration and production, however, we need to do a lot more to keep the value chain moving." Currently the Petroleum Ministry is reassessing Ghana's regulatory regime for petroleum operations and reforming the country's main E&P law which has been in place since the 1980s. "We hope to issue a more definitive E&P Bill later this year that will provide more certainty to Ghana's regulatory regime," he added, and the industry can also expect new guidelines detailing requirements for health, safety and environment.
In addition, the Ministry plans a new licensing round. "Jubilee was the world's largest find in 2007, and over the years very large geological and geophysical data sets have been acquired. Most of the activity has been in Ghana's western offshore area, but I'm challenging investors to look east - the only reason there has been no investment there is because so far we haven't found oil." The eastern offshore is part of the extensive Dahomey basin that stretches all the way to Nigeria, he pointed out. "This is a proven petroleum system with oil finds off Togo, Benin and Nigeria, including Ogo." But Ghana also has a strong demand for natural gas, he pointed out. "Even if new wells in the east only find gas, there would be a ready market."
As offshore activity grows, he continued, this increases opportunities for construction and fabrication of oil and gas facilities in-country. Initiatives are under way to expand Ghana's ports to accommodate future growth - one is the Atuabo Free project, a co-operation between the government and Lonrho to build a deepwater port for subsea fabrication, rig repairs and offshore logistics. The government is also keen to form more partnerships with foreign companies to develop services for drilling and waste treatment.
Emerging Senegal oil play
In 2014, a group led by Cairn Energy proved a new deepwater oil play offshore Senegal, discovering the FAN and SNE fields. Earlier this year the partnership started a second campaign of drilling using the drillshipOcean Rig Athena, with two appraisal wells on SNE (both completed) and last month's wildcat on the Bellatrix prospect on the untested Buried Hills Play.
Over the last decade, said Cairn's chief operating officer Paul Mayland, technology advances have allowed the industry to access ultra-deepwater reservoirs in up to 2,500 m (8,202 ft) of water. However, activity at these depths involves high capex investments and long cycle times, he pointed out, "and not all these mega-projects have gone well." For Cairn, offshore Senegal offered many appealing features, he added, with water depths over its two concessions ranging from less than 500 m (1,640 ft) out to 2,000 m (6,562 ft). "Our discoveries have been in a more manageable 1,100-1,500 m [3,609-4,921 ft] of water, and the metocean conditions are relatively benign, allowing continuous operations."
Mayland noted that SNE, in 1,400 m [4,593 ft] of water, is at a subsurface depth of only 2,500 m [8,202 ft] "with typically two or three casing strings per well." FAN, 5,000 m [16,404 ft] down, required a four-string casing. "This field has 30-40°API oil, and the reservoir features normal pressures and temperatures," he said.
Outside India, Cairn had been largely unsuccessful in its previous attempts to open new E&P provinces, notably offshore Greenland, but its technical team had identified Senegal as an area of potential, with proven mature oil-source rock and prospective reservoirs both on and off the shelf. The company entered its blocks via a farm-in deal with Australia's FAR - ConocoPhillips, the other main partner, also provided the drillship for the current program.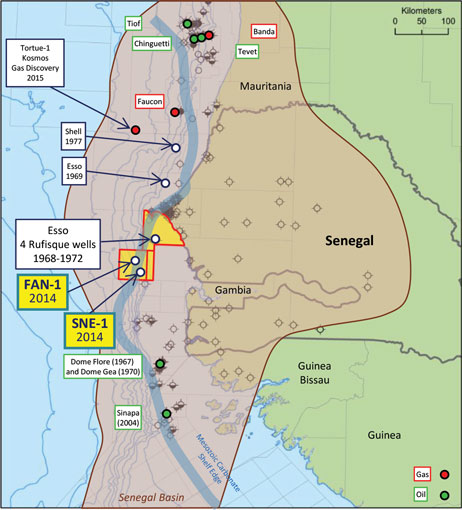 Discoveries offshore Northwest Africa. (Map courtesy Cairn Energy)
The SNE-1 discovery was the last of the initial four-well campaign in 2014. Last May Cairn submitted an evaluation report to the Senegalese authorities followed later in the year by a new 3D seismic survey over waters east of the two finds. "We are working with the government and its ministers to understand what the new fields may mean to the country's energy plans and growth ambitions," Mayland said. "Senegal has a stable democracy and we have established relationships at all levels."
The partners secured a three-year extension for further exploratory and appraisal drilling - Cairn's review of the first appraisal well, SNE-2, led the company to upgrade the field's 2C resources by 20% to 385 MMbbl. After Bellatrix, which will also be deepened to investigate a different section of SNE, further wells will follow either this year or next, Mayland said.
Early on in the discussions with the government the partners outlined the risks and technical steps needed to progress a potential development. "This has proven useful for the government in managing local expectations," Mayland said. "One failing of this industry has often been setting unrealistic timeframes, so in cases where a project has been executed well - even if the outcome is deemed disappointing - it should be celebrated as a success (because of the timeframes)."
Cairn and its partners have been sharing their plans with national oil company PetroSen, the Senegalese Environment Agency, Ministry of Petroleum, and other government departments. "We're phasing our investments in a timeline understood by our partners and the government - particularly with the current oil price. But we believe our deepwater Senegal acreage will be very well positioned to compete for capital in what is a very challenging time for the upstream sector."
Frontier passivity
Timi Familusi, strategy leader, Sub-Saharan Africa at Accenture, a consultancy previously owned by Schlumberger, described West Africa in oil and gas terms as one region, but split into three segments. "The first is Nigeria, the dominant player for the past 40 years. The second is the growing producers along the West African Transform Margin, while the third segment is the emerging frontier players from Senegal to Côte d'Ivoire. How many years will it take for oil to come onstream from these frontier areas? We don't know, but the reality is that not many projects will go onstream at $30/bbl."
The region's deepwater frontier nations, he added, "must go beyond the mindset of 'us' versus 'them' - this is about 'we', and the program affects everyone. If there is continued passivity - if we do nothing - the likelihood is that the industry will move beyond West Africa and go elsewhere." The northwest African countries should ask themselves "who do I collaborate with," Familusi suggested, "rather than each player pursuing his own agenda."