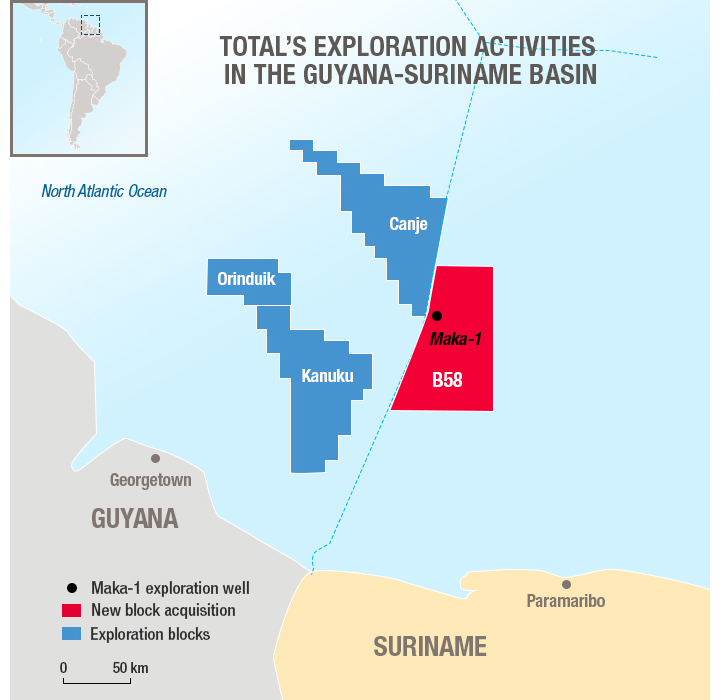 (Map courtesy Total)
Offshore staff
PARIS – Total has signed an agreement to acquire a 50% operated interest in block 58 offshore Suriname from Apache Corp.
The concession is on trend with various discoveries in the adjacent Stabroek block offshore Guyana.
Currently Apache is drilling the Maka-1 exploration well on block 58 in a water depth of 1,000 m (3,281 ft), and initial results have confirmed the license's prospectivity, Total said.
Apache will drill two further exploratory wells following completion of Maka-1 before transferring operatorship to Total.
Block 58 covers around 1.4 million acres (2,188 sq mi) in water depths ranging from below 100 m to more than 2,100 m (328-6,890 ft).
In exchange for a 50% interest, Apache will receive various forms of consideration, including: $5 billion of cash carry on the company's first $7.5 billion of appraisal and development capex; 25% cash carry on all of its appraisal and development capital beyond the first $7.5 billion; and reimbursement of 50% of all costs incurred to date across the block.
The two companies will share the costs of all future exploration wells. The transaction has received all approvals from Suriname's government and should close within three days.
John J. Christmann, CEO and president of Apache, said: "Upon meeting certain drilling commitments, the partnership has the rights to explore the entire block through mid-2026 without acreage relinquishments. This provides for a thorough evaluation of the multiple play types we have identified in this emerging oil-prone basin."
"Apache and Total are encouraged by the preliminary information and test results from the two upper Cretaceous play types encountered thus far," added Christmann. "Deepening and testing operations continue at Maka Central-1. Following the completion of these activities, the rig will be moving to the next location.
"We are very pleased to team up with Apache and Staatsolie, and to become operator of this promising license where we will bring our deepwater expertise. It is indeed a unique exploration opportunity in a prolific basin," said Patrick Pouyanné, chairman and CEO of Total.
12/23/2019