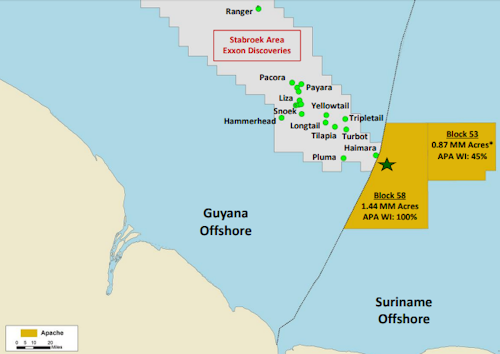 (Courtesy Apache Corp.)
Offshore staff
HOUSTON – Apache Corp. has updated progress on its first exploratory well in block 58 offshore Suriname.
Drilling of the Maka Central - 1 well started in late September and had been expected to last between 30 and 60 days.
However, on reaching a depth of around 6,200 m (20,341 ft), the company decided to conduct testing activities in two distinct Upper Cretaceous play types.
On completion of these tests, the plan is to set casing, make equipment modifications to the rig, and resume drilling in mid-December to evaluate a third play type in the Cretaceous.
The well's new target depth is around 6,900 m (22,638 ft). Following the conclusion of drilling, the company plans further testing and evaluation.
12/03/2019