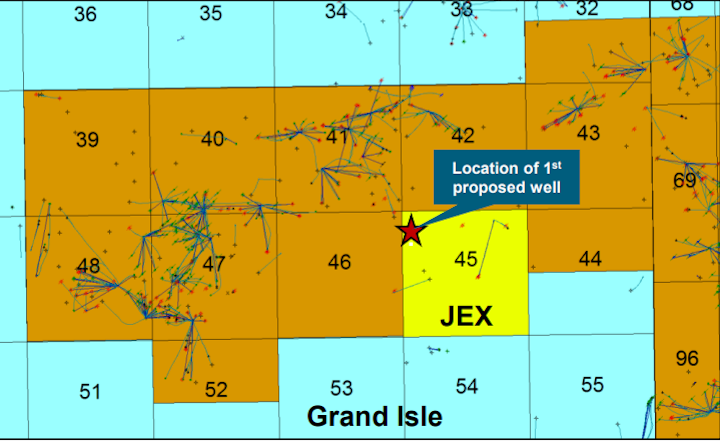 (Courtesy Contango Oil & Gas)
Offshore staff
HOUSTON – Contango Oil & Gas Co. has entered into a joint development agreement (JDA) with Juneau Oil & Gas, LLC for certain exploration prospects on the Gulf of Mexico shelf.
Under the agreement, Contango has the right to acquire an interest in all of Juneau's prospects in the Gulf of Mexico for aggregate consideration of $6.0 million, consisting of $1.69 million in cash and $4.31 million in stock consideration.
The first prospect to be acquired by the company, Iron Flea, is in Grand Isle block 45, which management currently estimates could have an expected reserve potential of 19 MMboe (86% oil) net to Contango's interest. 
The company has elected to acquire about 85-90% of Juneau's working interest in Iron Flea.
Drilling on the Iron Flea prospect is expected to start in 2Q 2020. Water depth is about 92 ft (28 m).
During the term of the JDA, Contango will also have the right to acquire an interest in all future Juneau-generated prospects in the Gulf of Mexico, on similar terms and conditions, subject to the execution of an advisory services agreement, after the first well has been drilled.
Juneau will deliver to the company no less than an 80% net revenue interest (proportionately reduced to Juneau's interest) on all acquired prospects, excluding the Iron Flea prospect.
12/20/2019