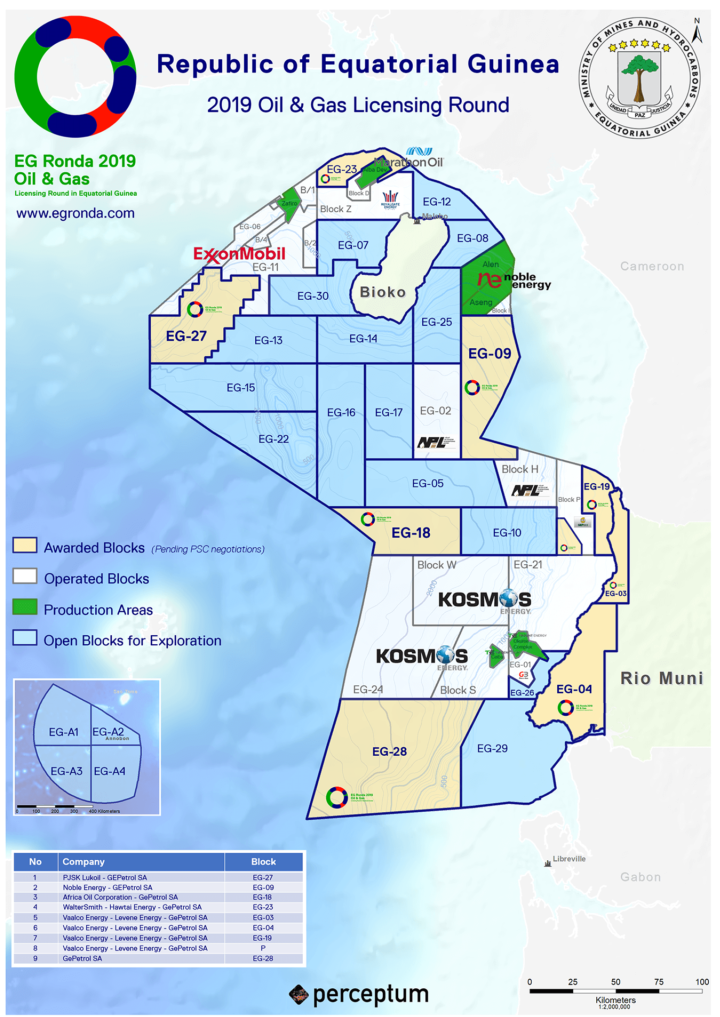 (Courtesy Perceptum Ltd.)
Offshore staff
MALABO, Equatorial Guinea – The Equatorial Guinea Ministry of Mines and Hydrocarbons has awarded blocks to North American, European, and African oil companies under the country's EGRONDA 2019 bid round.
Houston-based VAALCO Energy will potentially serve as contract operator of offshore block 19 and two onshore concessions, subject to Levene Hydrocarbon acquiring part of VAALCO's existing 31% interest in block P.
The two companies have executed a memorandum of understanding and are in preliminary discussions concerning a commercial relationship in the country.
Other offshore awards reportedly went to Lukoil and Equatorial Guinea state oil company GEPetrol (block EG-27); block EG-23 in the Niger basin to Lagos-based WalterSmith, Hawtai Energy and GEPetrol; EG-09 in the Duala basin to Noble Energy and GEPetrol; EG-18 in the Rio Muni basin to Africa Oil and GEPetrol; and block EG-28 outright to GEPetrol.
In addition, the Ministry has signed a cooperation agreement with Vitol on the development of the government's long-planned Gas Megahub project, which involves various new offshore gas hubs to monetize currently stranded gas resources.
According to the Ministry, the aim is to create a modern, flexible gas processing and export system serving growing gas demands in the region and LNG markets globally.
The government hopes the Gas Megahub will also facilitate a cross-border link to gas projects in neighboring countries such as Cameroon and Nigeria.
Agreements are already in place for new subsea pipelines taking gas from the offshore Aseng, Alen, and Alba fields to the Punta Europa processing complex on Bioko Island.
11/27/2019