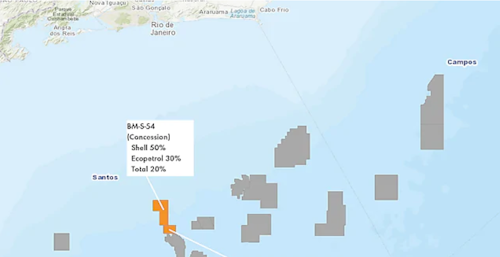 (Courtesy Shell)
Offshore staff
BOGOTÁ, Colombia – Ecopetrol S.A. subsidiary Ecopetrol Óleo e Gás do Brasil Ltda has entered into an agreement with Shell Brasil Petróleo Ltda. to acquire 30% of the interests, rights, and obligations in two areas corresponding to the BM-S-54 concession agreement and the Sul de Gato do Mato shared production agreement.
These areas are in the presalt Santos basin and includes the Gato do Mato discovery.
Under this agreement, Shell will reduce its stake from 80% to 50% and continue as operator, while Total will retain the remaining 20%. The Brazilian government also participates in the shared production agreement, through Pré-Sal Petróleo S.A.
The agreement is subject to the approvals from Brazil's Ministry of Mines and Energy, the country's National Agency of Petroleum, Natural Gas and Biofuels and other customary transaction conditions.
Three wells that have discovered light hydrocarbons have been drilled in these two blocks. The consortium will continue executing activities and operations in order to initiate production in coming years.
According to Ecopetrol's estimates, the company could incorporate some 90 MMbbl of crude in contingent resources as of 2020, which will be gradually added to its balance of reserves. The company also estimates that its share of production could total around 20,000 b/d of crude in 2025.
The company also has stakes in the Pau-Brasil and Saturno blocks.
10/22/2019