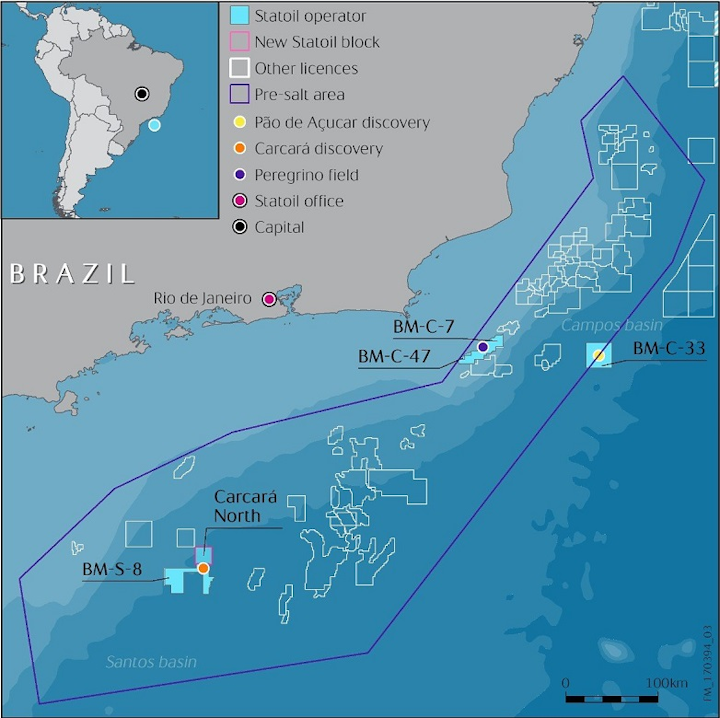 Offshore staff
RIO DE JANEIRO – Petrobras has secured three offshore blocks in Brazil's 2nd and 3rd bidding rounds under the country's production-sharing regime.
This involves the partnership paying the government a percentage of profits from oil revenues, minus production costs and royalties.
The offer of surplus in profit oil to the federal government was the sole criterion the licensing agencyANP adopted to define the winning bid, Petrobras said.
Signature bonus value, the minimum exploratory program, and local content commitments were already determined in the bidding terms.
The list of awards is as follows:
    
Block

Consortium Composition

Petrobras Bonus

(R$ million)

Surplus in profit oil (%)

Entorno de Sapinhoá

Petrobras (45%)

Shell (30%)

Repsol Sinopec (25%)

90

80,00

Peroba

Petrobras (40%)

BP (40%)

CNODC (20%)

800

76,96

Alto de Cabo Frio Central

Petrobras (50%)

BP (50%)

250

75,86

For the presalt Entorno de Sapinhoá block in the central Santos basin – a newly unitized area adjacent to the Sapinhoá development – Petrobras' partners are Shell and Repsol Sinopec.
In August, Sapinhoá was Brazil's second largest field in terms of oil and gas production at 325,000 boe/d.
Petrobras will pay a total signature bonus of R$ 1.14 billion ($371 million) representing 0.5% of the investments anticipated in the 2017-2021 Business and Management Plan.
Following the auction, winning bidders will enter a qualification stage and subsequently sign contracts.
Aside from this block,Shell bid successfully for two further 35-year production-sharing contracts (PSCs) for presalt blocks in the Santos basin, and will pay total signing bonuses of around $100 million.
One of the blocks is adjacent to Shell's Gato do Mato field (Shell 80% operator, Total 20%), while the other is the new Alto de Cabo Frio – West block (Shell 55% operator, Qatar Petroleum 25%, CNOOC 20%).
Andy Brown, Shell's Upstream Director, said: "These winning bids were submitted after our thorough evaluation and add strategic acreage to our already leading set of global deepwater growth options…Our deepwater expertise is well-suited for the opportunities that lie ahead."
Prior to the bids, Shell had confirmed plans for $10 billion of investments into the early 2020s for its existing development projects off Brazil, citing deepwater as its upstream growth priority.
The company first participated in a PSC in the country in 2013 when it joined the Petrobras-led Libra consortium. Its Brazil deepwater production was recently averaging 330,000 boe/d.
Statoil,ExxonMobil and Petrogal Brasil were the high bidders for a PSC for the Carcará North block in the Santos basin, with a collective signature bonus of around $910 million.
The three partners have also agreed to various subsequent transactions in the adjacentBM-S-8 block to align their equity interests across the two blocks that together encompass the Carcará oil discovery.
For Statoil, the potential consideration for selling half its 66% stake in BM-S-8 to ExxonMobil could reach $1.55 billion. And following the future closing of its acquisition of the 10% interest in the block held by Queiroz Galvão Exploração e Produção (QGEP), Statoil has agreed to transfer a further 3.5% to ExxonMobil and 3% to Galp for around $250 million.
Statoil and ExxonMobil will then each have a 36.5% interest in BM-S-8 and a 40% interest in Carcará North, while Galp will have 17% in BM-S-8 and 20% in Carcará North. Statoil will be operator for the unitized field development, subject to government approval.
BM-S-8 (before transaction with ExxonMobil)

BM-S-8 (after transaction with ExxonMobil)

BM-S-8 (after closing of transaction with QGEP)

BM-S-8 (after future transactions with ExxonMobil and Galp)

Carcará North

Statoil

66% (operator)

33% (operator)

43% (operator)

36.5% (operator)

40% (operator)

ExxonMobil

-

33%

33%

36.5%

40%

Galp

14%

14%

14%

17%

20%

QGEP

10%

10%

-

-

-

Barra Energia

10%

10%

10%

10%

-
10/30/2017