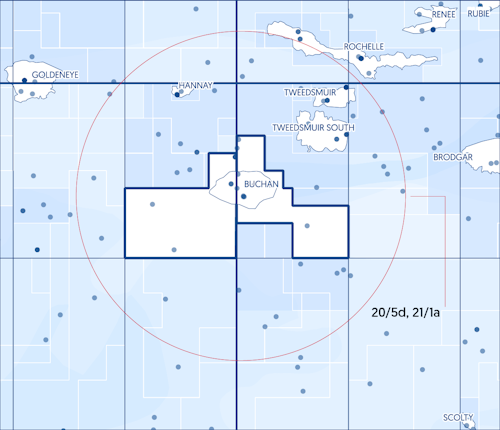 (Courtesy Jersey Oil and Gas)
Offshore staff
LONDON – Jersey Oil and Gas (JOG) has issued an update on its plans for developing the Buchan blocks (20/5d and 21/1a) in the UK central North Sea, awarded this summer by the Oil and Gas Authority.
In July, the company entered a three-month 50% farm-in option agreement with Equinor for the blocks, which contain the Buchan oil field and J2 oil discovery.
If exercised, JOG would act as license operator with Equinor covering 50% of costs related to the license applications. Otherwise, JOG would consider farm-outs to other companies and alternative funding solutions in the run-up to a development project.
Options could include lowering the carbon footprint of the Greater Buchan Area (GBA) by designing a platform with lower steel content; a lower but longer plateau life strategy; and assessing 'gas to wire' technologies to manage gas production.
In July, PGS delivered final processed data from a 1,000-sq km (386-sq mi) 3D seismic survey that had been acquired over the GBA in 2018. The results include improved image quality and enhanced resolution.
JOG is a partner to Equinor in the Verbier oil discovery in the same region. Currently wireline logs acquired during the appraisal well program earlier this year area being integrated with previous well results and final processed 3D seismic survey.
Results will serve to help assess upside potential for further appraisal activity.
Much of the mapped area to the northwest of the 20/05b-14 appraisal well remains untested, with further prospectivity identified in a deeper horizon beneath the Verbier discovery well.
The Cortina prospect, also in the P2170 license area, will be re-evaluated for potential future drilling.
09/26/2019