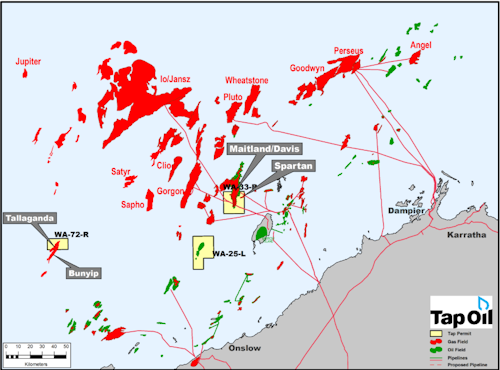 (Map courtesy Tap Oil)
Offshore staff
PERTH, Australia – Tap Oil has agreed to sell most of its E&P interests in Australasia to Kensington Energy, a privately-owned Australian oil and gas investment company.
The package comprises a 20% interest in the BHP-operated WA-72-R permit offshore Western Australia, containing the Tallaganda gas discovery; 15% in the Eni-operated WA-25-L including the shut-in Woollybutt oil field (where abandonment is due to start during 2020-21) and a 5% oil, gas and condensate overriding royalty interest over 66.67% of NZ PMP 38748, which includes the producing Sidewinder oil and gas field.
Following the sale, Tap has passed on any field abandonment costs associated with Woollybutt.
Its sole remaining interest outside of the Manora field in the Gulf of Thailand will be WA-34-R, which contains the Prometheus and Rubicon gas fields.
Tap aims to exit this block too before year-end.
09/09/2019