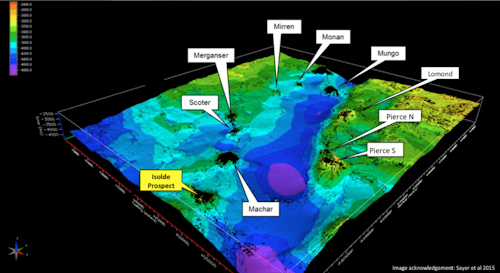 Soliton Resources
Offshore staff
LONDON – Soliton Resources has farmed out an 85% interest in UK central North Sea license P2390 (blocks 23/26e and 30/1d) to Equinor UK.
The concession contains the Isolde prospect, described as a shallow, low risk but potentially sizeable exploration target that has historically been overlooked, in part due to seismic imaging limitations on legacy 3D data.
These blocks contain a prominent, historically poorly-imaged salt diapir with reservoir targets in the established Equinor will assume operatorship, initially focusing on improving the quality of existing 3D data. It may then elect to drill an exploration well on Isolde.
In exchange, Equinor will refund past license costs incurred by Soliton and will carry all future costs associated with Soliton's retained 15% interest, including exploration drilling.
The carry could continue through subsequent appraisal drilling, until Equinor confirms a feasible investment project, ready to progress to detailed development evaluation and planning.
Regulatory approvals for the transaction are already in place. Soliton was awarded the blocks under the UK's 30th licensing round last year via an 'Innovate' license structure.
08/01/2019