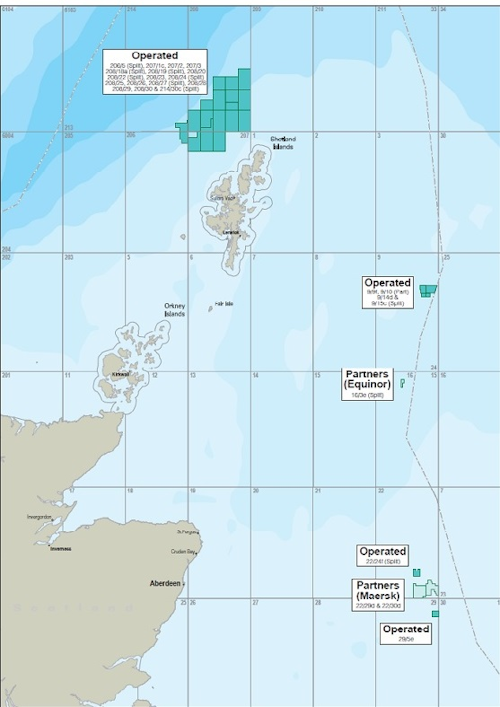 Offshore staff
LONDON – Britain's Oil & Gas Authority (OGA) has offered 123 licenses over 229 blocks and part-blocks to 61 companies under the 30th Offshore Licensing Round.
A total of 26,659 sq km (10,293 sq mi) of acreage had been offered and if all the awards are taken up, this will represent a 50% increase over the existing acreage held.
The OGA added it expected the results to lead very quickly to activity, boosting UK offshore exploration. Work program commitments include eight firm exploration/appraisal wells and nine firm new 3D seismic surveys, with 14 (second-term) licenses progressing straight to field development planning.
The awards may also help unlock around a dozen undeveloped discoveries containing 320 MMboe combined that were previously 'stranded' but which can now be progressed through further appraisal to field development.
In addition, the OGA estimates that around 3.6 Bboe (mean-risked volume potential) of exploration prospectivity will be taken forward by the new licensees.
Awards went to companies ranging from super-majors expanding their footprint to new entrants investing on the UK continental shelf (UKCS) for the first time.
The OGA provided a number of incentives for this round, including: the new, flexible Innovate Licence; an extended 120-day application period; a technology forum staged with the Oil & Gas Technology Centre in Aberdeen; and new digital maps, prospect and discovery reports, plus well and seismic data.
Gunther Newcombe, Operations Director at the OGA said: "It was particularly pleasing to see many companies identifying new prospects through the application of the latest seismic processing technologies and modern 3D surveys.
"We believe that the basin will continue to be renewed in the years to come, and look forward to working with the new license holders to progress their resources into near-term production."
Deirdre Michie, chief executive of Oil & Gas UK, said: "We now need these opportunities to be pursued with a sense of urgency to help unlock activity for our hard-pressed supply chain and ensure we start to mitigate the potential drop off in production post 2020.
"I'm optimistic that this can happen given that much of the acreage lies within reach of existing infrastructure, our development costs have reduced, our commercial behaviors are improving and our basin continues to be one of the most fiscally competitive in the world."
Chris Pearson, Small Pools Solution Centre Manager, Oil & Gas Technology Centre, added: "The outcome of the 30th Licensing Round is very promising. We are focused on significantly reducing the life-cycle cost of field developments across the UKCS, aided by the development and deployment of new technologies.
"We look forward to working with the successful applicants to help unlock the potential of the undeveloped discoveries, and use the learnings to drive international growth and export opportunities."
This summer, the OGA will launch the UK's 31st Round, offering potentially high-impact exploration opportunities in under-explored and frontier areas of the UKCS such as the East Shetland Platform, North West Scotland, South West Britain, and the Mid North Sea High.
In support of this initiative, the Authority has released the results of the 2016 UK government-funded seismic program, with close to 19,000 km (11,806 mi) of newly-acquired broadband seismic data now freely available to download, along with around 23,000 km (14,291 mi) of reprocessed legacy seismic data and well data packages.
Also accessible are new geotechnical studies commissioned by the OGA to investigate key subsurface uncertainties in these frontier areas.
Among the companies to comment on their awards so far,BP gained seven licenses, five as operator and two as a partner.
Its operated licenses are over the Skua field adjacent to BP's producing Marnock field, part of the Eastern Trough Area Project hub in the UK central North Sea; a license adjacent to the company's Capercaillie and Vorlich discoveries; another in the UK northern North Sea; and two licenses in Quadrant 208 west of Shetland.
BP's haul includes 26 blocks with commitments to drill one well in the northern North Sea and to acquire 3D seismic across Quadrant 208.
Total operates another of the company's new licenses, adjacent to theCulzean field development in which BP has a 32% stake. The other non-operated license is operated by Equinor (formerly Statoil) on the East Shetland Platform.
Ariel Flores, BP North Sea regional president, said: "… It builds on our success in the 29th Round last year which represented BP's largest acreage award since the late 1990s.
"BP continues on a path of positive momentum in the North Sea as we bring on major projects; explore at higher levels than in recent times; and rapidly develop smaller fields located next to our established hubs. All of this is targeted at realizing our ambitions to efficiently grow production and cash flows."
Later this year BP will participate in two UK exploration wells operated by Equinor: on the Pip prospect in the Fladen Ground Spur area, and on the Bigfoot prospect 30 km (19 mi) south of Equinor's Mariner field.
Siccar Point, under a 50:50 partnership with Shell, will operate during the exploration and appraisal phases a license close to the company's acreage in the Greater Cambo Area west of Shetland.
The license is between the Cambo and Suilven fields and could provide satellite tie-in development opportunities to theCambo field development. It includes the Tornado gas discovery and multiple exploration prospects.
Currently Siccar Point is drilling the final appraisal well on Cambo, originally discovered by Hess, with results expected this summer. Shell recently acquired a 30% non-operated interest in licenses P1208 and P1189, which incorporate Cambo, and 22.5% of P1830, including the Blackrock prospect which will be drilled in 2019.
Cambo is a large basement high with sedimentary sequences draped over the top of the structure. The field contains at least 600 MMbbl in place.
Suilven is 20 km (12.4 mi) northwest of BP's Schiehallion field and 30 km (18.6 mi) south of Cambo.
Blocks awarded (50:50 with Shell): 204/8, 204/9c, 204/10c, 204/13, 204/14d and 204/15
204/5c: Siccar Point Energy 100% equity.
Equinor secured nine new licenses, eight as operator, spread across the UK shelf.
The award includes one commitment well on the Lifjellet prospect in the Jæren High area. Equinor plans a site survey followed by a well in 2019.
This autumn Equinor will drill three exploratory wells in UK waters – two mentioned by BP above, the other an appraisal of last year's Verbier oil discovery in the central sector.
05/23/2018