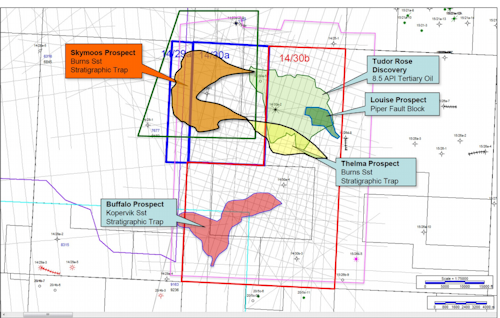 Talon Petroleum
Offshore staff
WEST PERTH, Australia – Talon Petroleum and ONE-Dyas E&P have bid successfully for a license over block 14/30b in the central North Sea, under the UK's 31st Supplementary Offshore Licensing Round.   
 The bid was part of a joint technical assessment of opportunities across the area.
Talon managing director Matt Worner said: "The Thelma and Louise prospects within the block are adjacent to the play identified at Talon's Skymoos prospect in neighboring license P2363, which is currently the subject of an ongoing farm-out process by the company… 
 "The acquisition of an interest in this new license is a strategic move…to expand and secure Talon's position in the area, which could be leveraged in the event of successful exploration drilling at Skymoos. Additionally, the Buffalo prospect is a potentially significant gas prospect."
This will be the fifth UK North Sea asset acquired by the Australian independent since entering the sector last year.
The Thelma prospect is a Burns sandstone stratigraphic trap with prospective resources of 29 MMbbl.
Louise is a Piper fault block target thought to potentially hold 17 MMbbl, while Buffalo is a Kopervik Sandstone target that could contain 160 bcf of gas.
07/23/2019