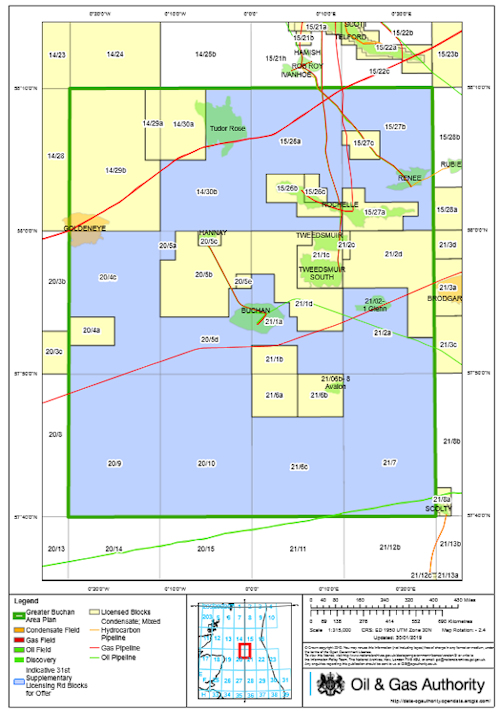 Offshore staff
ABERDEEN, UK – The Oil & Gas Authority (OGA) has launched the UK's Supplementary 31st Offshore Licensing Round, focused on the Greater Buchan Area in the Outer Moray Firth in the central North Sea.
The OGA is inviting interested oil and gas companies to collaborate on exploration and development to maximize the potential economic recovery in the area which it estimates at up to 300 MMboe.
Around 5,800 sq km (2,239 sq mi) is currently unlicensed acreage and includes numerous undeveloped discoveries and prospects.
BP brought onstream the Buchan field in 1981 using the Buchan Alpha floating drilling rig which remained on station for around 36 years.
After it reached the end of its design life the rig was removed from the location. However, substantial oil and gas resources are thought to be left in the Buchan reservoir and the Greater Buchan region.
The OGA's goal is to formulate an area plan with the industry.
In support of the Supplementary Round the OGA has released a series of information packages, including data for 154 wells, 3D seismic surveys, relinquishments and technical reports.
To date, 343 companies have performed a total of 1,122 downloads from the OGA's website. A newly created 'Buchan Field Production Dashboard' is also available athttp://data-ogauthority.opendata.arcgis.com/pages/buchan-sup-round-dashboard.
02/07/2019