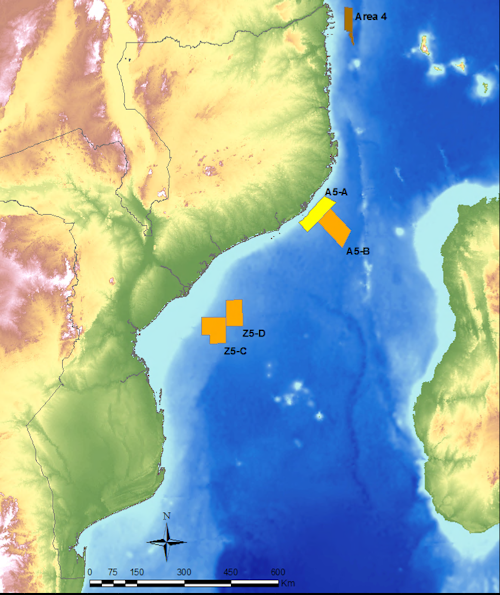 Eni
Offshore staff
SAN DONATO MILANESE, Italy – Eni Mozambico has acquired rights to explore and develop blocks A5-B, Z5-C, and Z5-D in the Angoche and Zambezi basins offshore Mozambique.
Through a farm-in agreement, signed with ExxonMobil Moçambique Exploration & Production Limitada and authorized by the Mozambican authorities, Eni has acquired a 10% stake in the three blocks.
Block A5-B covers 6,080 sq km (2,348 sq mi) in water depths between 1,800 and 2,500 m (5,905 and 8,202 ft). It is about 1,300 km (808 mi) northeast of the capital Maputo, in an unexplored area off the city of Angoche.
Blocks Z5-C and Z5-D cover 10,205 sq km (3,940 sq mi) in water depths between 500 and 2,100 m (1,640 and 6,890 ft). The blocks are about 800 km (497 mi) northeast of Maputo, in a scarcely explored area facing the delta of the Zambezi River.
The three blocks, assigned under the 5th Licensing Round, are operated by ExxonMobil (40%), in partnership with the Mozambican state company Empresa Nacional de Hidrocarbonetos (ENH, 20%), Rosneft (20%), and Qatar Petroleum (10%).
In the 5th Licensing Round, Eni Mozambico was awarded operatorship of block A5-A, adjacent to block A5-B, with a 59.5% stake. Other partners are Sasol (25.5%) and ENH (15%).
A farm-out agreement enabling Qatar Petroleum to acquire a 25.5% participating interest in block A5-A, reducing Eni's interest to 34%, is pending authorization by the Mozambican authorities.
05/29/2019