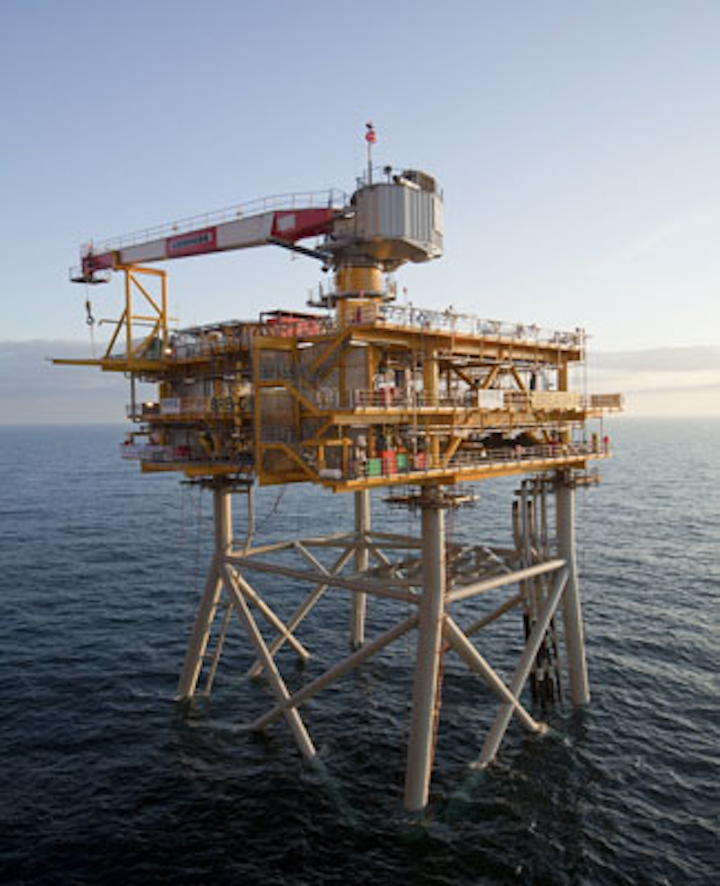 Offshore staff
HAMBURG, Germany – RWE Dea UK has started gas production from the Breagh field in the UK southern North Sea.
The first three wells brought into production had an initial combined total flow rate of 2.75 MMcm/d (97 MMcf/d). RWE Dea expects peak output of 4 MMcm/d (141 MMcf/d) early next year, with average annualproduction of 1.1 bcm (39 bcf) between 2014 and 2018.
Breagh is in blocks 42/13a and 42/12a, 65 km (40 mi) off the coast of northeast in a water depth of 60 m (197 ft). The field is on the southern margin of the Dogger shelf and is the first UK offshore development of the Carboniferous Yoredale formation.
It is formed by a 10 x 10-km (6.2 x 6.2-mi) four-way dip closure under the Permian Zechstein formation. The crest of the structure is at 2,200 m (7,218 ft) below sea level.
Phase 1 focuses on the western area and will be developed initially through seven wells, which will target gas production from the Yoredale sandstone layers.
"The difficult interpretation of the seismic due to the extensive salt layers located above the reservoir, made the optimum placement of the development wells a challenge," said RWE Dea UK's Rene Pawel.
TheBreagh Alpha platform was installed two years ago; the substructure and deck weigh roughly 3,400 metric tons (3,748 tons), and are secured by eight piles with a total weight of 2,000 metric tons (2,204 tons).
Five of the Phase 1 wells have been drilled, with two currently in the connection phase, a sixth being completed, and a seventh to follow.
Breagh's gas flows through a 20-in. pipeline to the coast at Coatham Sands near Teesside. It continues via an 11-km (6.8-mi) onshore pipeline to the gas treatment facility in Teesside and from there into the UK gas grid.
The pipeline and gas treatment facility have a total capacity of around 11.3 MMcm/d (339 MMcf/d) of gas.
Currently the company and partner Sterling Resources are working on plans for a Phase 2 development in the field's eastern section.
10/14/2013