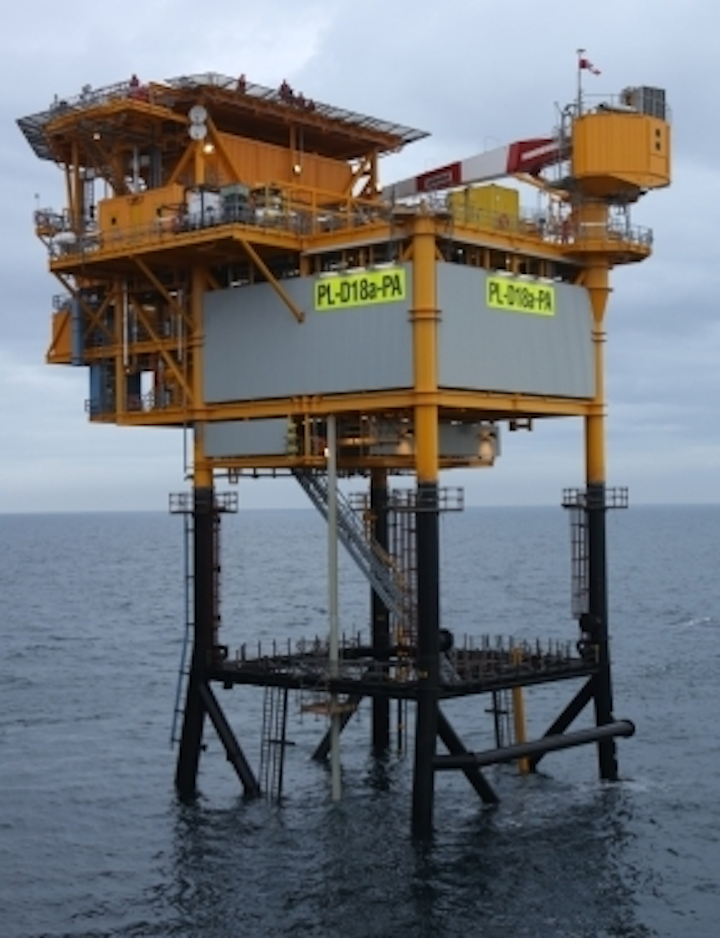 Offshore staff
PARIS – GDF SUEZ has started gas production from the Orca field on the UK/Dutch North Sea median line.
Gas is flowing from the first well in the Carboniferous reservoir drilled from the D18a-A production platform in 45 m (147 ft) water depth on the Dutch side, 500 m (1,640 ft) from the UK sector.
The second well is expected to come onstream later this month, and the third well, currently drilling, should enter production in February. Later in 2014 the platform should deliver peak output of around 1.5 MMcm/d (53 MMcf/d).
Produced gas is sent by pipeline to the D15a-A production platform in the Dutch sector for further processing. It is then transported through the Noordgastransport pipeline system to Uithuizen in the Netherlands.
After final treatment, the gas will be delivered to Gas Transport Services B.V., which manages the Dutch gas transport network.
Orca is in blocks 44/24a, 44/29b and 44/30a of the UK southern North Sea and extends into Dutch blocks D18a and D15b. GDF SUEZ E&P Nederland is the operator and duty holder while GDF SUEZ E&P UK operates the UK licenses.
"The cross-border location of the Orca field, the need to take account of two different legal systems as well as the associated agreements on field development and the distribution of resources required intense negotiations between all stakeholders involved," said Dirk Schoene, managing director of partner RWE Dea UK. "Thanks to constructive dialogue it was possible for the project to be brought to the field development stage faster than expected."
Markham was the first cross-border development in this part of the North Sea. The Orca project, which is unitized between the UK and the Netherlands participants, was approved in 2011.
12/18/2013