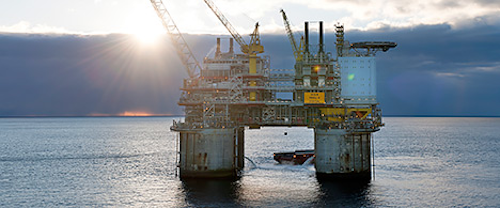 Offshore staff
STAVANGER, Norway – The Troll B platform in the North Sea has produced 1 Bboe, according to operator Statoil, just over 21 years since operations started.
Troll B and C combined have been the largest oil producer on the Norwegian continental shelf for the last three years, the company added.
However, recovery from theTroll field demanded innovative solutions, Statoil said, as its oil is in thin columns.
When Troll B came onstream in 1995, nine oil wells and one gas injector had been pre-drilled, and the platform has since delivered high oil volumes with consistently high regularity, with average daily oil production of 20,600 cu m.
This year's average will be 12,000 cu m/d.
Statoil calculates the resultant revenue from the field's oil and gas production to date at NOK1,300 billion ($150 billion).
The operator forecasts another eight-10 years of oil production on Troll B.
The Troll field is divided into three main areas. Troll East contains two-thirds of the gas reserves, in addition to hosting the Troll A and Troll-Oseberg gas injection project.
Troll Oil Gas Province contains one-third of the Troll gas reserves and a 13-m (42.6-ft) thin oil layer. Troll Oil Province mainly contains oil.
Troll B is located east of the oil province, west of Bergen and around 50 km (31 mi) from the Oseberg field center. The distance between Troll A and Troll B is roughly 20 km (12.4 mi).
12/21/2016