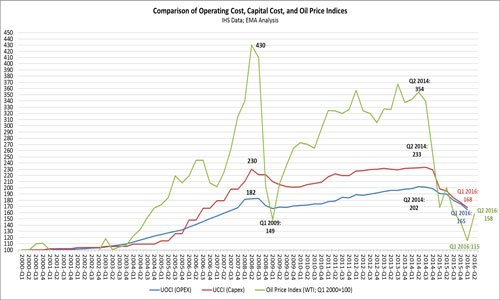 Offshore staff
SINGAPORE– In its "3Q 2016 Floating Production Systems Report," Energy Maritime Associates (EMA) reviewed and analyzed the market for floating production systems, including FPSOs, FLNGs, FSRUs, TLPs, spars, semis, FSOs, and MOPUs.
In June 2016, Dynagas ordered two speculative FSRUs from CSSC-Hudong. These will be the first large FSRUs built in China and will add a new FSRU market player when the units are delivered in 2019/2020. This was the first FPS award since July 2015, according to the report.
Also in 2Q 2016, the firstFLNG unit was delivered. In May, the PFLNG Satu (also known as PFLNG1) was completed by Samsung/Technip and installed at the Kanowit field offshore Malaysia. Commissioning of Petronas' 1.2 mtpa unit is under way. This will be the world's first FLNG facility in operation.
While it is a positive sign that a new order was placed after almost a year, the analyst says it does not believe a rebound of the FPS market is imminent. EMA says it considers the award to a new yard by a new market entrant more as an opportunistic investment, rather than a sign of a fundamental recovery of the offshore production industry.
In addition, EMA says the FPS market recovery has not begun because oil prices and costs need to be in balance. Capital and operating costs have decreased sharply since 4Q 2014, but not as much as oil prices. Oil prices did reach $50/bbl in 2Q, but then retreated into the $40's. Before a sustainable recovery can take hold, EMA points out, costs must decline further and/or oil prices must rise.
The analyst has identified the projects most likely to be awarded: seven units in 2016 and 18 units in 2017. This assumes project costs continue to drop while oil prices remain above $35/bbl. If oil prices decline to this level, sanction of these projects are likely to be delayed by at least six-12 months as oil companies monitor their cash flow and defer capex.
EMA says the recovery of the floating production market will begin when large, long-term projects such asMozambique's Coral FLNG and Brazil's Libra FPSO are sanctioned.
According to the report, Eni has been deliberating over the LNG export project and the CEO stated that before 2Q 2017 will be "the best period to close a contract…the supply chain is wonderful…because yards are empty." Petrobras and its partners Shell, Total, CNOOC, and CNPC are reviewing bids for the first of up to 15 FPSOs for the giant Libra development.
The report also pointed out that since June, BW Offshore and Teekay Offshore Partners completed financial initiatives to improve their balance sheets. Multiple adjustments were made by both companies, including increased share capital, extended bond maturities, and revis ed bank facilities. Additional contractors, particularly those with idle assets the analyst says, may need to execute similar activities to survive this extended downturn.
In addition, last month SBM Offshore, Petrobras, and multiple government agencies signed a settlement agreement regarding "the payment of undue advantages to employees of Petrobras." SBM is now eligible for new Petrobras awards including theLibra and Sepia FPSOs.
EMA Managing Director David Boggs said: "With oil prices touching $50/bbl in 2Q and increased drilling activity onshore US, some have called the bottom of the oil and gas market. In the floating production sector, there are beginning to be signs of life, such as the first floating production order in over 11 months. However, more time is needed before costs and oil prices re-align, allowing a sustainable recovery to take hold.
"In addition, oil companies must have sufficient cash flow to invest in new capital projects. In-line with our annual forecast for low activity throughout 2016 and a slow recovery beginning in 2017, we have identified seven possible developments for award by the end of this year and another 18 in 2017. This is out of 241 projects in the planning pipeline."
08/02/2016