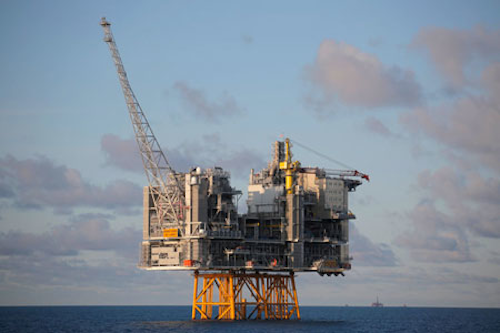 Offshore staff
STOCKHOLM, Sweden – Production from the Edvard Grieg field in the central Norwegian North Sea has been exceeding expectations, said operator Lundin Petroleum in its latest operations review.
Average production during 2Q was 32,100 boe/d, helped by improved reservoir performance and better than anticipated uptime. Edvard Grieg came onstream last November with three production wells in operation by this January.
Recently, the first water injection well was also drilled, encountering better than expected reservoir sands that are in pressure communication with the producer wells. It began operating at planned rates last month.
Reservoir pressure depletion has been more favorable than anticipated, Lundin added, which augurs well for the field's future performance.
Uptime of the facilities has also been high, averaging 96%, although some tail-off is likely due to potential disruptions related to an upcoming shutdown of the Sage gas terminal in the UK and tie-in of the Det norske oljeselskap-operatedIvar Aasen field to Edvard Grieg during 4Q.
Edvard Grieg's first water injector was drilled in the northwestern part of the field, and a second water injector is currently being drilled around 1.4 km (0.87 mi) to the southwest. Results should provide further confirmation on mapping of the top reservoir in the field's western area and any associated reserves upside.
Thereafter, Lundin plans to drill a fourth producer which should come onstream at year-end, allowing the field to achieve plateau production of 100,000 boe/d.
In total 14 development wells are scheduled to be drilled on the field with the program set to continue into 2018.
As a result of the work at SAGE, theDet norske-operated AlvheimFPSO, in which Lundin is a partner, will also be shut-in during this period. The Transocean Arctic semisubmersible will start a new program in the Greater Alvheim Area in December comprising three infill wells and a near-field exploration well.
Reservoir performance at Alvheim remains solid, with the A5 3-branched infill well starting production in May 2016 at higher rates than forecast. However, other wells with a high gas-oil ratio have been production constrained by the gas processing capacity on theAlvheim FPSO.
In June, drilling was completed of theViper and Kobra development wells and both should come online toward year-end. The Kobra well was modified into a dual branch well with one branch completed in a shallower and previously unmapped reservoir section above the main reservoir.
It was also extended to test the Kobra East exploration prospect, successfully encountering an oil-filled reservoir. A further Alvheim infill well is likely next year.
Further infill opportunities have also been identified on the Volund field - theTransocean Winnerdrilled the top holes of two infill wells before coming off hire last month. The Transocean Arctic will complete both wells which should enter production during 2H 2017.
As forJohan Sverdrup, the latest cost estimate for the Phase 1 development and operation plan is down by 12% to NOK 108.5 billion ($12.86 billion) nominal, Lundin said.
Originally the production capacity for Phase 1, due to start up in late 2019, was estimated at 380,000 b/d of oil. However, debottlenecking measures mean the design processing capacity will now increase to 440,000 b/d, with gas processing capacity in addition.
Lundin expects 35 production and injection wells to be drilled to support Phase 1 production, of which 17 will be drilled prior to first oil with anOdfjell Drilling-supplied semisub to facilitate Phase 1 plateau output.
The full field development costs (Phase 1 and Phase 2) have also been revised down from NOK 170-220 billion ($20.16-26.08 billion) in real 2015 terms to NOK 160-190 billion ($18.97-22.53 billion), thanks in part to optimization of the Phase 2 facilities concept. Phase 2 is expected to start production in 2022.
08/03/2016
Share your news withOffshore at news@offshore-mag.com