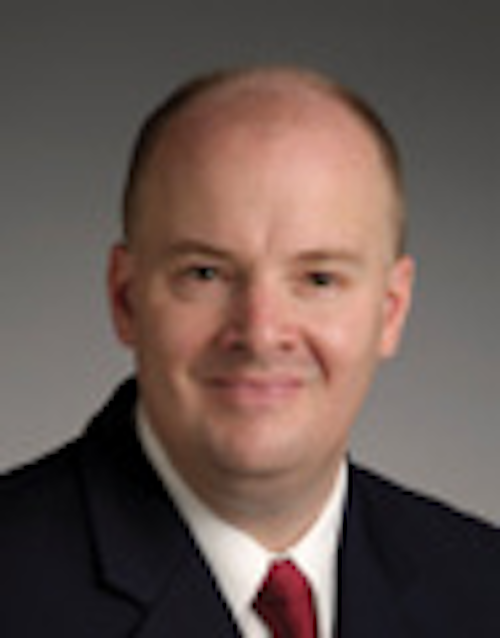 | | |
| --- | --- |
| | Bruce Beaubouef Houston |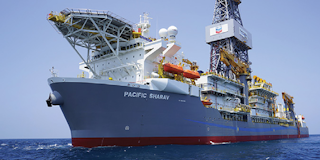 The Ballymore well was drilled by Pacific Drilling's Pacific Sharav deepwater drillship. (Courtesy Chevron)
A sense of optimism returned to US offshore oil and gas industry in late January, as both Shell and Chevron announced notable new discoveries in the deepwater Gulf of Mexico.
Shell Offshore Inc. announced what it says is one of its largest US GoM exploration finds in the past decade with its Whale deepwater well. The well encountered more than 1,400 net ft (427 m) of oil bearing pay. Evaluation of the discovery is ongoing, and appraisal drilling is underway to further delineate the discovery and define development options.
"Deepwater is an important growth priority as we reshape Shell into a world-class investment case," said Andy Brown, Upstream Director for Royal Dutch Shell. "Today's announcement shows how, through exploration, we are sustaining a strong pipeline of discoveries and future projects to sustain this deepwater growth."
Whale is operated by Shell (60%) and co-owned by Chevron U.S.A. Inc. (40%). It was discovered in the Alaminos Canyon block 772, adjacent to the Shell-operated Silvertip field and approximately 10 mi (16 km) from the Shell-operated Perdido platform.
"Whale builds on Shell's successful, nearly 40-year history in the deepwaters of the Gulf of Mexico and is particularly special in that it offers a combination of materiality, scope and proximity to existing infrastructure," said Marc Gerrits, Executive Vice-President Exploration for Royal Dutch Shell. "The result is another opportunity to think differently about ways we can competitively develop deepwater resources."
Shell says that the Whale discovery adds to the company's Paleogene exploration success in the Perdido area. Through exploration, Shell says it has added more than 1 Bboe resources in the last decade in the Gulf of Mexico.
Shell currently has three GoM deepwater projects under construction – Appomattox, Kaikias, and Coulomb Phase 2 – as well as investment options for additional subsea tiebacks and Vito, a potential new hub in the region.
Meanwhile, Chevron announced that it had made a significant oil discovery at the Ballymore prospect in the deepwater US Gulf.
Ballymore is located in the Mississippi Canyon area of the US Gulf, approximately 3 mi (5 km) from Chevron's Blind Faith platform, in water depth of 6,536 ft (1,992 m). The initial Ballymore well reached total measured depth of 29,194 ft and encountered more than 670 ft net oil pay with good reservoir and fluid characteristics, Chevron says. A side track well is currently being drilled to further assess the discovery and begin to define development options.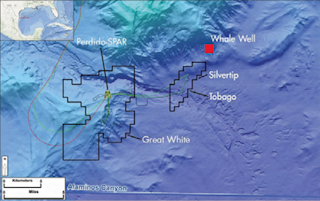 Above: Shell says that its Whale deepwater discovery well, located in Alaminos Canyon block 772, is one of its largest US GoM exploration finds in the past decade. (Courtesy Shell) Below: Chevron subsidiary Chevron U.S.A. Inc. is the operator with a 60% working interest in the Ballymore prospect. The co-owner is Total E&P USA Inc. (40%). (Courtesy Total)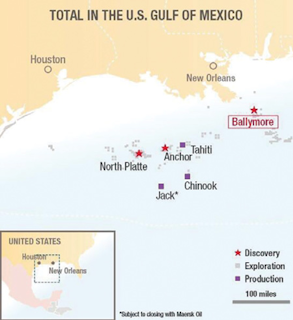 "The Gulf of Mexico deepwater is an integral part of our company's long-term strategy," said Jeff Shellebarger, president of Chevron North America Exploration and Production. "This discovery is an important addition to our portfolio, especially with its combination of size, quality and proximity to existing infrastructure."
Yet, there were still signs of gloom in the Gulf, as Noble Energy announced its intention to divest its US Gulf of Mexico assets. In mid-February, the company said it had executed an agreement to sell its deepwater Gulf of Mexico assets to Fieldwood Energy LLC for a total value of $710 million. Noble also said that its board of directors had authorized a $750-million share repurchase program.
David L. Stover, Noble Energy's Chairman, President and CEO, said: "While continuing to deliver outstanding performance and execution across the business, we have strategically repositioned our portfolio over the last couple of years. The sale of our Gulf of Mexico business represents the last major step in our portfolio transformation. This has been done to focus our go-forward efforts on those assets that will rapidly grow our cash flows and margins, primarily the US onshore business and the Eastern Mediterranean. I appreciate the efforts of the many employees who have contributed to our strong legacy of exploration discovery and successful resource development in the Gulf of Mexico. Going forward, we are concentrating the company's exploration capabilities on higher-impact opportunities that can drive substantial long-term value creation."
Cash proceeds included in the transaction total $480 million, and Fieldwood will assume all abandonment obligations associated with the properties, which Noble recorded at a book value of approximately $230 million as of Dec. 31, 2017. In addition, a cumulative contingent payment of up to $100 million is payable to Noble Energy from closing of the transaction through the end of 2022, determined quarterly at a rate of $2/bbl produced when the average Light Louisiana Sweet oil price exceeds $63/bbl.
The effective date of the transaction is Jan. 1, 2018, with closing anticipated during 2Q 2018, contingent upon Fieldwood successfully implementing its contemplated restructuring process. Included in the transaction is Noble's interest in six producing fields and all undeveloped leases.
Noble Energy estimates net production from these assets for 2018 to average slightly more than 20,000 boe/d for the year. Total proved reserves in the Gulf of Mexico as of year-end 2017 for Noble were 23 MMboe.