In its new World Deepwater Market Forecast 2017-2021, Douglas-Westwood (DW) forecasts global deepwater expenditure to total $120 billion over the period.
Spend is expected to decline at a -6% compound annual growth rate (CAGR). However, if forecast floating production system (FPS) spend is isolated, expenditure is estimated to increase by 3% compared to the 2012-2016 period.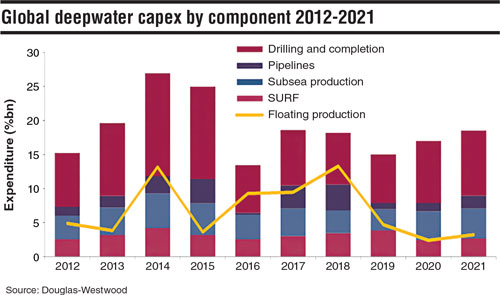 Despite rig day rates hitting record lows in recent years, drilling and completion expenditure is expected to total $41.6 billion, accounting for 35% of capex, the analyst continued. Subsea production equipment, subsea umbilicals, risers, and flowlines and pipelines will represent a combined 38% of total expenditure, while floating production units will account for 27% of spend over the forecast period.
Sustained low oil prices will hinder forecast expenditure, with no deepwater FPS units having been ordered between July 2015 and December 2016. This highlights several operators' decisions to consider alternative development options, with the motive of reducing development costs.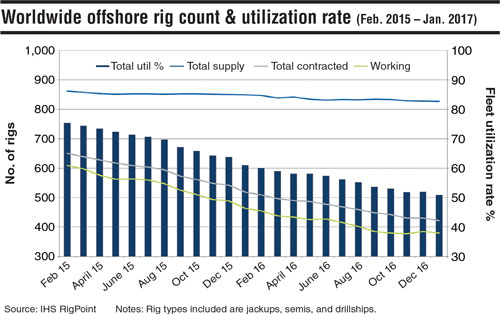 In the near term, capex will be driven by traditional deepwater countries in Africa and the Americas. However, offshore installation activities on the Liza field (Guyana), SNE (Senegal), and the commencement of activities offshore East Africa, as well as the development of the Zohr field off Egypt, will support expenditure during the latter years of the forecast period.
Rystad Energy estimates the January 2017 run rate of contracted jackups at 277 rigs.
At this time, the analyst has recorded 49 rig months' worth of contracts being entered into during January 2017. The significant delta between rigs "consumed on contract" and new contracts entered into has been a pronounced trend since 2014.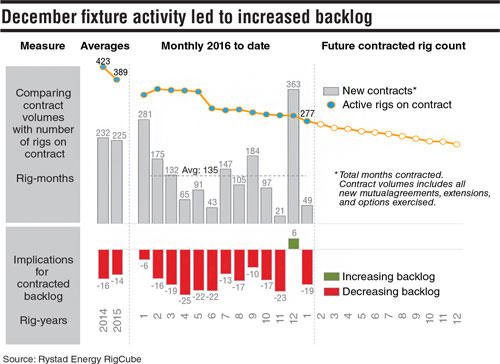 The lower chart calculates the impact of the top chart on the overall contract backlog. When more contracts are entered than consumed (columns higher than the line in the upper chart), the total contract backlog increases. With the exception of December 2016, the jackup market has seen a consistent backlog erosion since 2014.
Rystad Energy regards this as a leading indicator of market recovery. Currently, more than 277 rig months (~23 rig years) must be contracted on a monthly basis in order to increase the backlog in the jackup market.
- Oddmund Føre, Senior Analyst, Rystad Energy