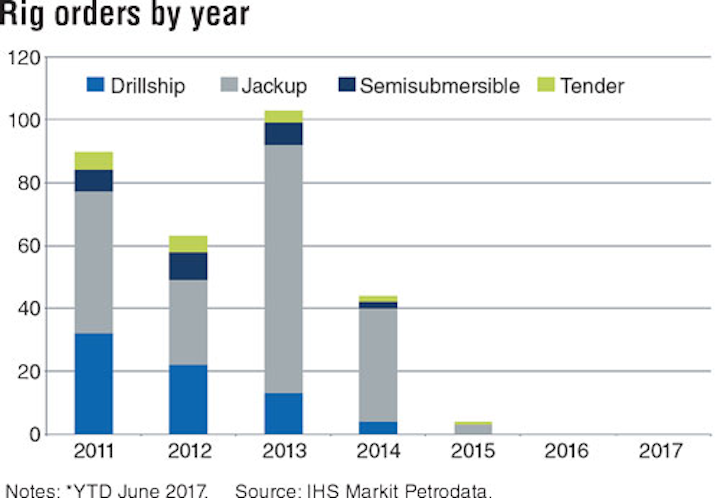 Justin Smith
IHS Markit Petrodata
A perfect storm has completely crushed the offshore rig construction market. The market downturn and an excess supply of existing rigs has eroded demand for newbuilds significantly.
At the moment, a total of 154 rigs are under construction. Jackups make up the vast majority of this set, with 100 units currently under construction. This is more than double the combined number of drillships, semis, and tenders currently being built, of which there are 30, 16, and eight under construction, respectively. Out of all of these rigs, only 25 were ordered with contracts in hand or by operators themselves. Of the remaining 129 speculative units, so far none have locked in charters since construction began.
Chinese shipyards lead the way by a significant margin, with a total of 80 rigs under construction, 65 of which are jackups. Meanwhile, 28 of the 34 units being built in Singapore right now are jackups. South Korea continues to be at the forefront of building semis and drillships. At the moment, 18 floaters are under construction in the country, and of those, 14 are drillships.
Due to lower oil prices, plus a prolonged and significant oversupply of rigs in the market, drilling contractors have not placed any orders so far this year, nor did they place any last year. To that end, it is unlikely that many orders, if any, will be placed over the remainder of 2017. The last year in which any rigs were ordered was 2015. Four of the rigs that were ordered that year are still under construction, three jackups and one tender, plus there were several more units that were ordered in 2015 that have since been cancelled, as is the case with a number of rigs ordered in earlier years.
Considering the aforementioned oversupply of rigs, coupled with lower demand across the globe, many contractors are seeking to defer the delivery of their newbuild units, or attempt to cancel those construction contracts outright. Thus far, at least 39 rigs have had their construction ostensibly completed, but not been delivered just yet. Of those 39 units, 28 are jackups, four are drillships, three are semis, and four are tenders.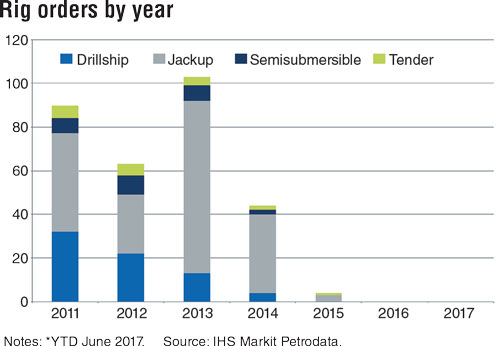 Those 39 rigs are only part of the story when it comes to rigs being delivered later than originally anticipated. While those units are essentially finished, there are far more that are still under construction or on order, but are continually having their expected delivery dates pushed back. Save for a small handful of rigs that were ordered in 2015 or late 2014, essentially every rig currently under construction has had its delivery date extended by at least six months, but most are well over that, with some being pushed out several years.
It should also be noted that in addition to the 154 rigs currently being built, there are another two units for which orders have been placed, but construction has not started. DrillshipsOcean Rig Crete and Ocean Rig Amorgos were originally ordered back in April 2014 from Samsung Heavy Industries (SHI) in South Korea, and were initially scheduled for delivery in February and June of this year, respectively. Ocean Rig Crete is now set for delivery in January 2019, and Ocean Rig Amorgoshas had its construction suspended for up to 18 months, meaning it could be delivered in 2020 or 2021.
Compounding these issues, some contractors have opted to cancel the construction contracts with shipyards on which work has already started or, in some cases, nearly finished, primarily ultra-deepwater floaters. Following Dolphin Drilling's decision to walk away from the semisubmersibleBollsta Dolphin, Hyundai Heavy Industries has taken ownership of the rig in hopes of selling it. It is worth noting that this unit actually had a five-year job lined up with Chevron in the UK when Dolphin chose to not take delivery. Additionally, in early June Stena Drilling cancelled its construction contract with SHI for the semisubmersible Stena MidMAX. The unit was ordered in June 2013 with an original delivery date of March 2016. Stena stated, however, that SHI has been unable to complete and deliver the semi within the contractually agreed time frame.
Of course, cancellations have not been limited to just top-of-the-line drillships and semis. The status of CIMC's second jackup for Malaysian firm Coastal Contracts is also understood to be in limbo as a result of the arbitration proceedings between two parties over the first unit ordered by Coastal,Kan Tan VII.
Despite so many deferrals and cancellations, deliveries have not completely stopped, and more will be made over the coming months and years. Since 2010, 301 rigs have been delivered, but at a pace that has been slowing since 2013. A total of 59 rigs were delivered that year, followed by 57 in 2014, 30 in 2015, and 22 last year.
At the same time, in an effort to stop their fiscal bleeding, contractors have primarily pulled back from taking delivery of more expensive floaters. So far this year, four rigs have been delivered, all of which were jackups that already had work lined up. Looking ahead, another 47 rigs are slated for delivery this year, with 72 more scheduled for next year. It is highly unlikely anywhere near that many rigs meet their planned deliveries, especially those currently listed for 2017.
While many of these rigs are having their deliveries pushed back, at least a number of them are likely to finish being built, particularly for the better established contractors, but the same cannot be said for all of the rigs in Sete Brasil's fleet. In the beginning, the newly formed, presalt focused contractor was to build 29 ultra-deepwater rigs in total, with 28 of them contracted to Petrobras for terms between 10 and 20 years, and one on spec, with deliveries scheduled between 2015 and 2020. Construction had started on 17 of these rigs, but Sete now believes it will take delivery of eight of these rigs, although about five seems more probable. While unlikely to happen en masse, it is possible that a few of the other units that are further along could get bought on the cheap by other contractors and then finished.