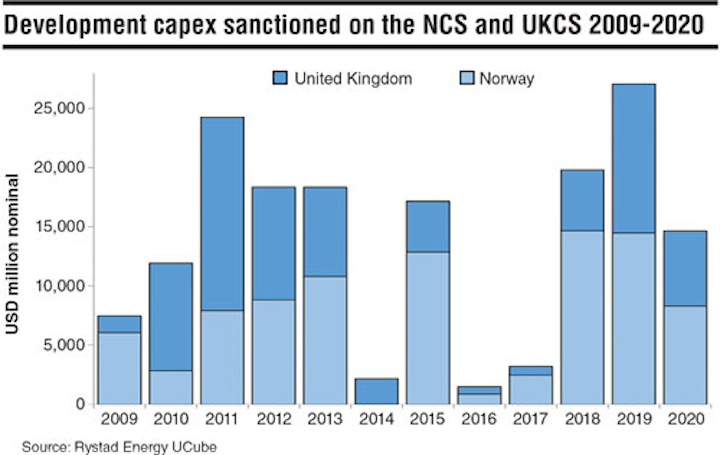 Communicated sanctioning plans in Norway and the UK show signs of increased activity going forward. So far in 2017, four fields have been approved in Norway: Utgard, Byrding, Dvalin, and Trestakk. Centrica has also submitted the PDO for Oda. In the UK, Hurricane Energy is expected to take the final investment decision (FID) on the Lancaster EPS and several FIDs are expected in 2018.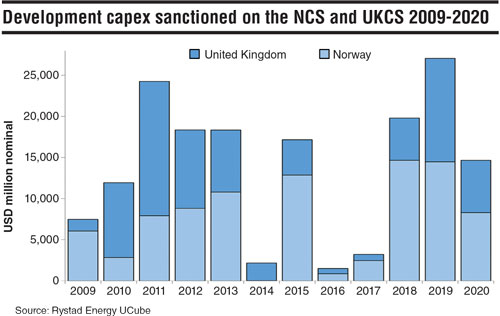 Expected new projects in Norway and the UK are small subsea tieback developments. However, in 2018 and 2019, several large stand-alone projects are also expected to be sanctioned including Johan Castberg (where Statoil plans to deliver the PDO in 4Q 2017), Johan Sverdrup Phase 2, Wisting, Alta/Gohta, and Rosebank/Lochnagar. This implies that the largest upcoming project approvals in the North Sea, in terms of development capex, are located in Norway.
- Gitte Bromander, Project Manager, Rystad Energy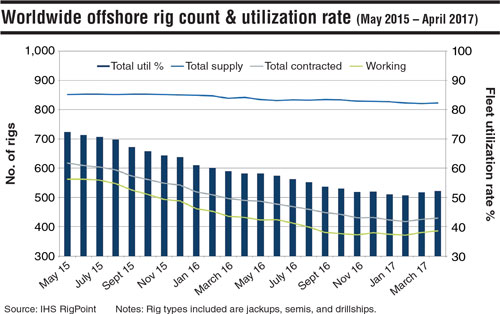 Deepwater spend to total $125.4 billion to 2021
The oilfield services research team at Douglas-Westwood projects that global deepwater expenditure will grow at a 3% CAGR over the 2017-2021 period, with expenditure totaling $125.4 billion.
This update highlighted more than 115 potential projects that are expected to drive offshore drilling and installation activities over the forecast period. The firm said that the latest deepwater data for 2Q 2017 represented a 4% expenditure increase from 1Q 2017 data, as operators adopted development plans based on value and simplified technology.
The report found that drilling and completion is expected to account for more than 34% of forecast expenditure, floating production units 28%, and subsea production equipment, SURF, and pipelines will represent a combined 38%. Subsea tree installation activity is forecast to grow at a 13% CAGR over the 2017-2021 period. Africa and the Americas will remain the dominant regions, accounting for about 79% of forecast expenditure. A flexible phased development approach by operators will ensure that deepwater developments continue to thrive in both established plays and frontier areas.
Douglas-Westwood says that project reengineering, cost-cutting for equipment and services, and a relatively stable oil price will lead the number of deepwater projects expected to be sanctioned over the 2017-2018 period to grow by 42% compared to the 2015-2016 period.