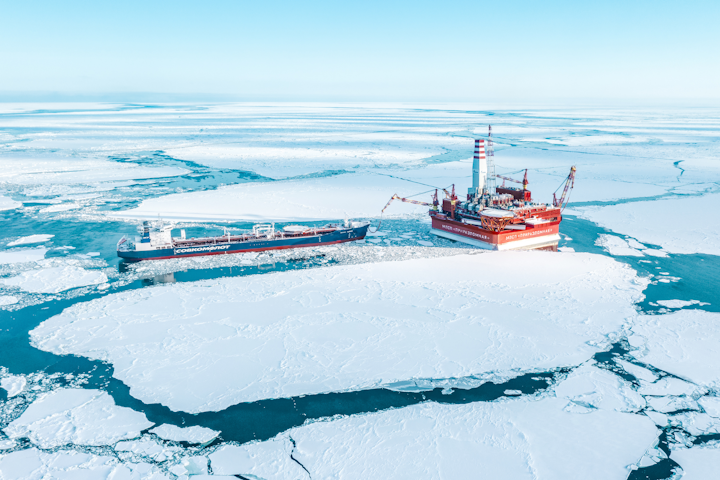 (Courtesy Gazprom Neft)
Offshore staff
ST PETERSBURG, Russia – Gazprom Neft's Prirazlomnaya offshore platform in the southeastern Russian Barents Sea has produced its 12-millionth metric ton (13.23 MM ton) of ARCO (Arctic-blend) oil.
The shipment was delivered by the Kirill Lavrov ice-class shuttle tanker to the storage tanker in Kola Bay, for onward transport to locations in Europe.
To date the company has drilled 18 wells from the platform at the Prirazlomnoye field, with logistical project support in freezing winter conditions ensured through an ice management system.
Currently Gazprom Neft is developing the Ice Situation Management Center where the team will apply specially developed software to analyze data provided through regional and local monitoring of hydro-meteorological and ice conditions.
Use of self-learning mathematical models, the company added, should lead to more accurate weather forecasts of likely shipping windows, as well as identifying potentially dangerous ice formations at an early stage.
All information received and processed will be available to captains responsible for managing the platform, tankers and support-vessels.
Prirazlomnoye, 60 km (37 mi) offshore, has estimated recoverable oil reserves of 79 MM metric tons (87 MM tons). Production started in December 2013.
12/30/2019