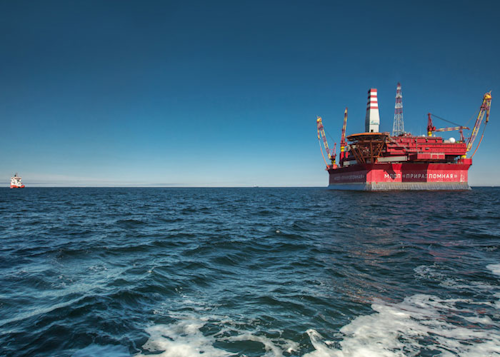 Offshore staff
MOSCOW – Gazpromneft Shelf has started two new production wells at the Prirazlomnoye field offshore northern Russia.
Six production wells, two injection wells, and one absorption well are currently in operation at thePrirazlomnaya platform.
The total length of the two wells is more than 8 km (5 mi), and one is equipped with a domestically produced electronic submersible pump. Gazpromneft Shelf claims it is the first instance of such equipment being used on the Russian Arctic Shelf.
Four wells were brought onstream last August. A total of 32 wells are planned for the field.
All wellheads are located within thePrirazlomnaya platform, the base of which is designed to act as a buffer between the well and the sea. Waste from what the company has termed its "zero emissions" project is said to be either re-injected into the strata or transported onshore for further recycling.
Gennady Lyubin, Executive Director, Gazpromneft Shelf, said: "The commissioning of the first domestically produced electronic submersible pump on the Arctic Shelf is a landmark for Russian industry as a whole. It is important to note that this facility has seen the fastest-ever production speeds in the history of thePrirazlomnaya operation."
Initially discovered in 1989, thePrirazlomnoye oil field is located in the Pechora Sea, 60 km (37 mi) from the shore. Recoverable reserves are estimated at 70 million metric tons.
ThePrirazlomnaya ice-resistant offshore rig was designed specifically for development of this field, and is designed for use in the most extreme environmental and climatic conditions.
Prirazlomnoye entered production in December 2013. The first consignments of a newRussian Arctic Oil (ARCO) were then dispatched from the platform in April 2014. The license to develop the field is held by Gazpromneft Shelf LLC, a subsidiary of Gazprom Neft.
01/23/2017