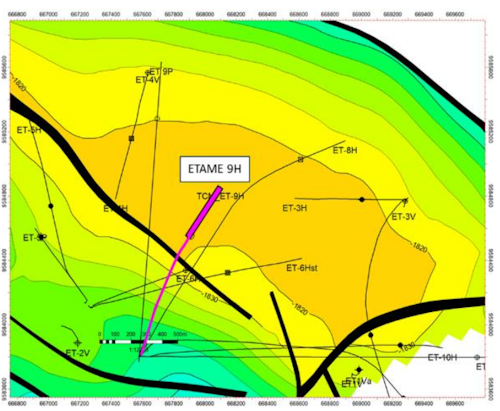 (Courtesy VAALCO Energy)
Offshore staff
HOUSTON – VAALCO Energy has completed its latest development well on the Etame field offshore Gabon.
Etame 9H, which included around 1,000 ft (305 m) of horizontal section in the Gamba reservoir, came online at a stabilized rate of 5,500 b/d of oil, with no hydrogen sulfide. Production is higher than the pre-drill estimate.
Drilling has since started on the Etame 11H horizontal development well with start-up anticipated in late January.
Planning is also under way for a workover to replace an electric submersible pump in Etame 10H, and drilling of the SE Etame 4P appraisal wellbore from the Southeast Etame/North Tchibala platform to assess a Gamba step-out area on Southeast Etame.
The latter, if successful, could confirm additional development well locations in the Gamba reservoir.
12/03/2019