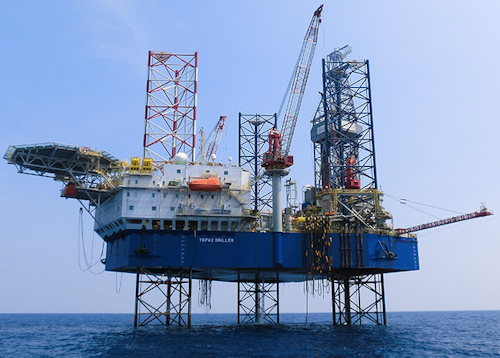 (Courtesy Vantage Drilling)
Offshore staff
HOUSTON – VAALCO Energy has proven further oil with its latest well on the Etame field offshore Gabon.
The Etame 9P appraisal wellbore, targeting the subcropping Dentale reservoir beneath Etame, was drilled to a TD of 10,260 ft (3,127 m), after encountering both Gamba and Dentale oil sands.
Currently plug-back operations are under way to a shallower depth in order to drill the Etame 9H horizontal development well section in the Gamba reservoir.
Etame 9P penetrated around 35 ft (10.7 m) of good-quality Dentale oil sands, VAALCO said, with 27% porosity and 3,000 mD of permeability. The company estimates gross recoverable resources of 2.5-10.5 MMbbl from sub-cropping Dentale reservoirs.
In addition, the well identified an oil column which was thicker than expected in the Gamba reservoir, and this could raise ultimate oil recovery from the planned Etame 9H and Etame 11H wells.
On the minus side, there is a need to retrieve drill pipe and tools that became lodged in the wellbore after reaching TD, and that will delay completion of Etame 9H into December.
CEO Cary Bounds said: "The successful Etame 9P is the first of many appraisal opportunities that we have identified…We continue to assess the viability of drilling future Dentale development wells as we aim to extend the overall life of the field by continuing to add reserves and production."
10/18/2019