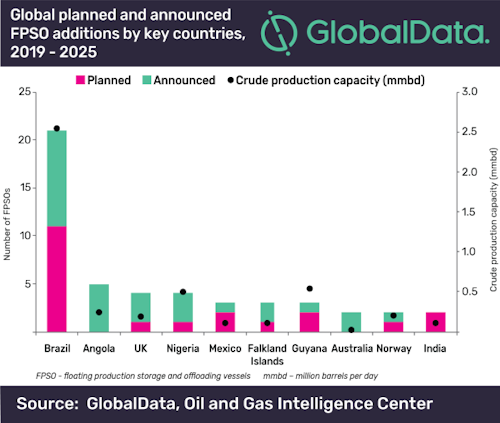 Offshore staff
LONDON – South America leads the world for planned and already new FPSOs between 2019 and 2025, according to GlobalData's Q4 2019 Global FPSO Industry Outlook.
The analyst has identified 27 projects across the region during this period, followed by Africa, Asia, and Europe with respectively 15, eight, and seven FPSOs.
Worldwide, GlobalData expects 67 FPSOs to start operations by 2025, of which 42 are early-stage announced floaters currently in the conceptual study phase.
Brazil has 21 planned and announced additions by 2025. The countries with the next highest numbers are Angola with five, the UK and Nigeria with four each, all set to come online by 2025.
Elsewhere in South America, the analyst lists three planned and announced FPSO projects off both Guyana and the Falkland Islands.
In Asia, Malaysia and India lead with two each, followed by Vietnam, China, Timor-Leste, and Indonesia with one each.
Europe's tally of seven includes two planned FPSOs offshore Norway and offshore Cyprus.
In North America, Mexico leads with three planned FPSOs, while the US and Canada each have one upcoming facility expected to start operations during the outlook period.
Elsewhere, Australia has two upcoming FPSOs, while in the Middle East, Israel has one planned FPSO that looks set to be deployed between 2019 and 2025.
10/25/2019