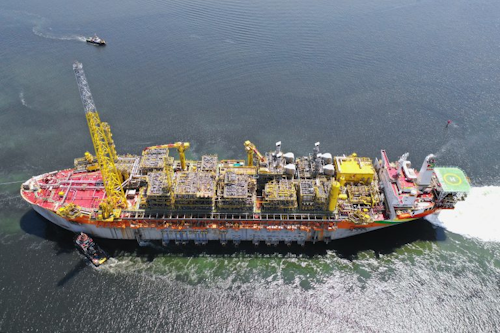 (Courtesy Lim Weixiang/SBM Offshore)
Christopher M. Barton, Wood
A relatively stable oil price paired with an increase in offshore exploration and oil production activities is expected to drive strong growth in the global demand for FPSO vessels in the next five years. Greater FPSO opportunities will manifest themselves between 2019 and 2025 compared to the past five years, suggesting a rapid pace of change. The global FPSO market is expected to grow at a CAGR of about 16% from 2019 to 2025. Companies that quickly adapt to this changing landscape through sustainable transition, innovation, efficient pricing and sales execution strategies will emerge as the top performers.
The production floater market has been very active over the last 18 months, and the FPSO market is making a strong comeback. Floater projects over the last couple of years include:
• Shell's Penguins project in the UK
• CNOOC's Liuhua 16-2, 20-2 and 21-2 fields in China
• Energean' Karish FPSO project offshore Israel
• First E&P's Anyala and Madu discoveries off Nigeria
• The Petrobras Mero-1 FPSO in Brazil
• The Petrobras Mero #2 FPSO and Buzios #5 FPSO
• Hindustan Oil Exploration's conversion of a jackup into a MOPU for use offshore India.
 According to World Energy Reports, a total of 224 floater projects are in the planning stage, 50 production or storage floaters are now on order, 301 floating production units are currently in service and 30 production floaters are available for redeployment contracts. Although key FPSO operators are seeing an increase in revenues, challenges such as increasing buyer bargaining power and the continued emphasis on high-quality products at low costs is forcing significant changes in the FPSO supply chain.
Digitalization of FPSOs
One of the changes being felt in the supply chain centers on the steady digitalization of operational procedures to promote efficiency and cost savings. The rapid conversion of operational technology (OT) and information technology (IT) has resulted in increased efficiency through big data, analytics, sensors and the ability to automate highly sensitive tasks among other things.
In the future, FPSOs will likely have to embrace and incorporate further digitalization. From fleet data to analytical tools and predictive analytics, these technologies can be used to determine success rates, estimations of topside components and more. Monitoring technologies are far better now than they were even a decade ago when most FPSOs were commissioned. The digitalization of the FSPO has helped prolong the shelf life of many older vessels. Companies now have a better grasp of measuring the fatigue of vessels and how each project impacts a vessel's service life. Operators now have data on hulls, mooring systems, processing equipment and everything in between.
Next-generation technology
In addition to the perennial concern of putting fewer people at risk when carrying out inspections, avoiding downtime gains is of heightened importance. Drone technology being used to reduce costs is certainly something that oil and gas companies are adopting with increasing frequency in the current environment and this is set to accelerate.
Next generation inspection technology and processed are changing the game in terms of reducing costs and the exposure of personnel to hazards, bringing opex down. However, it brings forth issues like cyber security, the difficulty of data capture and translation of data into universally usable formats.
Digital twins are developing technology where dynamic virtual models can be used to better understand how to safely operate and control complicated process equipment and systems including training operators. Similarly, augmented reality is proving a better way to equip a multi-skilled crew onboard an FPSO with more accessible technical knowledge about how to diagnose and maintain equipment and process systems.
Outlook
The deepwater investment environment continues to improve. Deepwater drilling rates are coming up, subsea systems backlogs are growing, SURF and marine construction alliances are changing the game and cost competitive alternatives are emerging for deepwater greenfield developments. Service and equipment backlogs continue to grow as the first half of 2019 continue a recovery trend in deepwater. As the trend continues, capacity, cost inflation and delivery will increasingly become common points of discussion. For more information on the FPSO market, turn to the 2019 Worldwide Survey of Floating Production Storage and Offloading (FPSO) Vessels poster which can be found in this issue of Offshore magazine. •