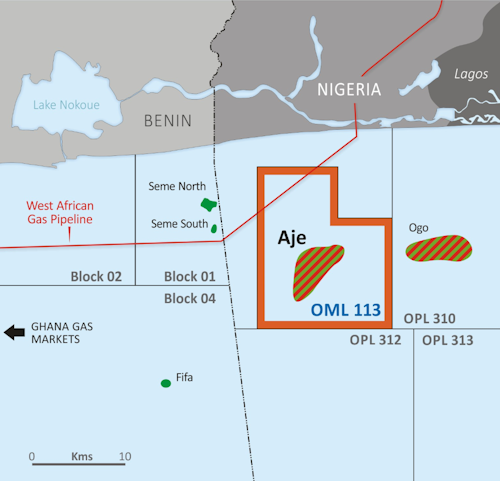 (Map courtesy Panoro Energy)
Offshore staff
OSLO, Norway – PetroNor E&P has agreed to acquire Panoro Energy's Pan-Petroleum Services Holding and Pan-Petroleum Nigeria Holding subsidiaries for up to $35 million.
The subsidiary companies own Pan-Petroleum Aje, which has a 6.502% participating interest in Nigeria's Offshore Mining Lease 113, which includes the producing Aje field.
PetroNor is also in talks with the lease operator Yinka Folawiyo Petroleum (YFP) on forming a new holding company (SPV), with PetroNor taking the lead technical and management role to develop the field's next phases.
This should provide a way forward toward sanction of the next planned phases to exploit the field's gas and liquids reserves.
PetroNor and YFP will respectively own 45% and 55% of the SPV.
The Aje field came onstream in May 2016 through the leased FPSO Front Puffin, and had produced 3.6 MMbbl of oil by Aug. 1, 2019. Current output is around 3,000 b/d of oil, and includes some condensate.
PetroNor and YFP have been working together on a phased re-vitalization development that would lift gross production to 20,000 boe/d, of which 5,000-7,000 b/d will be oil and condensate.
Aje, discovered in 1997 in water depths ranging from 100-1,500 m (328-4,921 ft), has multiple oil, gas and gas condensate reservoirs in the Turonian, Cenomanian, and Albian age sandstones.
10/22/2019