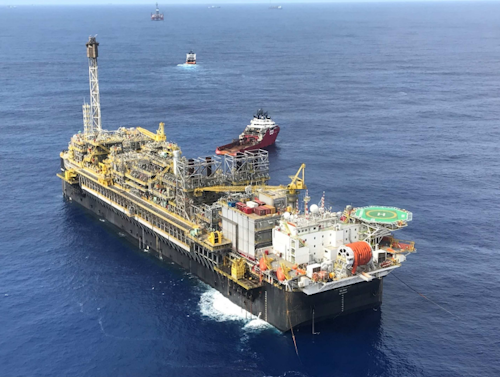 (Courtesy Petrobras)
Offshore staff
RIO DE JANEIRO – Petrobras remains on target for full-year average production of 2.7 MMboe/d.
During 3Q, output from the company's presalt fields rose 17% to 1.367 MMboe/d, representing 60.4% of Brazil's total oil production.
The increase was due to the ramp-up of six platforms that have come onstream in 2018 and 2019 (P-74, P-75, P-76, and P-77 on the Búzios field and P-67 and P-69 on Lula), which collectively contributed 441,000 b/d in 3Q.
Other factors were the start-up of nine producing wells connected to the FPSO Cidade Campos dos Goytacazes from the post-salt Tartaruga Verde field; and the P-69 and P-76, at Lula and Búzios, reaching their full production capacity of 150,000 b/d with a respective ramp-up time of 10.3 and 7.7 months.
The P-68 platform, which will produce from the presalt Berbigão and Sururu fields in the presalt, left the shipyard last month and is currently being moored.
Eleven wells have already been drilled, comprising eight producers and three injectors, and five of the wells are ready for interconnection. 
10/18/2019