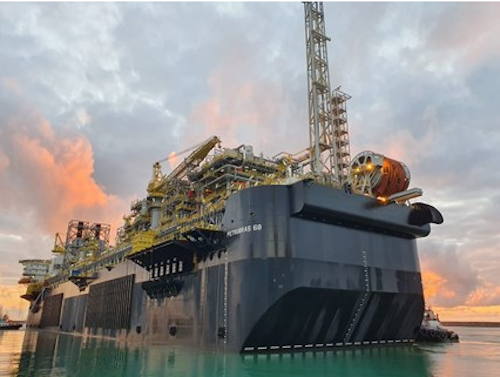 (Courtesy Petrobras)
Offshore staff
RIO DE JANEIRO – The FPSO P-68 has departed the Jurong Aracruz Shipyard and is heading to the Berbigão and Sururu fields in the in the BM-S-11A concession in the presalt Santos basin.
Operator Petrobras expects both fields to start production during 4Q.
The hull was built at the Rio Grande Shipyard, in Rio Grande do Sul, with module integration and commissioning following at Jurong Aracruz Shipyard in Aracruz, Espírito Santo.
The vessel has the following characteristics:
• Oil processing: 150,000 b/d
• Gas processing: 6 MMcm/d
• Injection water treatment: 180,000 b/d
• Storage: 1.6 MMbbl of oil
• Depth anchorage: 2,280 m (7,480 ft)
• Total length: 316 m (1,037 ft)
• Width: 54 m (177 ft)
• Height: 31.5 m (103 ft).
The P-68 will be the fourth platform to start-up for Petrobras offshore Brazil this year, after P-67, P-76, and P-77.
09/16/2019