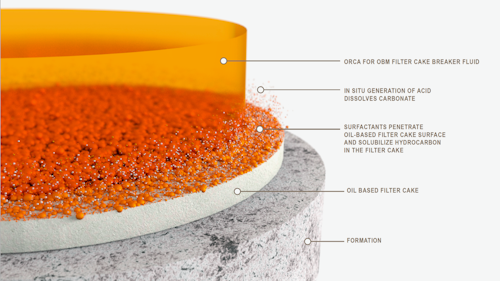 Cleansorb
Offshore staff
GUILDFORD, UK – Cleansorb claims to have delivered increased production and water injectivity for a major Middle East operator.
This following a series of applications of ORCA for OBM (oil-based mud) breaker fluid on offshore oil production wells and a water injection well drilled with OBM.
ORCA for OBM is designed to remove drilling damage caused by oil-based drill-in fluids in open hole sections of production and injection wells.
In this case, water injection across the open hole section of the targeted offshore well that was expected to suffer residual drilling damage unless remedial treatment could be applied.
It was a particular concern, according to Cleansorb, as it was not possible to 'backflow' the injection well in the production direction to remove the damage prior to starting water injection.
In order to treat the 5,000-ft (1,524-m) open hole section liquid, OBM was displaced to 1.09 s.g. NaCl brine without fluid losses to the formation.
ORCA for OBM breaker fluid was then displaced from the toe to the heel of the open hole section and left in place for around a week to solubilize hydrocarbon and dissolve carbonate mud solids, while the upper completion was being run.
Following this treatment, the water injection rate was 10% above the target rate, the company claimed, without exceeding maximum injection pressure.
"Eliminating oil-based mud filter cake damage can be challenging," said Ian McKay, director and co-founder of Cleansorb.
"In this case, it was complicated by the fact that the well was located offshore, where operator concerns about the effect of hazardous chemicals on the environment are at an all-time high. The good news is that we developed ORCA for OBM with these specific concerns in mind.
"Compared with conventional acids commonly used to clean up filter cake following drilling, ORCA's benign chemistry means that it is extremely low hazard for both the environment and those who use it. Not only does it leave the well free of OBM damage, it's simple to use and achieves results quickly, without affecting the environment."
06/18/2019