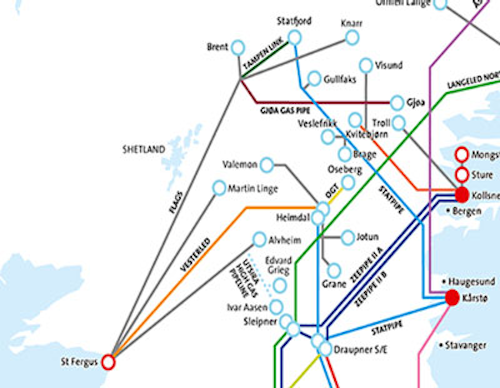 Offshore staff
KOPERVIK, Norway – Gassco has taken over as operator of the pipeline that will transport rich gas from the BG-operated Knarr field to the UK.
The 106-km (66-mi) pipeline, with capacity of 1.7 MMcm/d (60 MMcf/d) of gas, is tied into the existing Far North Liquids and Associated Gas (Flags) trunkline system in the UK North Sea. Production is exported to St Fergus in eastern Scotland.
Knarr is an oil and gas field in the northern Norwegian North Sea.
"We've had a close and good collaboration with Knarr operator BG Norge throughout the process of preparing the pipeline for operation," said Svein Birger Thaule, executive vice president for asset management at Gassco.
"The next milestone now is to complete emptying water from the pipeline and start filling it with gas. Start-up is expected during the spring."
Gassco became operator of the Knarr gas pipeline joint venture, which owns the 12-in. pipeline, and also has technical responsibility for its operation.
03/02/2015